Oliver North: N.R.A. Being Treated Worse Than African-Americans During Jim Crow
Oliver North is fitting right in at the N.R.A.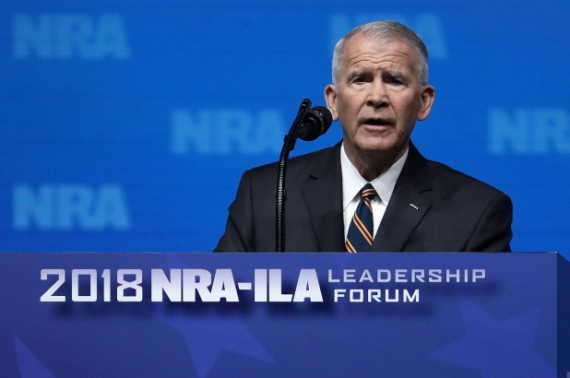 Last week, Oliver North was named the new President of the National Rifle Association, and it looks like he's fitting right in:
Oliver North, the National Rifle Association's (NRA) incoming president, said on Wednesday that the gun rights group has been a victim of "civil terrorism" by political opponents.

"They call them activists. That's what they're calling themselves. They're not activists — this is civil terrorism. This is the kind of thing that's never been seen against a civil rights organization in America," North told The Washington Times.

"You go back to the terrible days of Jim Crow and those kinds of things — even there you didn't have this kind of thing," he added, referring to laws that enforced racial segregation throughout much of the 20th century. "We didn't have the cyberwar kind of thing that we've got today."

North's comments come weeks after a woman was charged with misdemeanor destruction of property for splashing fake blood on a top NRA lobbyist's Virginia home.

(…)

North called the shooting in Parkland a "travesty" and a "failure on the part of the local authorities and unfortunately the FBI as well." He said gun control advocates had "confused the American people" about the attack.

"What they did very successfully with a frontal assault, and now intimidation and harassment and lawbreaking, is they confused the American people," North said. "Our job is to get the straight story out about what happened there, and to make sure that kind of thing doesn't happen again because the proper things are being done with the advocacy of the NRA."
Not surprisingly, North's comments have aroused some commentary from many of the student activists who have risen up in the wake of the shooting at Marjory Stoneman Douglas High School in Florida:
Oliver L. North, the incoming president of the National Rifle Association, said this week the gun rights group was a victim of "civil terrorism" and accused gun control activists of "intimidation and harassment and lawbreaking."

Now, several of the students who survived the Valentine's Day shooting at Marjory Stoneman Douglas High School in Parkland, Fla., are pushing back.

"He's just continuing to spread fear. He's definitely a good fit for his new job," Ryan Deitsch, a senior at the school, said in an interview during his lunch period on Friday.

Mr. Deitsch said he wants to sit down and speak with Mr. North to understand his perspective. But he expressed frustration that, with their criticism of gun control activists, Mr. North and the N.R.A. seemed more focused on "attacking the speaker and not the speech."

(…)

The comments elicited a strong rebuke from Fred Guttenberg, whose 14-year-old daughter Jaime was among those killed in Parkland.

"We will end your reign of terror and we will pass common sense gun safety in this country. Your remarks sound like the remarks of a lobby that has already lost the argument and so you attack us," he said in a series of tweets.

That sentiment was echoed by several students at the school, many of whom, like Mr. Deitsch, have become outspoken proponents of gun control since the shooting.

"Never knew that not wanting to die by being shot by an AR-15 in my classroom was considered terrorism," Lauren Hogg, a Stoneman Douglas student, said on Twitter. "Thanks @NRA now I know."

Another student, Cameron Kasky, said: "Go ahead, North. It speaks so beautifully for the NRA's true colors that they put this crook in charge."
North's comments about "civil terrorism" seem to be in response to some events in which the organization and people connected with the N.R.A. One example of that occurred last month when protesters appeared outside the home and business addresses of N.R.A. lobbyist and former Congressman Chris Cox. One of those protesters allegedly splashed fake blood on Cox's house, but it seems clear that the majority of the protesters were peaceful albeit no doubt inconvenient for Cox. While there is no excuse for property destruction or vandalism and the woman who is accused of committing that act should be prosecuted appropriately, the idea that this is anything close to what African-Americans went through during Jim Crow is utterly absurd. This is an era when African-American men were beaten and killed merely because they looked at a white woman, and when countless numbers of African-Americans were hung from trees in blatant acts of racist violence. Compared to that, getting a little fake blood splashed on your house is, quite frankly, nothing by comparison.
North's rhetoric, of course, is familiar to anyone who has listened to what the N.R.A. and at least some segment of the gun rights crowd, has had to say over the years. According to this rhetoric, gun owners are just one law away from having all their guns taken away, and even objectively reasonable proposals such as expanded background checks, the banning of so-called "bump stocks," age restrictions on the sale of weapons, and increased protections to bar people who have been determined to be mentally ill from obtaining weapons. Without fail, each of these proposals, as well as past proposals such as the original Brady Bill that established the national background check system, has been called an attempt by "gun grabbers" to "take away our freedom" even when its quite apparent that this isn't the case and that the idea that we're ever going to see gun confiscation in the United States is utterly absurd. To some degree, of course, this rhetoric is designed to play on the fear of the people that write the checks, attend the conventions, and, of course, vote. That doesn't make what North said any less absurd, of course, but it does, I guess, explain it.