One Major Step Closer to Peace in Colombia
The final major piece of the negotiations between the FARC and the Colombian government appears to be in place.

While the world (and this blog, not surprisingly) was focused on the Brexit vote last Thursday, another historical political event was taking place that day (via the NYT):  Colombian President, Head of FARC Rebels Agree on Cease-Fire.
Colombian President Juan Manuel Santos and the head of the country's leftist FARC rebels agreed Thursday on a cease-fire and rebel disarmament deal that moves the country to the brink of ending a 52-year war that has left more than 220,000 people dead.

At a ceremony in Havana, Santos and FARC commander Rodrigo Londono, better known as Timochenko, watched as their lead negotiators signed a deal laying out how 7,000 rebel fighters will demobilize and hand over their weapons after the signing of a final peace accord as early as next month. U.N. Secretary-General Ban Ki-moon, a special U.S. envoy and the presidents of Cuba, Chile and Venezuela and other Latin American countries applauded the signing.

In the Colombian capital, Bogota, hundreds of people watched the ceremony live on a giant screen, hugging each other, signing the national anthem and waving the Colombian flag. Some cried.
This is a monumental event although not yet the end of the process.  The signing of this accord marks the final substantive area under negotiation (the previous areas being land reform, political participation, illegal drugs, and victim's rights/transitional justice (I discussed some of this last September in an earlier post).  This is summarized below (from an in-press article forthcoming from me in The Latin Americanist, hence the watermark):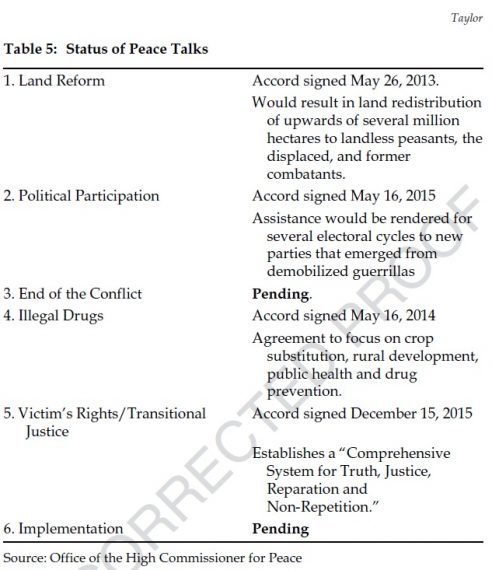 The next steps are summarized by the NYT as follows:
both sides agreed on a demobilization plan that will see guerrillas concentrate in rural areas and hand over weapons that had long been the vaunted symbols of their movement's origins as a self-defense force of peasant farmers attacked by the oligarchy-controlled state.

[…]

The deal does not mark the start of a cease-fire, which would only begin with the signing of a final peace deal. It requires the rebels to completely put down their arms at most six months after the signing of the final accord, which Santos said would take place in Colombia.

A day after the signing of the final deal, the Colombian army will reposition troops to protect FARC fighters as they move to their transition zones within five days. FARC fighters will move to 23 zones and eight camps where they will leave their arms and begin the process of moving back into civilian life. The arms will be delivered to United Nations monitors, who will use them to build three monuments to peace, according to the deal.

The accord includes security guarantees for the FARC during its planned transition to a peaceful political party.
A more complete summary can be found from Adam Isaacson at the Washington Office on Latin America.  Isaacson has been analyzing and reporting on the Colombian conflict for years.
Now, granted, this does not mean the end of all violence in Colombia, as drug trafficking and associated paramilitary violence will remain an issues.  However, the level of violence is already down, and the cessation of operation of the FARC will be a monumental shift in Colombia politics.  The other remaining significance guerrilla group, the ELN (National Liberation Army) also recently started negotiations with the government, and without a doubt this agreement will increase the odds of that accord coming to fruition.  A major challenge will be managing the large numbers of internally displaced persons in Colombia, as well as bringing adequate state presence to the entire national territory.
It should be kept in mind that Santos has promised a referendum on the final deal, and we all now know how problematic that can be.  It is worth noting that while I think it is fair to say that a vast majority of the Colombian population wants peace, views on this process are not unanimously positive.  There remains a large political contingent led by Senator (and former two-term President) Alvaro Uribe, who opposes this peace deal which he sees as "a capitulation."  As a side note, Juan Manual Santos was Uribe's Defense Ministers during some of the more successful operations against the FARC during Uribe's time in office, so should not be seen as softliner.  However, there has been a major, and very public, division between Santos and Uribe (who backed his own candidate against Santos because of this issues in the 2014 elections).
Anyone who studies Colombia knows that it is dangerous to get overly optimistic, but I think that this agreement will, in fact, lead to the demobilization of the FARC and its transformation into a political party, which will be a huge change for Colombia. I think, too, that the political atmosphere created by this peace accord will lead to a more rapid process with the ELN.  All this means that maybe soon when I teach the Comparative Politics of Latin America, I will no longer need to discuss Colombian guerrillas as a contemporary issue.