One Man's Truth Is Another's Outright Goddamned Lie
John Cole takes exception to my recent summary of recent Obama campaign highlight.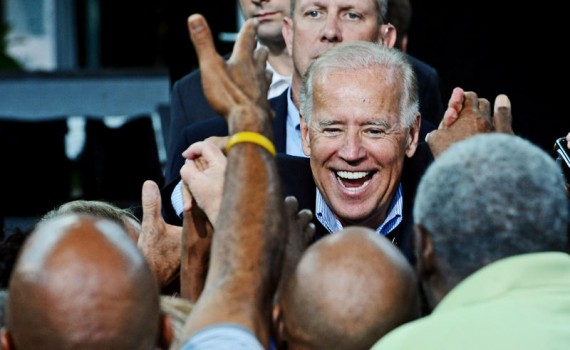 John Cole takes exception to my recent summary of recent Obama campaign highlights:
Now, though, we've got the Obama administration signing off on an ad insinuating that Mitt Romney killed a woman and the vice president refusing to back away from the suggestion that Romney wants to put black people back in chains.
Cole calls this an "outright goddamned lie," even though my summary of both events is the "Morning Joe" conventional wisdom.
In fairness, "insinuating that Mitt Romney killed a woman" is a bit glib; but it was shorthand for an ad that readers are familiar with and that we'd discussed quite a bit in previous posts. But that ad clearly insinuates that, were it not for Mitt Romney, the woman wouldn't have died and that he's therefore directly responsible. In fact, the ad is a lie in almost all respects. Both Soptic and his late wife had health insurance after the plant shut down. And the death was five years later.  All of the respectable media outlets see that ad for what it was. Here's ABC's Political Punch, which Cole sees as a reliable source:
The ethics and accuracy of the claims in the 30-second spot — titled "Understands" — have been the subject of intense debate since it first appeared online one week ago.

Republicans and some Democrats say the group crossed a line in suggesting Romney's role at Bain Capital contributed to a woman's death, especially after fact-checkers debunked the suggestion that the woman died immediately after her husband's layoff from a Bain-owned factory or entirely lacked health insurance because of the move.

The Obama campaign has refused to disavow the ad, claiming no affiliation with the super PAC, even though administration officials have fundraised for it and former White House staffers run its operations.
Amusingly, though, Cole essentially buys the ad's absurd claims as gospel: "First off, if that woman had health insurance that had not been robbed by the vulture capitalists at Bain, led by Mitt Romney, she might still be alive." Regardless, in an act of good will, Cole says he'll "pass that off as debatable."
It's apparently the second that sets Cole off:
 Biden never said Romney wants to put black people in chains. Period. That is not what Biden said. Here is the actual quote:

Specifically, the vice president said to the Danville, Virginia, crowd that the House GOPbudget, partly written by House Budget Committee Chairman Rep. Paul Ryan, R-Wisc., gives an indication of the Republican presidential ticket's values. 

"We got a real clear picture of what they all value," Biden said. "Every Republican's voted for it. Look at what they value and look at their budget and what they're proposing. Romney wants to let the — he said in the first hundred days he's going to let the big banks once again write their own rules, 'unchain Wall Street.' They're going to put y'all back in chains."

An Obama campaign official tells ABC News that "as the full quote makes obvious, the Vice President was clearly using a metaphor to describe the devastating impact of deregulating Wall Street and the financial industry, as well as how Governor Romney's policies would take us back to the same failed formula that led to the 2008 financial crisis – the same failed formula that benefitted a few, but crashed our economy and hurt the middle class."
The problem was that, in the context of an audience that was roughly half African-American and the pacing, delivery, and odd accent Biden used for the "They're going to put y'all back in chains" colored the line.  Former Virginia Governor Douglas Wilder, an African-American Democrat, said that "without question" the remark was a racial appeal, noting that Biden used "ya'll" rather than "us."  "So he was still involved with that separate America. And I'm sick and tired of being considered something other than an American," said Wilder.
Again, watch the  "Morning Joe" clip (which was my introduction to the controversy). With the exception of Mika Brzezinski, the whole crew thought it was, at best, an "inartful" choice of words on Biden's part that clearly came across as a slavery reference. Even Jonathan Capehart thought so, although he saw no need for an apology given things that Republicans have said about Obama. That, incidentally, was the take of most of the commenters on Doug's OTB thread about the incident.
Now, I happen to think this was just another case of Biden being Biden. That is, I think he got rolling in front of a partisan crowd that was eating up his message and got carried away riffing off of the "unchain Wall Street" line.  Was it a racial appeal to a black crowd? I think it was. Do I think Biden actually meant it? No.
But my criticism wasn't aimed at the line itself—this sort of thing happens all the time on the campaign trail and, face it, especially when it's Joe Biden doing the talking—but rather at how Biden and his team handled the aftermath. Rather than just coming out and saying that, no, of course the vice president doesn't think that Romney wants to put people in back into chains, they spent two days hamhandedly defending the line.
It's worth pointing out, too, that I chose those two incidents because they were both fresh in people's minds. I consider the "Understands" spot a far, far more egregious example of dirty campaigning than the "chains" brouhaha.