American Politics May Be Nasty But They Started It
At some point, however, using the bad actions of the past to justify worse actions in the present has to stop.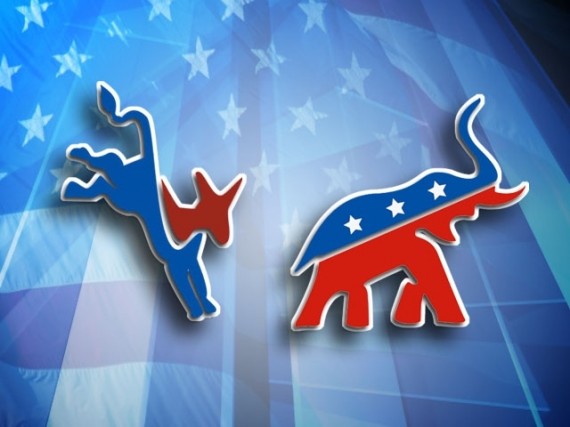 WaPo's Dana Milbank, responding to the Dan Balz column that sparked   yesterday's posting on "Why 2012 Is So Nasty And Likely to Get Nastier,"declares:
Forgive me, but I'm not prepared to join this walk down Great Umbrage Street just yet. Yes, it's ugly out there. But is this worse than four years ago, when Obama was accused by the GOP vice presidential nominee of "palling around with terrorists"? Or eight years ago, when Democratic nominee John Kerry was accused of falsifying his Vietnam War record?
Yes, it's actually worse than that—bad as it was. The links between Obama and former Weatherman William Ayers were tenuous and decades removed from whatever radicalism Ayers might have engaged in—but there was at least a veneer of truth in the smear. And the Swift Boat idiots were a fringe group; they weren't run by a former Bush spokesman.  Now, though, we've got the Obama administration signing off on an ad insinuating that Mitt Romney killed a woman and the vice president refusing to back away from the suggestion that Romney wants to put black people back in chains. So, yeah, I'd say it's worse than four or eight years ago.
Milbank continues:
What's different this time is that the Democrats are employing the same harsh tactics that have been used against them for so long, with so much success. They have ceased their traditional response of assuming the fetal position when attacked, and Obama's campaign is giving as good as it gets — and then some.

Balz is correct when he observes that the "most striking" element of the campaign is "the sense that all restraints are gone, the guardrails have disappeared and there is no incentive for anyone to hold back." In large part, this is because the Democrats are no longer simply whining about the other side being reckless and unfair: They are being reckless and unfair themselves.
The notion that Democrats haven't been willing to be "reckless and unfair" before now is patently absurd. Hell, they ran the most infamous negative ad of all time in 1964, declaring that the Republican nominee would get everyone killed in a nuclear war. The 2000 campaign featured an NAACP ad that equated then-Governor Bush's veto of a hate crimes bill with dragging an innocent black man to his death behind a pick-up truck.
Obama's 2008 campaign was positively ruthless—and that was just the primary against Hillary Clinton. Alec MacGillis:
 I think that all of us political reporters need to be careful not to overstate the contrast between the two campaigns. Yes, Team Obama just put out a tough ad attacking Mitt Romney for outsourcing jobs at Bain Capital and for his Swiss bank account. But let's not forget—they were putting out some pretty tough, and arguably unfair, ads and mailings back in 2008, as well. They hammered Hillary Clinton for requiring that everyone buy health insurance or pay a penalty (wait, isn't that…yeah) and over her support for the passage of NAFTA during her husband's administration, attacks that provoked a memorable tirade from her ("shame on you,  Barack Obama!"). During the general election, Obama went after John McCain for supporting a huge tax increase—McCain's proposal to replace the tax exemption for employer-provided health care with a new tax provision that would make health insurance partly deductible for all taxpayers, including those who buy health insurance for themselves. The plan had major flaws, but Obama's attack seriously distorted it, and a limited version of McCain's idea—cutting back on the tax preference for employer-provided insurance—has also made it into Obama's health care law, in the form of a tax on high-priced employer-provided health plans. All told, tallies after the 2008 campaign found that at least two-thirds of Obama's ads in the general election were negative attacks on McCain. So even in '08, hope and change went only so far.
As John Sides, an Obama supporter notes, the notion that Obama's campaign was mostly "Hope and Change" and "Yes, we can!" is belied by the facts.  Indeed, it was often pointed out that Obama ran more negative ads than any presidential candidate in history although, as Glenn Kessler counters, that's mostly because they had a record war chest and ran more ads, period, than any previous candidate. Still, more than two-thirds of Obama's political ads were negative.
Looking through my writing portfolio this morning for something entirely different, I stumbled across an essay I wrote way back in January 2006 for the now-defunct TCS Daily that they headlined "The Triumph of 'Angry and Stupid.'" In light of yesterday's posting on "Why 2012 Is So Nasty And Likely to Get Nastier" and the lively commentary it's engendered, a lengthy excerpt is in order:
The win at all cost mentality, which is more a function of the permanent campaign and the ever-increasing role of the federal government than anything Kos has done, is corrosive. There was a sense, as recently as the 1980s, that once the election was over, it was time to govern. Presidents who won elections were entitled to a honeymoon period and preparations for the next election were on the back burner. In recent years, though, the losing party immediately sought to undermine the legitimacy of the winner and brought out all the tools at their disposal to obstruct.

The win at all costs model, which is bipartisan, leads to politics being a sport where you merely root for whoever happens to be wearing the team colors at the moment. Ordinary voters are more likely to be turned off by the rancorous atmosphere and the core electorate will likely be more energized than ever to make sure that the "bad guys" lose.

Perhaps it's a function of age and cynicism as much as actual change in climate, but this does strike me as genuinely recent. While I was a genuine enthusiast for Ronald Reagan and the Republicans when I was first seriously interested in politics, I never thought that Jimmy Carter, Walter Mondale, and Tip O'Neill — or even Mike Dukakis and Robert Byrd — were anything other than honorable men with whom I disagreed on some important issues of policy.

Indeed, I thought that way about Harry Reid until he took on the Chief Obstructionist mantle as Minority Leader. Now, it is rare for me to take a member of the Democratic leadership seriously. The presumption is that whatever comes out of their mouth is scripted for political advantage rather than motivated by genuine conviction.

The country would no doubt be better off if the debate returned to policy rather than politics. Sadly, there is no sign that's about to happen.
The American political scene was vitriolic, indeed, those days. The George W. Bush administration was probably at its lowest point, just months after Hurricane Katrina and with the 2006 election, which would result in the Republicans getting "a whoopin'," was underway. Kevin Drum, quoted in my piece, declared that "nearly the entire political blogosphere . . . tends to be far more a partisan wrecking crew than a genuine force for either progressive or conservative thought."
As bad as it was then, though, I genuinely believe it's gotten worse rather than better. The blogosphere is nastier than it was then. Twitter was a few months away from launch and years away from being a 24/7/365 food fight that it would become. (That's not to say that fruitful conversations can't be had on both blogs and Twitter; I have them all the time. But doing so requires more careful curation that it did a few years ago.)
The Democrats, frustrated with their inability to knock of Bush in 2004, decided that they'd thwart him at every turn. The began using the tools of the Senate to obstruct at an unprecedented pace. That pace only increased after gaining control of both Houses of Congress in November 2006.
As bad as Bush Derangement Syndrome was, though, Obama Derangement Syndrome is much worse. While Democrats were bitter over the way Bush won in 2000 and some even charged that 2004 was stolen, too, there was at least no question that Bush was an American citizen.
As bad as Harry Reid was in opposition, the Republicans are even worse now. While Reid and company did their best to deny Bush controversial appointments, McConnell and company took it up several notches, baldly declaring that their top legislative priority was keeping Obama from getting re-elected. Not just in the election year, mind you—but for Obama's whole term. Oh, and the country just happened to be in the worst economic crisis in generations.
I don't know where it all began. Many on my side of the aisle date it to the vitriolic hearings over Robert Bork's nomination to the Supreme Court back in 1986. But I'm sure Democrats can point to really vicious examples that predate the Bork controversy. Regardless, each milestone tends to be used as a lodestar, justifying retribution in kind and then some.
And, while I reject as absurd Milbank's premise that Democrats have been playing clean up until now while the mean old Republicans have used every underhanded trick in the book, I do think it's fair to say that Republicans bear the lion's share of the blame for the escalation in rhetoric in recent years. The fact of the matter is that, while conservatives have won most of the battles of the 1980s and forced the Democrats to become more centrist on taxation, military spending, and other issues they've lost the "religious war" that Pat Buchanan infamously talked about in 1992.
The Rush Limbaughs and Ann Coulters who were an entertaining fringe when I started OTB nearly a decade ago are now mainstream. The notion that Democrats and people living in big cities aren't really "American" in the same way as country folk, long a rhetorical trope used to rally the base, actually seems to be taken literally by far too many. Bill Clinton was never embraced as legitimate by too many Republicans but it's been taken to a whole new level under Obama. And, while race doubtless plays a role in that, I think it's mostly just a function of how much more vitriolic the climate has become.
At some point, however, using the bad actions of the past to justify worse actions in the present has to stop. The rules say somebody is going to win this thing come November 6 and somebody is going to be president come noon next January 20. I don't see how he can possibly govern if half the country sees him as something other than the legitimately elected president and members of the opposition party in the Senate decide that their chief priority is getting the White House back four years hence.