OTB Caption Contest Winners
The XKCD Edition OTB Caption ContestTM is now over.
The XKCD Edition OTB Caption ContestTM is now over.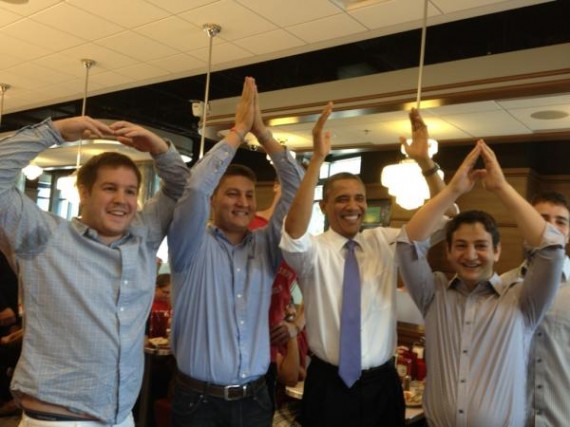 ✰ THE WINNERS ✰
First: Allan Bourdius – Misspelling and poor coordination aside, the American people are disturbed at the lack of a disco backbeat and appropriate stereotypical costuming.

Second: C. Clavin – "…Ryan is tackled in the end-zone…that's a safety…2 points for the Dem's and the Republicans have to kick the ball away…"

Third: JKB – "TOTUS, stop screwing around!"
HONORABLE MENTION
Tony W – Feeling justified after a brief workout, Obama's campaign staff revisited the buffet for another round.

Michael Hamm – Government funded "green" deodorants displayed to an adoring Democrat fundraiser.

John Burgess – The collision of The Village People and Alzheimer's Disease is not pretty.

CSK – Auditions for the Joffrey Ballet have gotten much less competitive in recent years.

MstrB – Congratulations, you passed the intelligence test to be Mayor of Los Angeles.

KRM – "It's true! It's true!"
ℛODNEY'S BOTTOM OF THE BARREL
The NFL Replacement Official training left a little to be desired.

What if the Hokey Pokey is what its all about?

Now I know how to address a prostitute in Yiddish.

Joe Biden: 'Barry you should be on one end or the other… that's where the zeroes go.'
The Monday Contest has already gotten off the ground.