OTB Caption Contest Winners
The El Ka-Bong Edition OTB Caption ContestTM is now over.
The El Ka-Bong Edition OTB Caption ContestTM is now over.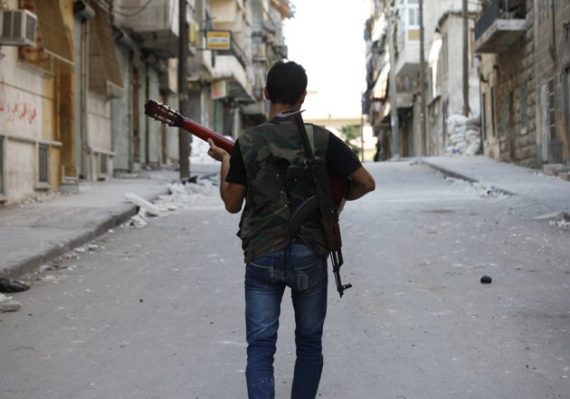 ✰ THE WINNERS ✰
First: KRM – Can you tell me how to get, How to get to Sesame Street

Second: JKB – If he only had a banjo, he could have left the AK at home while clearing the street.

Third: Mr. Prosser – Imagine. Trying the John Lennon way might work, nothing else has.
HONORABLE MENTION
Robert W. Armijo – "♪Killing Me Softly with His Song♪"

Jeremy – Hoping to breathe new life into their franchises, the creators of Guitar Hero and Call of Duty. join forces.

Michael Hamm – While my guitar gently weeps.

Donald Sensing – Romeo knew Juliet would be surprised he'd learned to play the guitar. As for her father, well, Romeo had a surprise that SOB, toonext?"

Mike in South Carolina – You're sure you don't have any change to support a struggling musician?

Eric Florak – Ghostbuster with the new smaller nuclear accelerator
ℛODNEY'S BOTTOM OF THE BARREL
Achmed always knew how to make Assad's forces reveal their location, "If you're happy and you know it, Clap you hands…"

"You can get anything you want at Alice's Restaurant."

Searching for Phil Ochs
The Thursday Contest has already been stymied at Musical Chairs.