OTB Caption Contest Winners
The Purple Gang Edition OTB Caption ContestTM is now over.
The Purple Gang Edition OTB Caption ContestTM is now over.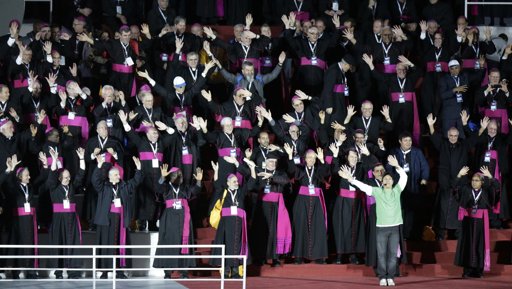 Photo by RICARDO MORAES/REUTERS

✰ THE WINNERS ✰
First: He who must not be named – Cause tonight we're going to party like it's 999.

Second: jd – Could we please have a volunteer to help find a little lost boy?

Third(tie): Allan Bourdius – "They heard the hum of the motors, they counted the rotors, and waited for us to arrive…and we would all go down together."

Third(tie): Paul Hooson – "Get your motor runnin'… Head out on the highway… Looking for adventure… Whatever comes our way… Born to be wild…"
HONORABLE MENTION
Mu – The pope invited the three bishops who followed the full YMCA routine for special counseling afterwards.

Moosebreath – I never knew doing the wave was a sacrament

Patrick McCain – Anthony Weiner's historic vow of celibacy begins.

David in KC – Oh sure, you'll have your luggage first thing tomorrow… Stupid airlines.

John425 – (stage right,) Doug Mataconis crashes the enclave while ( near top center), Rodney Dill eggs him on.

gtleviathan – Just throw your hands in the air… and wave them as if there are no eternal repercussions.
ℛODNEY'S BOTTOM OF THE BARREL
Some groups will go to great lengths to try and embarrass John McCain.

Opus Dei and the Knights led a rousing chorus of 'SHOUT.'

"Let's do the Time Warp again"

Throw up your hands
Stick out your tush
Hands on your hips
Give 'em a push
You'll be surprised, you're doing the French Mistake
Voila!
The Thursday Contest is ready for another round.