OTB Caption Contest Winners
The Break A Leg Edition OTB Caption ContestTM is now over.
The Break A Leg Edition OTB Caption ContestTM is now over.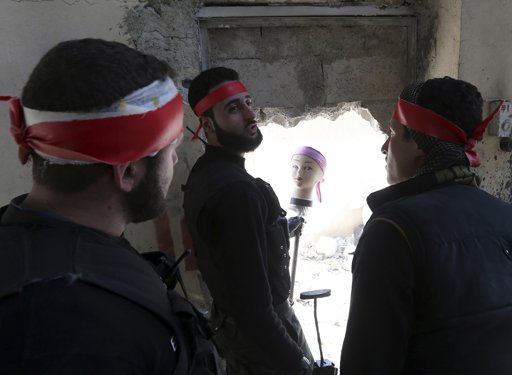 Photo By REUTERS/Goran Tomasevic

✰ THE WINNERS ✰
First: CSK – "Kukla, Fran, and Allah" was one of the more popular children's puppet shows broadcast by the Junior Jihadi Network.

Second: Tony W – Hey dude, get your own girlfriend.

Third: OzarkHillbilly – The newest treat, Asma al-Assad on a stick, was a big hit at the Rebel Country Fair.
HONORABLE MENTION
Tillman – Don't worry, Muhammed. You're a shoe-in for MVP this year.

Paul Hooson – I hear the acts on SYRIA'S GOT TALENT aren't very good this year…

Stormy Dragon – After months of stalemate with Assad's forces, the Syrian rebels finally start getting a head.

markm – Rebel training leader: "….DO NOT FORGET….egress holes in rubble must be checked for safe passage. For large rubble holes, always use a woman's head on a stick…wave it outside the hole to see if it get's shot off. Clearly for smaller rubble holes, a child's head on a stick will suffice."

He who must not be named – Achmed the Live Terrorist's Jeff Dunham act was very popular. Not particularly good, but popular. (playing before a tough crowd – rodney)

jd – A man with a silly little putter like that shouldn't be making fun of anyone's golf club sock.

Pharoah Narim – "Curses Brothers! You've failed the test again! How many times have I warned you not to directly gaze upon the evil of the uncovered female. You must enjoy the creepy bulges her witchcraft gives us!"

John D'Geek – Down on his luck Ventriloquist.
ℛODNEY'S BOTTOM OF THE BARREL
Just what the hell did you think I meant when I said, "Go get us some head."

"Hey Abdul, go get a sheep and duct tape… it's date night."

"She's lookin' good Vern."

"No no, Fadwa has risked enough, you stick out your head Jamal."

If you can keep your head when all about you
Are losing theirs and blaming it on you,
If you can trust yourself when all men doubt you,
But make allowance for their doubting too – (Kipling)
The Monday Contest is already operating at a standstill.