OTB Caption Contest Winners
The Humphrey The Camel Edition OTB Caption ContestTM is now over.
The Humphrey The Camel Edition OTB Caption ContestTM is now over.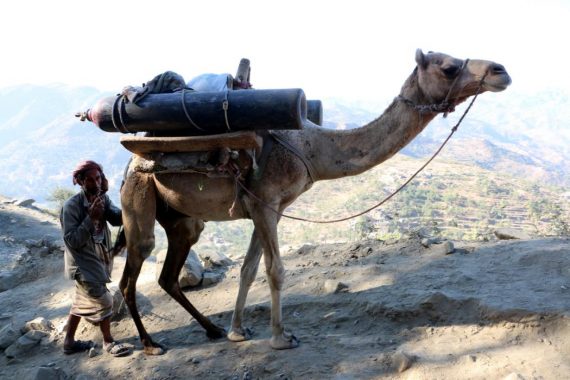 (Getty/EPA/Reuters)

✰ THE WINNERS ✰
First: Jc – I once graced the cover of a cigarette box and now I am hauling oxygen…isn't it ironic, don't ya think?

Second: Mu – The Afghan Queen gets ready for the attack run.

Third: OzarkHillbilly – These new uparmored camels are much better than the old ones.
HONORABLE MENTION
Franklin – Here are the remaining members of Afghanistan's bicameral government.(Shouldn't that be by-camel government – rodney)

John430 – The Taliban introduces their own ICBM (Improbable Camel-Based Missile).

Paul – Straight Outta Cairo…"(…and still no black actor nominations – rodney)

al-Ameda – Bundys move their encampment from Oregon to Syria

RockThisTown – One hump or two in your IED?

David in KC – It's the Millenium Camel.
ℛODNEY'S BOTTOM OF THE BARREL
Jack Blanchard and Misty Morgan attempt a comeback.

Abdul: "You can kiss my dromedary air"

Who's the Afghan army tank commander.

Aquacamel was pretty cool… but Aquaman still sucked.

Rodney inadvertently starts Wednesday's Contest on Monday.

Steve Harvey inadvertantly introduced the camel as Miss Afghanistan…. no one complained.

Even with nuclear arms Iran's delivery system left a little to be desired.

"So Muhammad, that camel only has one hump?"
"Yes, but my sheep, dogs, and donkey have been humped many times."

Hump? What hump?

Special Guest Appearance: Paul Hooson – Just wait until he unpacks the camel to set up his shade….that will be a tents situation!