OTB Caption Contest Winners
The Trumpkins Edition OTB Caption ContestTM is now over.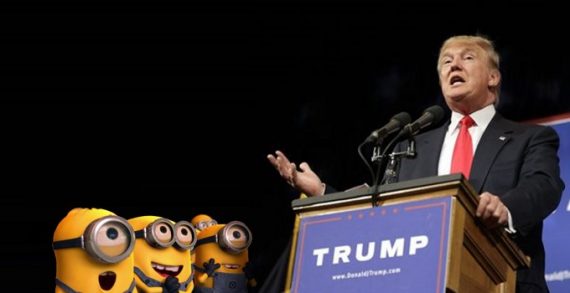 (AP Photo/Ramon Espinosa)

✰ THE WINNERS ✰
First: Franklin – Trump leads his own Minion Man March.

Second: Tony W – Despicable Meme

Third: Hal_10000 – Trump introduces those he claimed benefited from going to Trump University.
HONORABLE MENTION
Mu – "Bananafingers!"

john430 – Trump supporters hail his "Minion Lives Matter" speech.

David in KC – it's amazing what a hairpiece and a name change did for Gru.

Jenos Idanian – Minions: Serving Evil Since The Dawn Of Time

RockThisTown – "In a Trump administration, these guys will be yuuuge!"

al-Ameda – "and now, here to explain my understanding of NATO …"

mannning – The fourth minion wears a red tie.

Paul Hooson – SNOW FLAKE & SOME DWARVES…
ℛODNEY'S BOTTOM OF THE BARREL
I didn't know there was going to be another Republican debate.

"Yes, I withhold Viagra from my lawyers so they stay shorter than me."

"Yes, the minions will have a posts in my administration…. as fence posts… on the border."