OTB Caption Contest Winners
The Swamp People Edition OTB Caption ContestTM is now over.
The Swamp People Edition OTB Caption ContestTM is now over.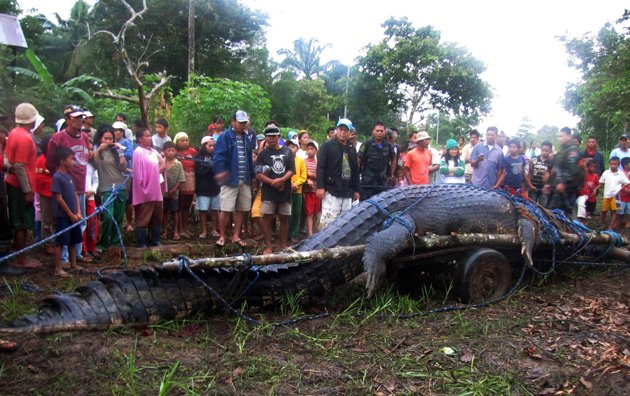 There hasn't been a tie for First for a while, but this contest generated a lot of good creative captions. Go read them all if you have time.
✰ THE WINNERS ✰
First(tie): KRM – The tailgate party was nearly ruined, however, when it was discovered that Steve had only brought one bag of charcoal.

First(tie): Doug Mataconis – Tragically, the Geico Gekko had an adverse reaction to a weekend of partying with Charlie Sheen.

Second: Robert W. Armijo – Despite being physically challenged, this giant crocodile was still able to overtake its prey.

Third: john personna – Tick-Tock messes with the wrong village.
HONORABLE MENTION
Michael Hamm – Tonight's secret ingredient on Iron Chef is . . . . .

Peterh – Hush….I think just heard the word "crikey" come from its belly

Jay Tea – "Quick, get the pictures before it's too late! Imelda Marcos is coming!!!!"

MstrB – Once it was safely secured, the Filipino crocodile was circumcised by Tim Tebow.

charles austin – About that whole draining the swamp thing…

Dan – Well….At least he saved 15 percent or more on his car insurance.

mannning – Aw Geez! What a croc!

Georg – Village fighting breaks out when alligator hide found not to be large enough to provide everyone with shoes.
ℛODNEY'S BOTTOM OF THE BARREL
The debates only served to prove just how crowded the GOP race was getting.

The rest of the GOP chose to ignore the RonPaulisaurus in the room.

The Tea Party finally settles on its mascot.

He ate one of them little Chinese subs an hour ago, and now he's hungry again.

The Al Qaeda plot to use Giant Croc's as a Trojan Horse ploy, went over less well for the terrorists than planned.

Understandably no one in the village had a crockpot large enough.

(muffled) "mmf mnnf ahd mmmly annnt oo tamff oo oo mofftf rrfmm Pmmmmsf" (Translated: "C'mon I'd really like to tell you about Ron Paul.")
The Monday Contest has already delivered its payload.