OTB Caption Contest Winners
The Operation Jumbo Drop Edition OTB Caption ContestTM is now over.
The Operation Jumbo Drop Edition OTB Caption ContestTM is now over.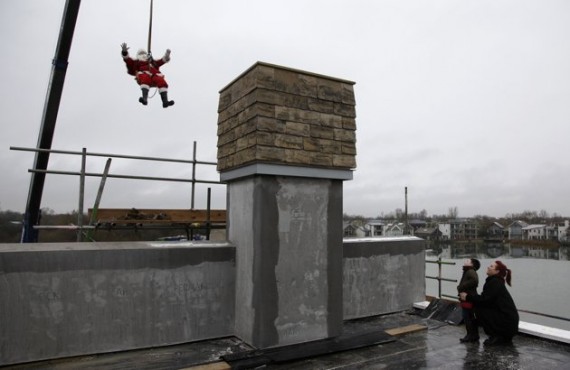 Photo By STEFAN WERMUTH/REUTERS

✰ THE WINNERS ✰
First: Herb – I'm Johnny Knoxville and this is the Bungee Santa.

Second: G.A.Phillips – I don't believe in Santa or alien abductions…

Third: KRM – "I'm only going to ask you one more time, fat man: Where's my damned Red Ryder bb-gun?"
HONORABLE MENTION
John425 – "Mythbusters" TV show: Can Santa really slide down the chimney?

Debitking – OMG! The war on Christmas has come to this!? They just hung Santa Claus.

Maggie Mama – See, I told you that PETA convinced Santa to free his reindeer from "animal slavery"!

Gollum – "No mythical personalities were harmed in the filming of this caption contest."

mannning – How to destroy the Santa myth with one act for all to see: daytime chimney insertion, no sled, no reindeer, no presents, plenty of witnesses, and an assist from a crane and its operator.

PeterOly – Unable to afford the carbon credits to offset all those reindeer farts, Santa is reduced to hiring union crane operators. Productivity drops and costs rise even as Christmas is rescheduled for mid-April.
ℛODNEY'S BOTTOM OF THE BARREL
Santa Claus shows his expertise at crane Kung Fu.

The finnish space program didn't experience any difficulties until they tried to mount the payload.

"No!!! I don't want to attend a GOP debate."

The real story behind the SEAL Team Six insertion revealed.
The Monday Contest is planning an all out assault on Christmas.