OTB Caption Contest Winners
The Orange Crush Edition OTB Caption ContestTM is now over.
The Orange Crush Edition OTB Caption ContestTM is now over.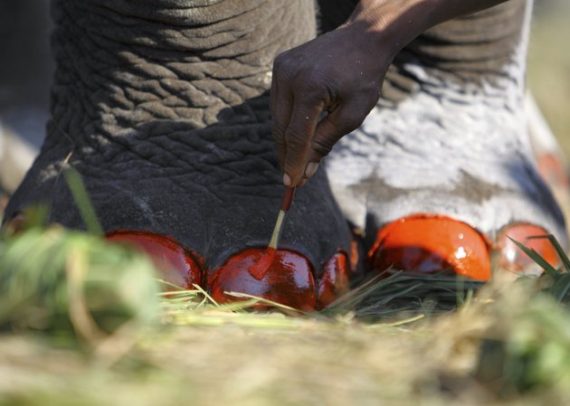 Photo By NAVESH CHITRAKAR/REUTERS

✰ THE WINNERS ✰
First: jd – You know Santorum's going to be there, too, right?… Right?

Second: Steven L. Taylor – "It's sorta like lipstick on a pig."

Third: Jeremy Sarber – The GOP believes they have finally found a way to revamp their image and attract voters.
HONORABLE MENTION
steve – Poli sci class demonstrates that putting nail polish on an elephant makes the GOP mascot just as attractive as the current field of presidential candidates.

LorgSkyegon- Tired of the flack she was getting for having professional pedicures every week, Hillary Clinton tries doing it herself

John Burgess – Tip-toeing through the tulips… it's not just for the svelte!

Doug Mataconis – Marcus Bachmann called zoo officials and said he'd be willing to help the elephants "Pray away the gay"

Robert W. Armijo – "Imperial troops have entered the base! Imperial troops have entered the [static]."

Donald Sensing – Q: Why do elephants paint their toenails red? A: To hide in a strawberry patch.
Q: Have you ever seen an elephant in strawberry patch? A: No, which proves it works!
ℛODNEY'S BOTTOM OF THE BARREL
Santorum had problems with the direction the new GOP was taking.

Horton continues to show his more sensitive side.

"Maybe putting lipstick on a Pitbull was a better idea."

The end of DADT lead to some unexpected results within the GOP.

Preparations for doing the Tebow.
The Thursday Contest has already mocked Dan Savage.