Pakistani Police Accuse Nine Month Old Of Plotting Murder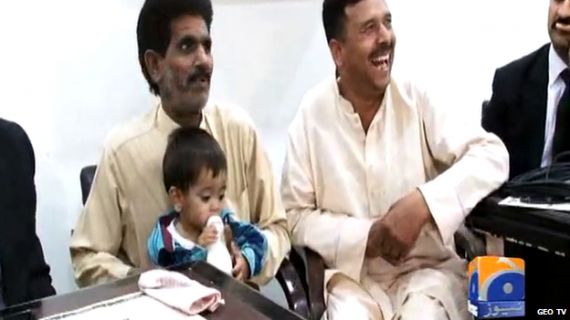 A nine month old boy in Pakistan is facing charges that he assaulted and attempted to murder a police officer:
A nine-month-old boy has appeared in court in Pakistan on charges of planning a murder, threatening police and interfering in state affairs, it appears.

Baby Muhammad Mosa Khan is one of more than 30 people facing charges after a police raid to catch suspected gas thieves in the city of Lahore, The News website reports. Police say the suspects tried to murder security officers by pelting them with stones. But the Times of India newspaper quotes the infant's father as saying the group was protesting an electricity shortage.

The infant appeared in the courtroom sitting on his father's lap – who is also accused – and clasping a feeder. He was given bail and the case has been adjourned until 12 April, reports from Lahore say.

The murder charges against a baby have alarmed Punjab's Chief Minister Muhammad Shahbaz Sharif. He has asked for clarification from the province's inspector-general of police and demanded "stern action" against the officials who registered the case.
Sharif, obviously, is just a soft on crime liberal.
H/T: Lowering The Bar