Pandemic, Trauma, and Identity
There's something happening here. But what it is ain't exactly clear.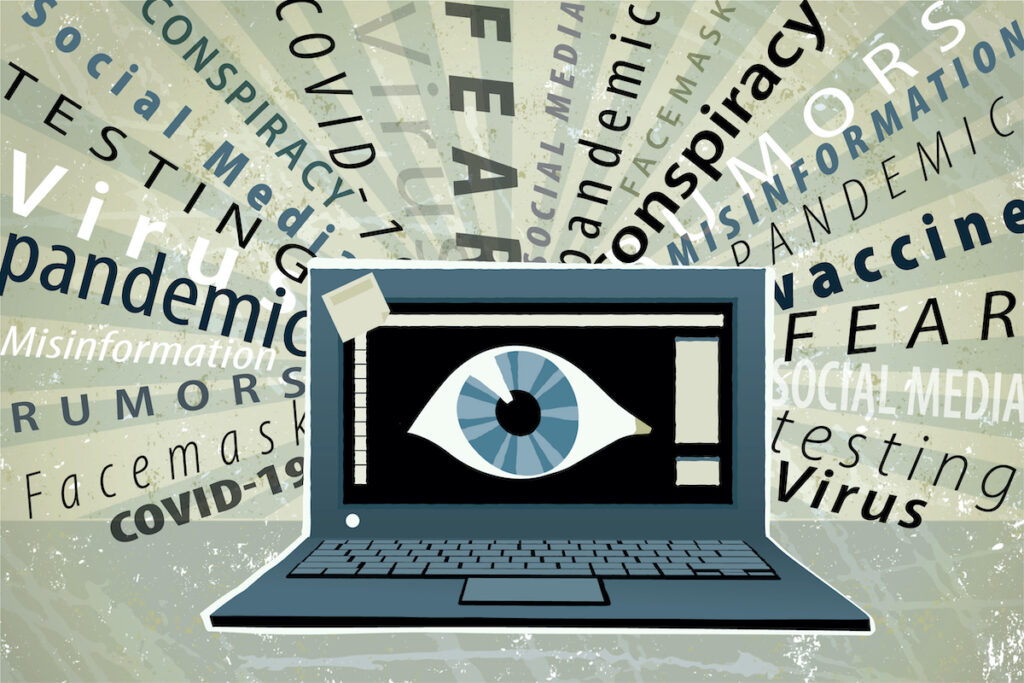 Two recent essays touch on the social psychology of the COVID pandemic in ways that help explain our national breakdown.
The first, by the NYT's Sabrina Tavernise, is titled "First They Fought About Masks. Then Over the Soul of the City." It's written as a human interest story and filled with some telling anecdotes. I commend it to you in its entirety but want to focus here instead on the 10,000-foot view.
From lockdowns to masks to vaccines to school curriculums, the conflicts in America keep growing and morphing, even without Donald Trump, the leader who thrived on encouraging them, in the White House. But the fights are not simply about masks or schools or vaccines. They are, in many ways, all connected as part of a deeper rupture — one that is now about the most fundamental questions a society can ask itself: What does it mean to be an American? Who is in charge? And whose version of the country will prevail?

Social scientists who study conflict say the only way to understand it — and to begin to get out of it — is to look at the powerful currents of human emotions that are the real drivers. They include the fear of not belonging, the sting of humiliation, a sense of threat — real or perceived — and the strong pull of group behavior.

Some of these feelings were already coursing through American society, triggered by rapid cultural, technological, demographic and economic change. Then came the pandemic, plunging Americans into uncertainty and loneliness, an emotion that scientists have found causes people to see danger where there is none.

Add to all of that leaders who stoke the conflict, and disagreements over the simplest things can become almost sectarian.

Eran Halperin, a social psychologist at the Hebrew University of Jerusalem in Israel who studies emotions in conflict, said that people in intractable fights often do not remember how they started but that they are perpetuated by a sense of group threat. One's group — for example, American or Christian — is an extension of oneself, and people can become very defensive when it — or its status in a hierarchy — changes.

"If my American identity is an important part of who I am, and suddenly there's a serious threat to that, in some ways that means I don't know who I am anymore," he said. "It's an attack on the very core of how I see myself, of how I understand myself."

Professor Halperin said he has been surprised to see that the emotions that have powered the conflict in America were just as intense as those he sees between Israelis and Palestinians. That is because in the United States, unlike in Israel, both sides had relatively high expectations of each other, he said, leading to a sharp shock when "those who were part of us, suddenly do something so counter to our values."

In Enid, both sides in the mask debate believed they were standing up for what was right. Both cared deeply for their city — and their country — and believed that, in their own way, they were working to save it. And it all started as an argument over a simple piece of cloth.
And this analysis, not from a distant social scientist but a Black man who moved to town and won a seat on the city council, is also prescient:
Mr. Waddell thought it had to do with fear. He said America is in a moment when the people who ran things from the beginning — mostly white, mostly Christian, mostly male — are now having to share control. Their story about America is being challenged. New versions are becoming mainstream, and that, he believes, is threatening.

"You don't just get to be the sole solitary voice in terms of what we do here, what we teach here, what we show on television here," he said. "You don't get to do it anymore. That's where the fight is."

He sees it as the next chapter in the story of what it means to be an American, of who gets to write this country's story. But he does not see the country getting through it without a fight.

"We're going to have an explosion," he said. "Whether it's literal or figurative. It's going to be bad."
Contrast that story with Marisa Iati's piece for WaPo, "The pandemic has caused nearly two years of collective trauma. Many people are near a breaking point."
Nearly two years into a pandemic coexistent with several national crises, many Americans are profoundly tense. They're snapping at each other more frequently, suffering from physical symptoms of stress and seeking methods of self-care. In the most extreme cases, they're acting out their anger in public — bringing their internal struggles to bear on interactions with strangers, mental health experts said.

Some of those behaviors appear to be the result of living through a long-lasting public emergency with no clear endpoint, the experts said. As the omicron variant rages across the country, it is again unclear when the pandemic restrictions will end. For some people, this kind of catastrophe strains their coping resources and causes them to act in ways that they normally would not.

Layer that onto other recent national crises — including race-driven social unrest, an economic recession, the Jan. 6 attack on the Capitol and myriad extreme-weather disasters — and people can hardly bear the stress.

"We're just not meant to live under this level of tension for such a prolonged period," said Vaile Wright, senior director of health care innovation for the American Psychological Association. "So what that ends up doing is it really wears on our coping abilities to the point where we aren't able to regulate our emotions as well as we could before."

That kind of emotional tension is most relevant to people who continue to take precautions and factor the virus into their decision-making. Much of the country has long moved on from tracking the pandemic's every turn, with many people instead living much like they were in 2019.

But research supports the idea that Americans as a whole are struggling mentally and emotionally. A study of five Western countries, including the United States, published in January found that 13 percent of people reported symptoms of post-traumatic stress disorder attributable to actual or potential contact with the coronavirus, stay-at-home orders, the inability to return to a country of residence or other coronavirus-related factors. The researchers also found that anticipating a negative pandemic-related event was even more emotionally painful than experiencing one.

[…]

That danger heightens the feeling of whiplash among people tired of the pandemic's twists and turns, said Roxane Cohen Silver, a professor of psychological science at the University of California at Irvine.

"The news about the omicron variant came right at the time that many people in the U.S. were poised to spend the Thanksgiving holiday with loved ones for the first time in a long time," she said. "It seemed almost cruel that just when 'normalcy' seemed to be on the horizon, hopes were again dashed with the latest news."
Deep into the piece, Iati adds another layer:
Worry about the pandemic, climate change and other crises has made Kia Penso, 61, so on edge that she can't watch suspenseful television shows, and interactions with her brother when she is worried about him have become "10 times more explosive." Her past year and a half has been marked by her uncle's death from covid-19 and persistent worry about the safety of her elderly mother overseas.

Those stresses have been exacerbated by her feeling that the coronavirus's threat would be negligible by now if other people hadn't fallen victim to false claims that the federally approved or authorized vaccines are dangerous. The Food and Drug Administration and the Centers for Disease Control and Prevention have consistently said the immunizations are safe and effective.

"We're still in danger, we're still cooped up in our houses to some extent, we're still not free to move about because of malevolent lies," said Penso, who lives in D.C.
Ironically, those who seem to fear the virus the least (but fear immunizations and masking most) are pretty much free to move about as they please, because they're just living as though we're not in a pandemic. To be sure, they're dying at a faster rate.
I'm not fully sure how these two narratives meld. But, clearly, there's more going on than differing risk tolerances or the influence of Donald Trump and Fox News.
Tavernise's reporting and storytelling are powerful. and there's clearly something to the identity politics angle. There's no doubt that there's a faction of the country that genuinely believes "their" country is being stolen from them and replaced by something inferior. That has explained parts of our politics for a very long time. But I'm not sure, exactly, how that plays into the divide over vaccines and masking.
Regardless, the pandemic has sharpened the divide and the wear of masks—and the way in which masks are worn—has become a powerful symbol to divide Us and Them.