Papal Conclave Ends With A Puff Of White Smoke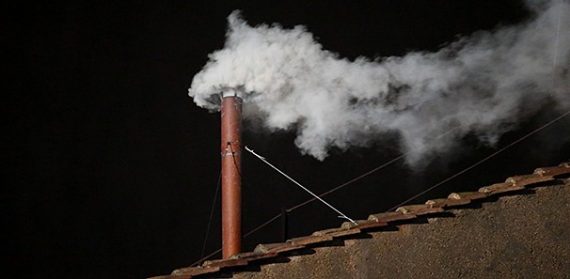 After just one and a half days and five ballots, the Papal Conclave has ended:
VATICAN CITY — With a puff of white smoke from the chimney of the Sistine Chapel and to the cheers of thousands of rain-soaked faithful, a gathering of Catholic cardinals picked a new pope from among their midst on Wednesday. The name of the new pope, the 266th pontiff of the Roman Catholic Church, was not immediately promulgated.

He inherits a church wrestling with an array of challenges that intensified during his predecessor, Benedict XVI — from a priest shortage and growing competition from evangelical churches in the Southern Hemisphere where most of the world's Catholics live, to a sexual abuse crisis that has undermined the church's moral authority in the West, to difficulties governing the Vatican itself.

Benedict abruptly ended his troubled eight-year papacy last month, announcing he was no longer up to the rigors of the job. He became the first pontiff in 598 years to resign. The 115 cardinals who are under the age of 80 and eligible to vote chose their new leader after two days of voting.

Before beginning the voting by secret ballot in the Sistine Chapel on Tuesday, in a cloistered meeting known as a conclave, the cardinals swore an oath of secrecy in Latin, a rite designed to protect deliberations from outside scrutiny — and to protect cardinals from earthly influence as they seek divine guidance.

The conclave followed more than a week of intense, broader discussions among the world's cardinals where they discussed the problems facing the church and their criteria for its next leader.

"We spoke among ourselves in an exceptional and free way, with great truth, about the lights, but also about shadows in the current situation of the Catholic Church," Cardinal Christoph Schönborn of Vienna, a theologian known for his intellect and his pastoral touch, told reporters earlier this week.

"The pope's election is something substantially different from a political election," Cardinal Schönborn said, adding that the role was not "the chief executive of a multinational company, but the spiritual head of a community of believers."
The conventional wisdom suggests that an early end to the conclave means that one of the perceived front runners was able to build up enough support to get to the required 2/3 majority relatively quickly. Who that person is, however, is something we won't know for about another half hour when the new Pontiff is introduced to the world.