Cardinal Jorge Mario Bergoglio Is Pope Francis I
Habemus Papam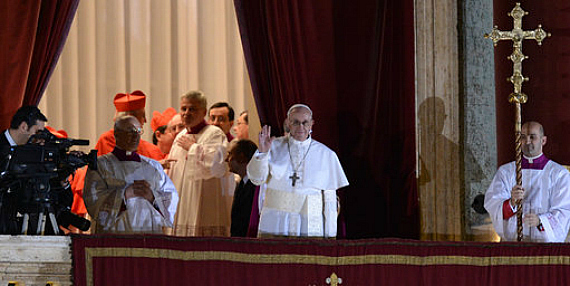 The College of Cardinals has elected Jorge Mario Bergoglio, the Archbishop of Buenos Aires as the new leader of the Roman Catholic Church:
VATICAN CITY — With a puff of white smoke from the chimney of the Sistine Chapel and to the cheers of thousands of rain-soaked faithful, a gathering of Catholic cardinals picked a new pope from among their midst on Wednesday — choosing the cardinal from Argentina, Jorge Mario Bergoglio, the first leader of the church ever chosen from South America.

The new pope, 76, to be called Francis, the 266th pontiff of the Roman Catholic Church, is also the first non-European leader of the church in more than 1,000 years.

"I would like to thank you for your embrace," said the new pope, dressed in white, speaking from the white balcony on St. Peter's Basilica as thousands of the faithful cheered joyously below. Francis thanked his fellow cardinals, saying they "have chosen one from far away, but here I am."

"Habemus papam!," members of the crowd shouted in Latin, waving umbrellas and flags. "We have a pope!" Others cried "Viva il Papa!"

"It was like waiting for the birth of a baby, only better, " said a Roman man. A child sitting atop his father's shoulders waved a crucifix.

Francis is the first pope not born in Europe since Columbus alighted in the New World. In choosing him, the cardinals sent a powerful message that the future of the Church lies in the Global South, home to the bulk of the world's Catholics. One of Benedict's abiding preoccupations was the rise of secularism in Europe, and he took the name Benedict after the founder of European monastic culture.

The new pope inherits a church wrestling with an array of challenges that intensified during his predecessor, Benedict XVI — from a priest shortage and growing competition from evangelical churches in the Southern Hemisphere where most of the world's Catholics live, to a sexual abuse crisis that has undermined the church's moral authority in the West, to difficulties governing the Vatican itself.
Bergoglio's election is somewhat of a surprise since he wasn't really included in much of the pre-Conclave speculation, in part due to his age. At the same time, though, it has long been reported that he had come in second to then Cardinal Ratzinger in the 2005 Conclave so there may well have been some residual support for him this time around. There are several firsts with this Papacy, of course. He's the first Pope from South America, and  the first non-European since Pope Gelasius I, who was from Northern Africa a and served from 492 to 496. He's also the first Jesuit Pope, so it's currently unclear if his adoption of the name Francis is meant to pay homage to St. Francis of Assissi or St. Francis Xavier, a Jesuit missionary who evangelized in India, Indonesia, and Japan during the 16th Century.
Update: As noted in the comments, the last non-European Pope was actually Gregory III, who was Pope from 731 to 741
Update #2: Vatican reporter John Allen has this profile of Pope Francis:
Born in Buenos Aires in 1936, Bergoglio's father was an Italian immigrant and railway worker from the region around Turin, and he has four brothers and sisters. His original plan was to be a chemist, but in 1958 he instead entered the Society of Jesus and began studies for the priesthood. He spent much of his early career teaching literature, psychology and philosophy, and early on he was seen as a rising star. From 1973 to 1979 he served as the Jesuit provincial in Argentina, then in 1980 became the rector of the seminary from which he had graduated.

These were the years of the military junta in Argentina, when many priests, including leading Jesuits, were gravitating towards the progressive liberation theology movement. As the Jesuit provincial, Bergoglio insisted on a more traditional reading of Ignatian spirituality, mandating that Jesuits continue to staff parishes and act as chaplains rather than moving into "base communities" and political activism.

Although Jesuits generally are discouraged from receiving ecclesiastical honors and advancement, especially outside mission countries, Bergoglio was named auxiliary bishop of Buenos Aires in 1992 and then succeeded the ailing Cardinal Antonio Quarracino in 1998. John Paul II made Bergoglio a cardinal in 2001, assigning him the Roman church named after the legendary Jesuit St. Robert Bellarmino.

Over the years, Bergoglio became close to the Comunione e Liberazione movement founded by Italian Fr. Luigi Giussani, sometimes speaking at its massive annual gathering in Rimini, Italy. He's also presented Giussani's books at literary fairs in Argentina. This occasionally generated consternation within the Jesuits, since the ciellini once upon a time were seen as the main opposition to Bergoglio's fellow Jesuit in Milan, Cardinal Carlo Maria Martini.

On the other hand, that's also part of Bergoglio's appeal, someone who personally straddles the divide between the Jesuits and the ciellini, and more broadly, between liberals and conservatives in the church.

Bergoglio has supported the social justice ethos of Latin American Catholicism, including a robust defense of the poor.

"We live in the most unequal part of the world, which has grown the most yet reduced misery the least," Bergoglio said during a gathering of Latin American bishops in 2007. "The unjust distribution of goods persists, creating a situation of social sin that cries out to Heaven and limits the possibilities of a fuller life for so many of our brothers."

At the same time, he has generally tended to accent growth in personal holiness over efforts for structural reform.

Bergoglio is seen an unwaveringly orthodox on matters of sexual morality, staunchly opposing abortion, same-sex marriage, and contraception. In 2010 he asserted that gay adoption is a form of discrimination against children, earning a public rebuke from Argentina's President, Cristina Fernández de Kirchner.

Nevertheless, he has shown deep compassion for the victims of HIV-AIDS; in 2001, he visited a hospice to kiss and wash the feet of 12 AIDS patients.

Bergoglio also won high marks for his compassionate response to the 1994 bombing in Buenos Aires of a seven-story building housing the Argentine Jewish Mutual Association and the Delegation of the Argentine Jewish Association. It was one of the worst anti-Jewish attacks ever in Latin America, and in 2005 Rabbi Joseph Ehrenkranz of the Center for Christian-Jewish Understanding at Sacred Heart University in Fairfield, Connecticut, praised Bergoglio's leadership.

"He was very concerned with what happened, Ehrenkranz said. "He's got experience."

Nevertheless, after the conclave of 2005 some cardinals candidly admitted to doubts that Bergoglio really had the steel and "fire in the belly" needed to lead the universal church. Moreover, for most of the non-Latin Americans, Bergoglio was an unknown quantity. A handful remembered his leadership in the 2001 Synod of Bishops, when Bergoglio replaced Cardinal Edward Egan of New York as the relator, or chairman, of the meeting after Egan went home to help New Yorkers cope with the 9/11 terrorist attacks. In that setting, Bergoglio left a basically positive but indistinct impression.

Bergoglio may be basically conservative on many issues, but he's no defender of clerical privilege, or insensitive to pastoral realities. In September 2012, he delivered a blistering attack on priests who refuse to baptize children born out of wedlock, calling it a form of "rigorous and hypocritical neo-clericalism."
And Damian Thompson, a conservative Catholic journalist, wants to see Francis clean house in the Vatican:
It's hard to overestimate the moribund uselessness of the Vatican and its press office when confronted by a fresh wave of allegations of sexual abuse. Every department has its tubby, snoozing monsignori who either can't read English newspapers and websites or, if they can, think they shouldn't over-react to "persecution" by the secular media.

What they don't grasp is that, even though some of the media coverage of Pope Benedict's role in the scandals was unfair (take a bow, Andrew Sullivan, The Times, the BBC etc) any bias was outweighed by the enormity of the crimes and the cover-ups, which have all but destroyed Catholicism even in its loyal heartlands. Especially in those heartlands, in fact.

It's a shame that Cardinal Bergoglio never had the opportunity to mingle incognito in the bars of modern Dublin, where he would have found an intensity of hatred for the Catholic Church that the Gordon rioters might have recognised. Young Irish people especially can hardly mention the Church without a curl of the lip. Older folk, meanwhile, feel miserably betrayed. It's the same story in, say, Boston or Quebec. How telling that the siblings of Cardinal Ouellet, Prefect of the Congregation for Bishops, no longer go to Mass regularly.

I know this is a downbeat response to what, for Catholics, is a joyful and hopeful event. But savage reform to the curia is required so that Pope Francis can (should he wish) take advantage of the successful Benedictine reforms: for example, the formation of a breed of bishop who – as the new Bishop Philip Egan of Portsmouth is demonstrating – are reclaiming their spiritual authority from hippy-generation bureaucrats and using it to promote the so-called "new evangelisation". To put it bluntly, a Church associated in the public mind with child abuse isn't likely to be good at any sort of evangelisation, new or otherwise. Nor can it face down its angry, condescending and well-informed enemies.
Much like John Paul II, Francis spent his entire pre-Papacy career in his home country and has not been involved in internal politics in Vatican City at all. That can be an obvious advantage, of course, and if he's got the kind of personality that would allow him to take charge and take on the Curia and the bureaucrats, he could accomplish a lot in reforming the Church's internal operations. However, other Pope's have tried to take on the Curia and only been partly successful. John Paul II is the most notable recent example, but also his most immediate predecessor, John Paul I, who was widely seen as an outsider that could have reformed the Curia. Unfortunately, of course, John Paul I only lived 33 days. I'm not a religious man myself these days, but I was raised Catholic so I do have some interest in these topics. At the very least, his selection of the name of one of the Church's greatest Saints, St. Francis of Assisi, is at least a sign that he intends to be a reformer. Whether he succeeds or not is another question.