Partner In Deepwater Horizon Rig Blames Explosion On BP Recklessness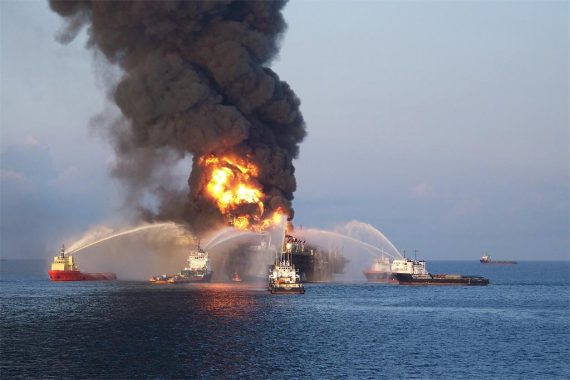 While BP still struggles to turn off the gusher of oil seeping up from the floor of the Gulf of Mexico, one of its partners in the Deepwater Horizon is already assessing blame:
BP's three-front oil spill war — on the seafloor, on the Gulf Coast and in Congress — turned into a four-front battle Friday when its main partner in the damaged exploration well blamed the oil giant's "reckless decisions and actions" for causing a disaster that was "preventable."

It was the first time since the blowout in the Gulf of Mexico that Anadarko Petroleum had given its view of the accident, and its chief executive, Jim Hackett, did not mince words. In a statement, Hackett said he was "shocked" by information that has emerged from investigations of the accident. He said it "indicates BP operated unsafely and failed to monitor and react to several critical warning signs during the drilling of the Macondo well."

Anadarko's statement contrasted with the testimony of BP's chief executive, Tony Hayward, who told a congressional committee Thursday that it was too soon to reach conclusions about the disaster's causes.

Hackett's comments have huge financial implications. As a 25 percent partner in the well, Anadarko would ordinarily be responsible for a quarter of all cleanup and damage costs. But, Hackett said, "BP's behavior and actions likely represent gross negligence or willful misconduct and thus affect the obligations of the parties under the operating agreement." He said Anadarko would donate to charity and civic groups any proceeds it receives from the sale of oil collected during the cleanup.

BP said it "strongly disagrees" with Hackett's allegations, but Hayward said in a statement that they "will neither distract the company's focus on stopping the leak nor alter our commitment to restore" the Gulf Coast. BP's chief executive added that "other parties besides BP may be responsible for costs and liabilities arising from the oil spill, and we expect those parties to live up to their obligations." But regardless of how liabilities are allocated, he said, BP would still "pay all legitimate claims."

For the BP bosses in the tailored suits, it was a bitter end to a grueling, embarrassing week, one in which they were scolded and hectored from the White House to the Capitol and wound up with a $20 billion bill for the oil spill. And it overshadowed indications that, far from the spotlight, BP engineers had had a pretty good week by the standards of this relentlessly grim calamity.
Now, it's worth keeping in mind that Anadarko has a huge financial stake in advancing the allegation that BP is primarily at fault here, but if evidence of what actually happened in this disaster is going to be uncovered, it's most likely going to come from people with inside information like this. Moreover, the allegations here are fairly consistent with other information that has come out over the past two months, including a fairly detailed eyewitness account from one of the surviving rig workers featured on 60 Minutes several weeks ago. As several Members of Congress hinted at during Thursday's hearing, there's fairly good evidence here suggesting that BP was cutting corners on the Deepwater Horizon in an effort to speed up the drilling process. If that turns out to be true, BP will go down as the biggest corporate villan in history.