Patriots Leave Fox After Patriot Purge
Two NeverTrump Republicans have had enough.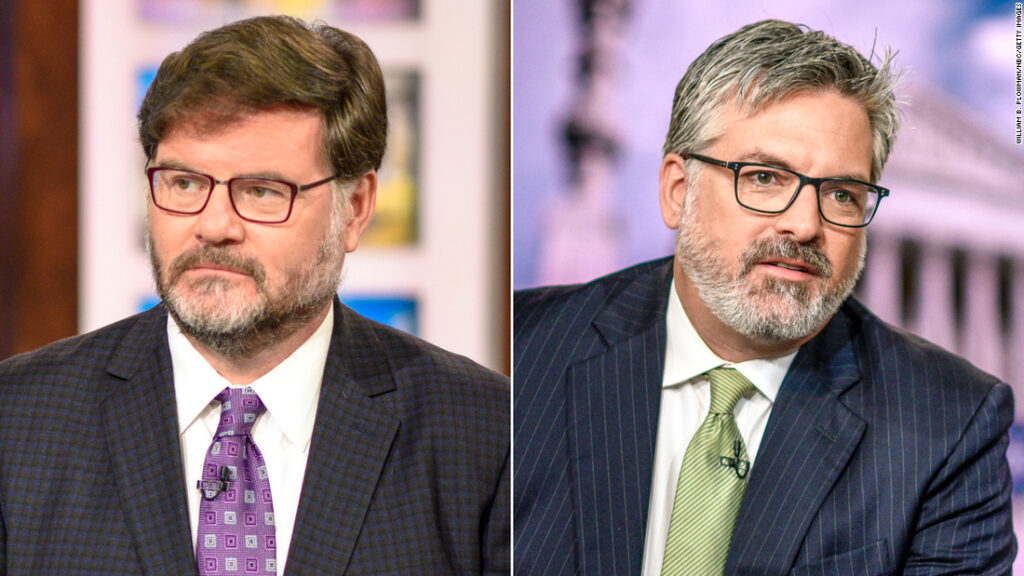 Dispatch co-founders Steve Hayes and Jonah Goldberg explain "Why We Are Leaving Fox News."

We joined Fox News as contributors in early 2009. Combined, that's more than 20 years of experience, relationships, and friendships. For most of that time, we were proud to be associated with the network, if not necessarily with every program, opinion, or scandal that aroused controversy. We believed, sincerely, that the country needed Fox News. Whether you call it liberal media bias or simply a form of groupthink around certain narratives, having a news network that brought different assumptions and asked different questions—while still providing real reporting and insightful conservative analysis and opinion—was good for the country and journalism. 

Fox News still does real reporting, and there are still responsible conservatives providing valuable opinion and analysis. But the voices of the responsible are being drowned out by the irresponsible. 

A case in point: Patriot Purge, a three-part series hosted by Tucker Carlson. 

The special—which ran on Fox's subscription streaming service earlier this month and was promoted on Fox News—is presented in the style of an exposé, a hard-hitting piece of investigative journalism. In reality, it is a collection of incoherent conspiracy-mongering, riddled with factual inaccuracies, half-truths, deceptive imagery, and damning omissions. And its message is clear: The U.S. government is targeting patriotic Americans in the same manner —and with the same tools—that it used to target al Qaeda. 
There's more but that's the gist. NYT media reporter Ben Smith expounds:
In some ways, their departures should not be surprising: It's simply part of the new right's mopping up operation in the corners of conservative institutions that still house pockets of resistance to Donald J. Trump's control of the Republican Party. Mr. Goldberg, a former National Review writer, and Mr. Hayes, a former Weekly Standard writer, were stars of the pre-Trump conservative movement. They clearly staked out their positions in 2019 when they founded The Dispatch, an online publication that they described as "a place that thoughtful readers can come for conservative, fact-based news and commentary." It now has nearly 30,000 paying subscribers.

Their departures also mark the end of a lingering hope among some at Fox News — strange as this is for outsiders to understand — that the channel would at some point return to a pre-Trump reality that was also often hyperpartisan, but that kept some distance from Republican officials. Fox's chairman, Rupert Murdoch, recently deplored Trumpism while acting as though — as Bloomberg's Tim O'Brien noted — he didn't run the company.

The reality of Fox and similar institutions is that many of their leaders feel that the tight bond between Mr. Trump and their audiences or constituents leaves them little choice but to go along, whatever they believe. Fox employees often speak of this in terms of "respecting the audience." And in a polarized age, the greatest opportunities for ratings, money and attention, as politicians and media outlets left and right have demonstrated, are on the extreme edges of American politics.

Mr. Carlson became the network's most-watched prime-time host by playing explicitly to that fringe, and "Patriot Purge" — through insinuations and imagery — explored an alternate history of Jan. 6 in which the violence was a "false flag" and the consequence has been the persecution of conservatives.

Mr. Goldberg said that he and Mr. Hayes stayed on at Fox News as long they did because of a sense from conversations at Fox that, after Mr. Trump's defeat, the network would try to recover some of its independence and, as he put it, "right the ship."

"Patriot Purge" was "a sign that people have made peace with this direction of things, and there is no plan, at least, that anyone made me aware of for a course correction," Mr. Goldberg said.

[…]

They now find themselves in a group of Americans who think the threat that Mr. Trump poses to America's democratic system outweighs many other political differences. Mr. Hayes said that he was particularly concerned about Fox lending support to the idea "that there's a domestic war on terror and it's coming for half of the country," he said. "That's not true." Particularly disturbing in "Patriot Purge," he added, "was the imagery of waterboarding and suggestions that half the country is going to be subject to this kind of treatment, that's the same kind of treatment that the federal government used when it went after Al Qaeda."

Mr. Carlson "pumped that stuff out into society, and all you need is one person out of every 50,000 people who watch it to believe it's literally the story about what happened, that it's true in all of its particulars and all of its insinuations. And that's truly dangerous in a way that the usual hyperbole that you get on a lot of cable news isn't."

Mr. Hayes said he'd been particularly disturbed recently when a man at a conference of the pro-Trump group Turning Point USA asked its leader, "When do we get to use the guns?"

"That's a scary moment," Mr. Hayes said. "And I think we'd do well to have people who, at the very least, are not putting stuff out that would encourage that kind of thing."
So, first off, good on Hayes and Goldberg for giving up a lucrative platform on principle. They've clashed with Carlson and other Fox prime-time hosts for years, while clinging to the hope that the network would somehow steer toward sanity. While its direction has been clear from the outside for quite some time, it's harder to see when you have friends there, many of whom are decent folks dismayed at what's going on around them. As Upton Sinclair famously observed, "It is difficult to get a man to understand something, when his salary depends on his not understanding it."
I would note, however, the irony especially of Goldberg, who first came to national prominence with the January 2008 publication of Liberal Fascism: The Secret History of the American Left, from Mussolini to the Politics of Change, finally coming around to the perils of incendiary language and demonization of one's political opponents. Indeed, it was in the immediate aftermath of that book that he got hired on at Fox. Goldberg was never a bomb-thrower in the Ann Coulter-Rush Limbaugh vein but he made a good living telling Republicans what they wanted to hear.