Paul Ryan Breaks With Trump On International Trade Policies
In a break with President-Elect Trump, Speaker of the House Paul Ryan said Congress would block any effort to increase tariffs.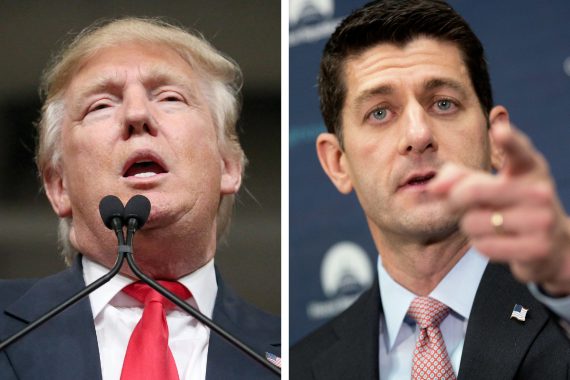 Paul Ryan is defying income President Donald Trump and saying that Congress will not consider any attempt to raise tariffs or otherwise disrupt international trade:
Speaker Paul D. Ryan, in a break from President-elect Donald Trump, said Wednesday that Congress is not going to increase taxes on imports and exports.

"We're not going to be raising tariffs," Ryan said on "The Hugh Hewitt Show."

Trump has called for a "big border tax" on companies that leave the United States but continue to sell their goods here.

Ryan said "the secret" to getting businesses to stay in the country is to level the playing field on taxes, lowering taxes for businesses, not increasing them.
This isn't the first indication that Trump could have trouble implementing a more restrictionist trade policy due to opposition from fellow Republicans. His position on international trade issues in general, and trade with nations such as Mexico and China in particular, were the subject of intense criticism during the race for the Republican nomination and even during the General Election when fellow Republicans were openly criticizing Trump on several grounds. In this area in particular, Trump's positions on the myriad issues that fall under the banner of "international trade" are ones that go against decades of Republican and conservative orthodoxy which holds that increased international trade is good policy both because it helps to expand consumer choice and increase business and investment opportunities overseas and because trade tends to ease international tensions between nations that might otherwise potentially become adversaries. After all, if two nations are in a mutually beneficial trading relationship they are less inclined to engage in a war that could disrupt that relationship and harm the economies of both nations. Conversely, restrictions on trade that cause harm to the economies of one or both nations then conflict in other areas becomes much more likely. For example, the early years of the America found the United States in frequent conflict with the United Kingdom that led to an actual war in 1812, and the potential for conflict for many years thereafter. As time went on, though, and the two nations became important trading partners, the likelihood of conflict declined to the point where former adversaries became part of the most consequential alliance of the 20th Century and beyond. On the other hand, the run-up to both World War One and World War Two, which included trade restrictions that had a negative impact on the economies of Germany and Japan in particular. Obviously, there were other factors that contributed to the outcome of these situations, but in both cases one common factor is the role that opening trade and commerce in one case, and restricting it in others, can have very real unintended consequences. In addition to these international political ramifications, of course, economics shows us that increased trade and lower tariffs are beneficial to the economies of both trading partners in that they lead to lower prices, more competition, increased choices for consumers, and more opportunities for economic growth. On the other hand, protectionism leads to higher prices, less competition, and a world where consumers are published for no reason other than the fact that something they prefer to buy is made in a foreign country. Finally, protectionist policies also tend to benefit established businesses at the expense of newcomers, and give the government far too much control over markets that they have no business getting involved with.
Ryan's words appear to be something of a red line when it comes to this issue, so it will be interesting to see whether or not he'll be able to back them up if and when Trump actually acts on this issue. As it stands, there are some measures in the international trade area where the relevant laws and treaties give the President authority to act on his own, so Congressional approval won't necessarily stop Trump seeking to back his unhinged position on international trade or his efforts to pressure other nations into concessions that are likely to set off alarm bells around the world. To enact major changes, though, Trump would need the support of Congress, and Ryan's comments signal that it won't be forthcoming. If he can keep his caucus together on that point, then hopefully Republicans on Capitol Hill will be able to stop Trump from enacting policies that would inevitably harm the American economy and which could have other, more far reaching, consequences for the United States and the rest of the world.