Paul Ryan Takes Part In The Dumbest Staged Photo Op Ever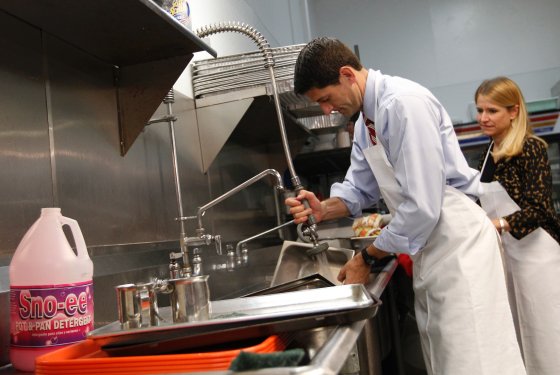 I've really got to wonder which person on Ryan's advance team thought this was a good idea:
YOUNGSTOWN, Ohio — Paul Ryan visited a soup kitchen here Saturday on his way to the airport, but by the time the GOP vice presidential nominee and his family had arrived shortly before noon, the grits, sausage and doughnuts had been served, the hall was empty of patrons and the volunteers appeared to have already cleaned up.

When Ryan did talk to some men who appeared to be homeless, as he did when he left the venue, reporters were not allowed to listen in on the exchange.

The visit by Ryan came after a town hall meeting Saturday morning at Youngstown State University.

After greeting and thanking a handful of volunteers from St. Michael's Catholic Church in Canfield, Ohio — who said they typically visit the St. Vincent DePaul Society every Saturday and serve food from 10 to 11:30 a.m. — Ryan, his wife and their young children headed to the kitchen, donned white aprons and offered to clean up some dishes.

Ryan stood at the sink and took some large metal pans that did not appear to be dirty, soaped them up and rinsed them, remarking as the cameras clicked and the TV cameras rolled that he had spent a summer washing dishes when he was younger.

"We had a Hobart, though, which was — you get calluses on your fingers because it's so hot," he said, referring to the Hobart industrial dishwashing machine.
And the head of the charity isn't too happy about the whole thing:
The head of a northeast Ohio charity says that the Romney campaign last week "ramrodded their way" into the group's Youngstown soup kitchen so that GOP vice presidential candidate Paul Ryan could get his picture taken washing dishes in the dining hall.

Brian J. Antal, president of the Mahoning County St. Vincent De Paul Society, said that he was not contacted by the Romney campaign ahead of the Saturday morning visit by Ryan, who stopped by the soup kitchen after a town hall at Youngstown State University.

"We're a faith-based organization; we are apolitical because the majority of our funding is from private donations," Antal said in a phone interview Monday afternoon. "It's strictly in our bylaws not to do it. They showed up there, and they did not have permission. They got one of the volunteers to open up the doors."

He added: "The photo-op they did wasn't even accurate. He did nothing. He just came in here to get his picture taken at the dining hall."

(…)

He added that the incident had caused him "all kinds of grief" and that regardless of whether Ryan had intended to serve food to patrons or wash dishes, he would not have allowed the visit to take place.

"Had they asked for permission, it wouldn't have been granted. … But I certainly wouldn't have let him wash clean pans, and then take a picture," Antal said.
From the campaign side, this was just a dumb move. If there wasn't any work to do then why make it look like the candidate was doing work to begin with? Not a big story, but not a good sign of planning and common sense either.
Update: It would appear that the dishes actually were dirty.