Yes, Those Dishes Were Dirty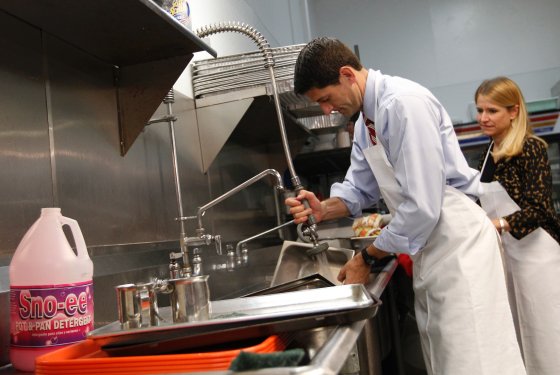 Since posted about this story yesterday, I suppose an update is in order:
Amid questions and criticisms related to Paul Ryan's visit this weekend to an Ohio soup kitchen, the charity's president said the Republican vice presidential candidate did, in fact, scrub dirty dishes though his visit wasn't officially sanctioned.

The question of whether the Wisconsin congressman cleaned dishes that were actually dirty – as opposed to re-washing already clean dishes so as to get a good photo opportunity — Mahoning County St. Vincent De Paul Society President Brian Antal clarified that Ryan did clean soiled dishes. This differs from what Antal had told The Washington Post Monday.

Speaking Tuesday morning with NBC News, Antal said he was not on-site when Ryan was at the soup kitchen and attributes his earlier comments that the dishes were clean when Ryan washed them to hearing the details second-hand from a volunteer.

(…)

In response to questions about Antal's comments to the Washington Post that Ryan "did nothing" while at the soup kitchen, Antal said his words were mischaracterized. He told NBC News in that Ryan did very little work only compared to the larger context of Saturday morning, when the kitchen fed 180 homeless people breakfast. Antal conceded that Ryan did wash several dirty dishes.
I suppose this was the dumbest meme of the campaign. This week.