Peek Hack
Up is down. Down is up.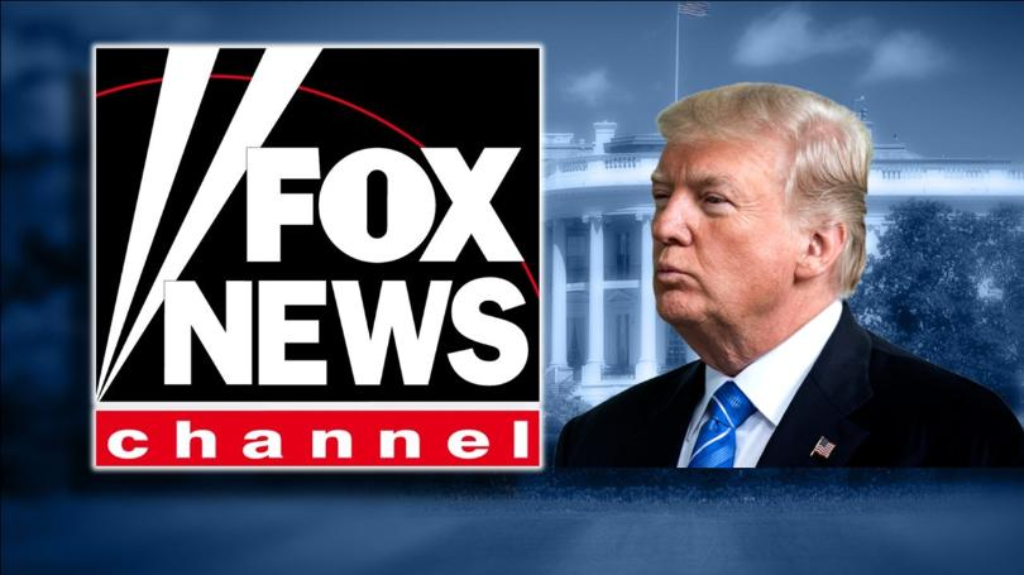 My morning post "The Most Important Election in American History" highlighted the cataclysmic viewpoint that both Republicans and Democrats have about what happens if the other side wins the election as well as the polarized media environment that contributes to the phenomenon.
A Fox News column that showed up atop Google News is yet another datapoint. Written by Liz Peek, it's headlined "Biden's very bad week shakes up race against Trump." Considering that, in my bubble, it is Trump, not Biden, who is having a very bad week, my curiosity was, well, peeked.
Welcome to the final week of one of the most vengeful and acrimonious elections in our country's history. Very soon we will know whether Establishment Elites have succeeded in defeating a president who broke some glass in order to make our country great again.
In what possible way is our country greater now than it was four years ago? Aside from nearly 9 million documented COVID-19 cases and 230,000 deaths and counting from the pandemic?
We will also know whether the campaign went on one week too long for Democratic presidential candidate Joe Biden.
So, what happened to poor Joe Biden?
New revelations that Biden apparently lied when he claimed no knowledge of his son Hunter's shady business dealings in China, Ukraine, Kazakhstan and elsewhere and that the candidate may in fact have been entangled in those activities, has rocked the campaign.

Biden said recently: "Our characters are on the ballot; look at us closely." Perhaps he should add: "But not too closely."
A poor debate performance Thursday hurt Biden as well. Biden stumbled several times, and also admitted that he wanted to "close down the oil industry."
So, we're talking about the laughably bad Russian agitprop that ran in the New York Post and was instantly derided by every credible outlet? That the Murdock-owned Wall Street Journal took a hard pass on?
But every credible poll shows that the public thinks Biden won that debate.
Though Biden leads in national polls by on average 8 points, according to Real Clear Politics, his advantage is slipping both nationally and in certain critical swing states.
It's. Just. Not.
RealClearPolitics hasn't added a new poll since this weekend's analysis of the outlier Rasmussen poll. But here's the trend going all the way back to the beginning of the cycle: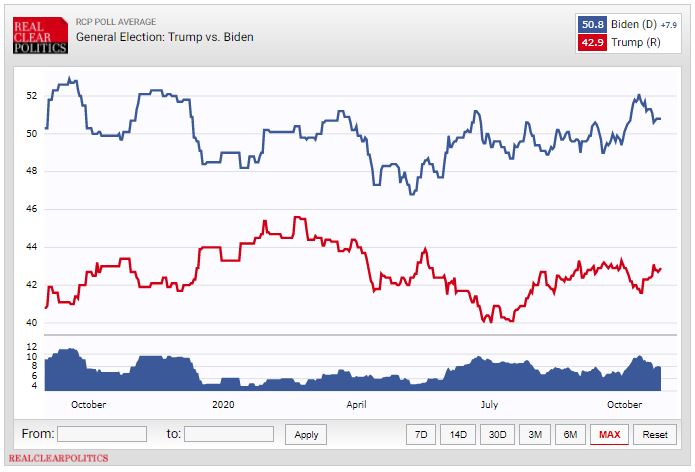 Biden's lead is bigger now than it has been most of the race. But it's not at all close and never really has been. Indeed, Trump has literally never led the race.
Similarly, at the all-important state-by-state level, RCP has Biden with 232 solid Electoral Votes to Trump's 125. Since 270 is the magic number, that's rather a strong position. With no toss-ups, RCP has it Biden 341, Trump 197. A blow-out.
Still, Peek is at least potentially on firmer ground in terms of late movement. RCP documents the following changes:

Considering this is all the moves since August (adding one more row takes us all the way back to June), this isn't much movement! Still, Ohio is a big prize and it appears to be leaning Trump now.
So is Georgia, for that matter. But Georgia has been back and forth four times in less than a month; let's just call it a toss-up. Otherwise, Iowa and North Carolina have moved into Biden range, albeit that happened almost two months ago. (I'm unsure how Maine CD2 changes in the same direction twice without an intervening change.)
Regardless, I'm sure Fox News viewers are getting a steady stream of this nonsense. No wonder they think Trump is winning.