Pelosi: Impeachment 'Not Worth it'
The Democratic Speaker of the House says there will be no charges against the Republican President barring an "overwhelming and bipartisan" consensus.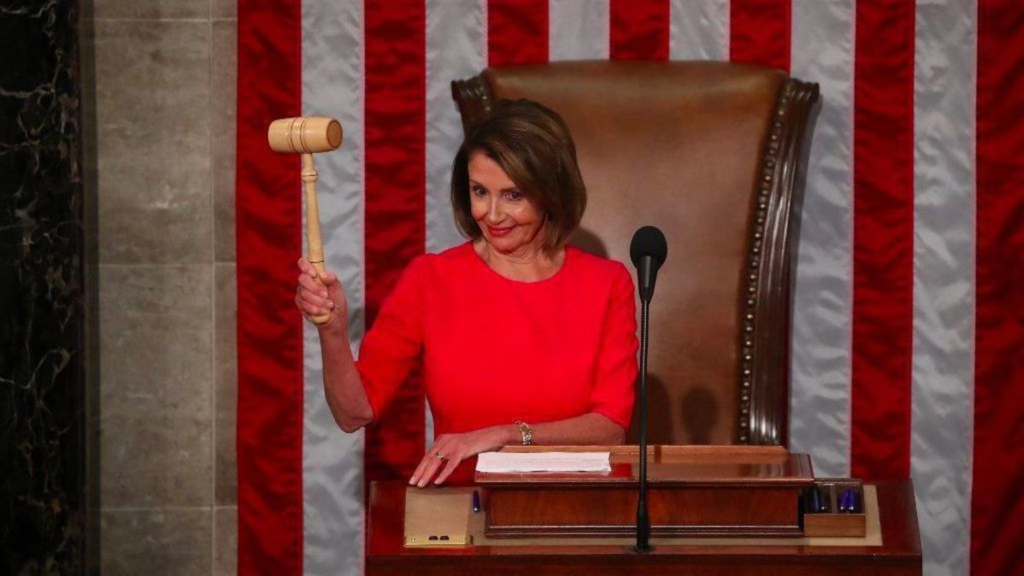 WaPo Magazine ("Nancy Pelosi on Impeaching Trump: 'He's Just Not Worth It'"):
Nancy Pelosi stands up in her spacious office in the U.S. Capitol, walks past an enormous window with a commanding view of the Mall and the Washington Monument, and picks up a small plaque from her desk. A gift from Rep. Cheri Bustos (D-Ill.), the plaque has the familiar profile of a young Abraham Lincoln on one side. Pelosi returns to her chair holding the plaque on her palm and reads a quote from Lincoln etched on the reverse side: "Public sentiment is everything. With public sentiment, nothing can fail. Without it, nothing can succeed."

It was public sentiment, Pelosi says, that convinced her President Trump would back down in the standoff over funding a border wall that partially shut down the government for 35 days earlier this year. And it is public sentiment, she says, that will guide her as she leads the House Democrats and seeks to use their powers as a check on a president she believes disregards the Constitution.

Pelosi, 78, never thought that Donald Trump would be elected president, but in many ways she has been preparing for this political battle all of her life. First elected to Congress in a special election in 1987 and now in her 17th term, she is experienced in all of Washington's various forms of combat, power and perseverance. She is the first woman to lead a political party in Congress and, in 2007, was the first woman to become speaker of the House. After Democrats won control of the House in November following eight years out of power, Pelosi fended off an effort by some in her party to replace her, and reclaimed the speakership.

[…]

I'm not for impeachment. This is news. I'm going to give you some news right now because I haven't said this to any press person before. But since you asked, and I've been thinking about this: Impeachment is so divisive to the country that unless there's something so compelling and overwhelming and bipartisan, I don't think we should go down that path, because it divides the country. And he's just not worth it.
While I think it obvious that the President has committed numerous impeachable offenses—even outside the Russia investigation—Pelosi is right and for the right reasons.
First, like it or not—and I don't—Republicans overwhelmingly back Trump. Unless that changes, not only is impeachment futile, in that there's no way the Republican-majority Senate votes to remove him from office.
Second, impeaching Trump and not removing him will enhance his prospects for re-election. It'll be seen by his supporters–and possibly by some otherwise persuadable swing voters—as a vindication. And it'll demoralize Democrats.
Third, even aside from the raw politics of the matter, impeaching a duly elected President is something that simply must be done based on an overwhelming, bipartisan consensus to be seen as legitimate.