Pence Probably Won VP Debate; Almost Certainly Won't Matter
It's possible that Mike Pence won and Donald Trump still lost. It won't matter.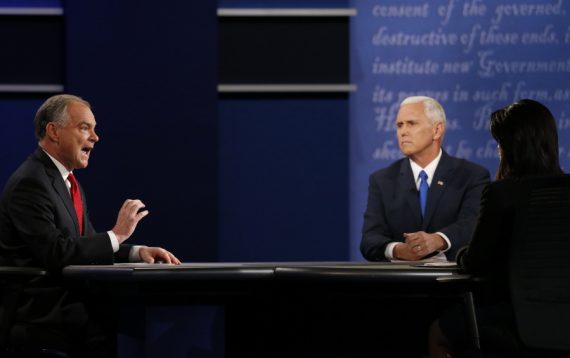 I followed Doug Matconis' advice and skipped the vice presidential debate, not so much because it was decidedly unlikely to impact the outcome of next month's election but because it certainly wouldn't impact my own choice. Both Mike Pence and Tim Kaine had always struck me as perfectly decent and competent fellows. The former lost substantial credibility in my eyes when he sold his soul to be Donald Trump's running mate. The latter has been a virtual non-factor thus far in the race. Regardless, the election is about the top of the ticket and, while I find both nominees unpalatable, Trump is simply unqualified to be president. I couldn't vote for him even if he had chosen someone with the best qualities of Ronald Reagan, George H.W. Bush, and Dwight Eisenhower as his running mate.
Virtually all the early reporting has Pence winning the debate on style points while perhaps simultaneously hurting Trump by distancing himself from or denying various lunatic statements made by the Republican nominee. The best headline I've seen is a YahooNews report which termed it "a Tale of Two Trumps" because the two constantly interrupted one another.
Regardless, approximately zero votes on November 8 will be changed by what happened last night. As Doug's post reminds us, even vice presidential debates lost in embarrassing fashion had no impact. Lloyd Bentsen's "You're no John Kennedy" line is style quoted nearly thirty years later; Dan Quayle's ticket won in a landslide. Moreover, this cycle makes it even more unlikely for the second bananas to matter. There hasn't been a presidential nominee in modern American history better known to the public than Hillary Clinton, who's been in the national spotlight for a quarter century. Trump has been a national figure even longer and has simply dominated the national media since throwing his hat into the ring sixteen months ago. While there are presumably people still agonizing over which candidate they like least, it's inconceivable that any person who will vote in this election doesn't already have a pretty strong opinion about the two nominees. And neither Pence nor Kaine are sufficiently strong personalities to tip the scales.