Peter O'Toole Dies At 81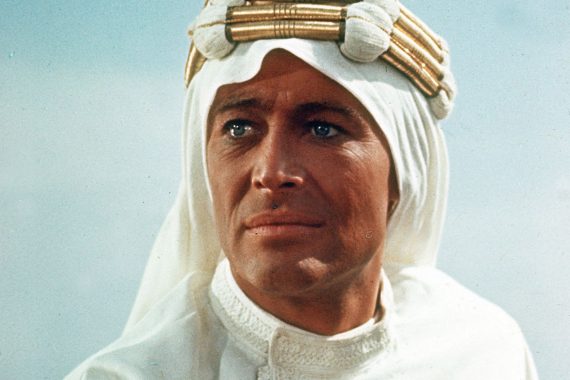 One of Hollywood's most iconic and memorable actors passed away yesterday at the age of 81:
Peter O'Toole, an Irish bookmaker's son with a hell-raising streak whose performance in the 1962 epic film "Lawrence of Arabia" earned him overnight fame and established him as one of his generation's most charismatic actors, died on Saturday in London. He was 81.

His daughter Kate O'Toole said in a statement that he had been ill for some time.

Blond, blue-eyed and well over six feet tall, Mr. O'Toole had the dashing good looks and high spirits befitting a leading man — and he did not disappoint in "Lawrence," David Lean's wide-screen, almost-four-hour homage to T. E. Lawrence, the daring British soldier and adventurer who led an Arab rebellion against the Turks in the Middle East in World War I.

The performance brought Mr. O'Toole the first of eight Academy Award nominations, a flood of film offers and a string of artistic successes in the '60s and early '70s. In the theater — he was a classically trained actor — he played an anguished, angular tramp in Beckett's "Waiting for Godot" and a memorably battered title character in Chekhov's "Uncle Vanya." In film, he twice played a robust King Henry II: first opposite Richard Burton in "Becket" (1964), then with Katharine Hepburn as his queen in "The Lion in Winter" (1968). Both earned Oscar nominations for best actor, as did his repressed, decaying schoolmaster in "Goodbye, Mr. Chips" in 1970 and the crazed 14th Earl of Gurney in "The Ruling Class" in 1973.

Less successful was his Don Quixote in "Man of La Mancha," Arthur Hiller's 1972 adaptation of the Broadway musical, but it emphasized that his specialty was increasingly becoming the outsider or misfit: dreamy, romantic, turbulent, damaged, or even mad, but usually larger than life.

Mr. O'Toole threw himself wholeheartedly into what he called "bravura acting," courting and sometimes deserving the accusation that he became over-theatrical, mannered, even hammy. His lanky, loose-jointed build; his eyes; his long, lantern-jawed face; his oddly languorous sexual charm; and the eccentric loops and whoops of his voice tended to reinforce the impression of power and extravagance.

Burton called him "the most original actor to come out of Britain since the war," with "something odd, mystical and deeply disturbing" in his work.

Some critics called him the next Laurence Olivier. As a young actor, Mr. O'Toole displayed an authority that the critic Kenneth Tynan said "may presage greatness." In 1958, the director Peter Hall called Mr. O'Toole's Hamlet in a London production "electrifying" and "unendurably exciting" — a display of "animal magnetism and danger which proclaimed the real thing."

He showed those strengths somewhat erratically, however; for all his accolades and his box-office success, there was a lingering note of unfulfilled promise in Mr. O'Toole.

It was no surprise when Olivier chose Mr. O'Toole to inaugurate Britain's National Theater Company in 1963 with a reprise of his Hamlet. But the first night left most critics unmoved and unexcited and the actor himself lamenting "the most humbling, humiliating experience of my life."

"As it went on," he said, "I suddenly knew it wasn't going to be any good."

A production in 1965 of David Mercer's "Ride a Cock Horse," in which he played an adulterous alcoholic, was booed at its London opening.

In the movies, he continued to be a marquee name, though he drew only mixed reviews for a subsequent run of performances: as the cowardly naval officer seeking redemption in "Lord Jim," Richard Brooks's 1965 adaptation of the Joseph Conrad novel; as a playboy in "What's New, Pussycat?," a 1965 comedy with Peter Sellers that was written by a young Woody Allen; and as the Three Angels in "The Bible: In the Beginning," John Huston's 1966 recreation of Genesis. And his sadistic Nazi general in Anatole Litvak's "Night of the Generals" (1967) was panned outright.
But it was as Laurence of Arabia that O'Toole would achieve his greatest success:
At six feet two, Mr. O'Toole was not an obvious choice for the role of a five-foot-four scholar-soldier, and the producer, Sam Spiegel, had found him bumptious in a meeting. But after Marlon Brando turned down the role, Lean lobbied for Mr. O'Toole and won the day.

His casting led to a mesmeric yet meticulous performance that brought world renown and an Oscar nomination to an actor whose only notable screen appearance to date had been as a priggish young officer in "The Day They Robbed the Bank of England" in 1960.

Whatever his later reputation as a roisterer, Mr. O'Toole was conscientious when it came to preparing for a role. In the two-odd years it took to shoot "Lawrence," he read all he could about the man, studied Bedouin culture, lived in a Bedouin tent, taught himself the essentials of Arabic and learned to ride a camel. His acting method, he wrote in his autobiography, was a process that blended "magic" with "sweat," a matter of allowing a text to flow into his mind and body until he fully inhabited the character — "that simple, that difficult."

Mr. O'Toole admitted to being "a very physical actor."

"I use everything — toes, teeth, ears, everything," he said.

After his triumphs of the 1960s and early '70s, he entered his most troubled period. His earlier binges had led to arrests for unruly behavior; now they caused memory loss and debilitating hangovers. In 1975, he developed pancreatitis and had part of his intestines removed.

Then his much-loved father died, and Sian Phillips, whom Mr. O'Toole had married in 1959, left him for another man, explaining later that her relationship with an egoistic star had become too tempestuous and "too unequal." Divorce followed in 1979.

Though Mr. O'Toole said he essentially gave up alcohol in  1975, his career continued to sputter. The universally panned 1979 film "Caligula," in which he played the Emperor Tiberius, was followed in 1980 by one of the most derided theatrical performances of modern times: a Macbeth who attempted to exit through a wall of the rather dark set at the Old Vic on the first night and, according to The Guardian, delivered every line "in a monotonous tenor bark as if addressing an audience of deaf Eskimos."

Yet there was evidence of recovery, too. The ABC mini-series "Masada," with Mr. O'Toole as a Roman general resisting freedom fighters in Judea, brought him an Emmy nomination in 1981. He also impressed with a galvanically garrulous Jack Tanner in Shaw's "Man and Superman" in the West End in 1982.

The flamboyant charm of the autocratic movie director he played in the film "The Stunt Man" brought him a sixth Oscar nomination in 1981, and his playing of Alan Swann, the swashbuckling, Errol Flynn-like thespian of "My Favorite Year," a seventh in 1983.
Much like it's now hard to see anyone but Brando playing Don Vito Corleone, it's hard to see anyone but O'Toole playing T.E. Laurence. Even today, it's a performance that holds up alongside some of the best in the history of film. And, of course, with six other Academy Award nominations besides the one for Laurence of Arabia, it's worth remembering that his performance in that film was not some kind of a fluke. Add on top of that the often flamboyant lifestyle he came to be known for during the 60s and 70s, and you've got the recipe for a life well-lived. Or, as a friend noted on Twitter, may we all live a life even half as full as Peter O'Toole!