Petraeus Fetishism
David Petraeus is a military superstar; he's not commander-in-chief.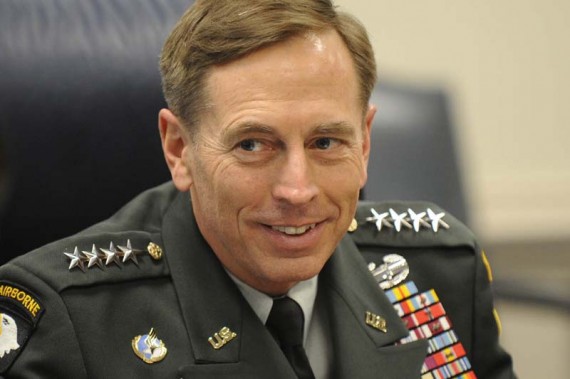 Charles Krauthammer makes a rather odd argument in support of continuing on the present course in Iraq. Essentially, it boils down to: Trust in Petraeus.
It is understandable that Sens. Lugar, Voinovich, Domenici, Snowe and Warner may no longer trust President Bush's judgment when he tells them to wait until Petraeus reports in September. What is not understandable is the vote of no confidence they are passing on Petraeus. These are the same senators who sent him back to Iraq by an 81 to 0 vote to institute his new counterinsurgency strategy.

A month ago, Petraeus was asked whether we could still win in Iraq. The general, who had recently attended two memorial services for soldiers lost under his command, replied that if he thought he could not succeed he would not be risking the life of a single soldier.

Just this week, Petraeus said that the one thing he needs more than anything else is time. To cut off Petraeus's plan just as it is beginning — the last surge troops arrived only last month — on the assumption that we cannot succeed is to declare Petraeus either deluded or dishonorable. Deluded in that, as the best-positioned American in Baghdad, he still believes we can succeed. Or dishonorable in pretending to believe in victory and sending soldiers to die in what he really knows is an already failed strategy.
Now, I'm a Petraeus fan. He's the archetype of the scholar-warrior that T.X. Hammes prescribed in The Sling and The Stone and I recommended in my recent article for The New Individualist on preparing for the next war.
I do think, as I've suggested many times, that the proverbial licking of Petraeus' boots in the media and the halls of Congress has been a bit much. As I noted in passing yesterday and Matt Yglesias and Steven Taylor lay out more directly today, Petraeus was in charge of training a self-sufficient Iraqi security force that could take over for us. He didn't get that done.
Moreover, he's given far too much credit for reinventing the Army's new counterinsurgency doctrine. For one thing, there's not much new about it; it's mostly just dusting off age old lessons that we continually learn and then discard as "not what armies do." And, regardless of whose signature is on the book, general officers don't write training manuals. If anyone above the rank of major wrote so much as a paragraph, I'd be quite surprised.
That all said, I agree that the politicians should defer to him on matters of tactics and rely on his expert advice in setting policy. They should not, however, as Krauthammer suggests, effectively cede grand strategy to the military, dispensing entirely with the fundamental notion of civilian control.
Yes, a can-do guy like Petraeus believes he'll get the job done given infinite time. So what? It's up to the civilian policy-makers to decide whether the nation is willing to continue to devote the blood and treasure necessary to get the job done. His guess is likely better than theirs as to whether we can win; it's their job to decide whether we're willing to pay the price of finding out.