Piss Christ Slashed By French Catholics
On Palm Sunday, French Christians stormed a museum and slashed Andres Serrano's Piss Christ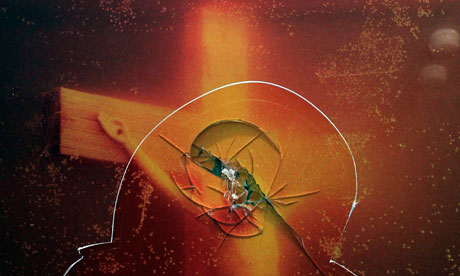 When Andres Serrano's Piss Christ debuted a quarter century ago, American Christians expressed outrage that it received NEA funding. On Palm Sunday, French Christians took more violent action.
Guardian ("Attack on 'blasphemous' art work fires debate on role of religion in France"):
When New York artist Andres Serrano plunged a plastic crucifix into a glass of his own urine and photographed it in 1987 under the title Piss Christ, he said he was making a statement on the misuse of religion.

Controversy has followed the work ever since, but reached an unprecedented peak on Palm Sunday when it was attacked with hammers and destroyed after an "anti-blasphemy" campaign by French Catholic fundamentalists in the southern city of Avignon.

The violent slashing of the picture, and another Serrano photograph of a meditating nun, has plunged secular France into soul-searching about Christian fundamentalism and Nicolas Sarkozy's use of religious populism in his bid for re-election next year.

It also marks a return to an old standoff between Serrano and the religious right that dates back more than 20 years, to Reagan-era Republicanism in the US.

The photograph, full title Immersion (Piss Christ), was made in 1987 as part of Serrano's series showing religious objects submerged in fluids such as blood and milk. In 1989, rightwing Christian senators' criticism of Piss Christ led to a heated US debate on public arts funding. Republican Jesse Helms told the senate Serrano was "not an artist. He's a jerk."

Serrano defended his photograph as a criticism of the "billion-dollar Christ-for-profit industry" and a "condemnation of those who abuse the teachings of Christ for their own ignoble ends". It was vandalised in Australia, and neo-Nazis ransacked a Serrano show in Sweden in 2007.

The photograph had been shown in France several times without incident. For four months, it has hung in the exhibition I Believe in Miracles, to mark 10 years of art-dealer Yvon Lambert's personal collection in his 18th-century mansion gallery in Avignon. The show is due to end next month, but two weeks ago a concerted protest campaign began.

[…]

On Saturday, around 1,000 Christian protesters marched through Avignon to the gallery. The protest group included a regional councillor for the extreme-right Front National, which recently scored well in the Vaucluse area in local elections. The gallery immediately stepped up security, putting plexiglass in front of the photograph and assigning two gallery guards to stand in front of it.

But on Palm Sunday morning, four people in sunglasses aged between 18 and 25 entered the exhibition just after it opened at 11am. One took a hammer out of his sock and threatened the guards with it. A guard grabbed another man around the waist but within seconds the group managed to take a hammer to the plexiglass screen and slash the photograph with another sharp object, thought to be a screwdriver or ice-pick. They also smashed another work, which showed the hands of a meditating nun.
Even as an atheist, I share the late Senator Helms' view of Serrano and his artistic expression. But it never ceases to amaze me how little the most fanatical adherents to any religion actually understand its most fundamental teachings. Jesus of Nazareth would have counseled turning the other cheek and focusing on self-improvement and good works, rightly seeing such provocations as an image in a jar of urine as a trifle.