Podesta, Wikileaks, and Catholics
Wherein an initial attempt to understand something seen on Facebook leads to ruminations on religious liberty.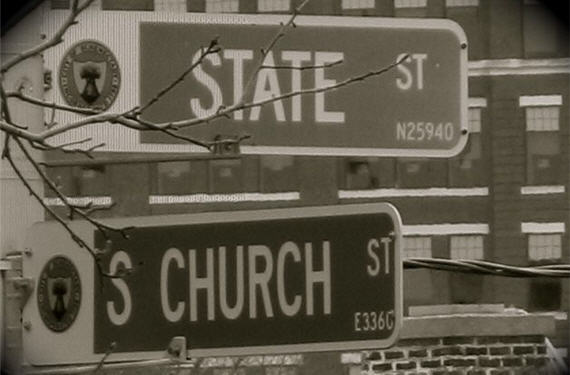 People often get outraged about things that do not outrage me (and, no doubt, vice versa).  Usually, however, I can usually work out the basic nature of the given outrage.  However, I am seeing Catholic friends very upset about a leaked John Podesta e-mail which many seem to be linking to an attack on religious liberty.
The e-mails in question are an exchange between Podesta and Sandy Newman, president of Voices for Progress.  The e-mail are linked above but also can be found in an NRO post by Jim Geraghty (In the Podesta E-mails from WikiLeaks: Catholic Church a 'Middle Ages Dictatorship'), which is an illustration of the reactions that prompted this post, although not as dramatic as some (although still pretty dramatic).  I find this particular case interesting as well because it touches a theme I seen more and more recently: claims about threats to religious liberty.
At any rate, the topic of an e-mail to Podesta from Newman was focused on Catholic stances on contraception.  Newman wrote to Podesta, "This whole controversy with the bishops opposing contraceptive coverage even though 98% of Catholic women (and their conjugal partners) have used  contraception has me thinking."  In his e-mail, Newman talked about a "Catholic Spring" (like the "Arab Spring") "in which Catholics themselves demand the end of a middle ages dictatorship and the beginning of a little democracy and respect for gender equality in the  Catholic church."  He also spoke of "how one would "plant the seeds of the revolution, or who would plant them."
Podesta responded:
We created Catholics in Alliance for the Common Good to organize for a moment like this. But I think it lacks the leadership to do so now. Likewise Catholics United. Like most Spring movements, I think this one will have to be bottom up.
To be honest, Podesta's response strikes me as actually pretty noncommittal.  It is acknowledging some common ground but basically saying any chance requires popular support (and is basically foisting responsibility off on others politely).  He notes mentioning it to someone else and noting another contact. This does not strike me as evidence of a Clinton adviser who is out to get Catholics/people of faith.
Nonetheless, Geraghty sees Newman's words a "us[ing] a term more appropriate for the Taliban or ISIS to describe [the] church."  To me, that is a remarkable level of hyperbole.
Bill Donohue,  president of the Catholic League for Religious and Civil Rights, responded as follows to the same language:
What Podesta admits to doing is far more serious than any disparaging comments made by the Clinton team about Catholicism. Jennifer Palmieri, Hillary's communications director, has been incredibly insulting, but Podesta's role is downright pernicious: He is seeking to foment a "revolution" within the Catholic Church.

If conservative Christians were plotting to sow divisions within the ranks of Judaism or Islam—setting up faux Jewish and Muslim organizations—there would be holy hell to pay. But when left-wing secularists seek to crash the Catholic Church, the media yawn.
Actually, are there not a lot of people who think that conservative Islam needs reformation?  Are there not protestants who want their churches to be more open to homosexuals and the transgendered?  Is not the essence of religious liberty to right to have an opinion on these things?  I recognize that there is a tension between orthodoxy and a pluralistic society, but I would note that it is the pluralistic society founded in basic liberalism that provides for religious liberty while adherence to orthodoxy requires unquestioning acceptance (or, at least, acceptance even if one has questions).
I can understand that many conservative Catholics might respond to the Podesta e-mails by saying that if one does not like the Catholic Church, one can worship elsewhere.  I can understand not liking the term "middle ages dictatorship" to describe the hierarchy of the Catholic Church.  But I cannot see how any of this is an example of religious liberty being threatened.  These e-mails are not about stopping people from pursuing their faith.  They are certainly not about government interference in religion.
Indeed, is not Podesta acknowledging that he is a Catholic, but simply one who want the Church to change?  What is better illustration of religious liberty than citizens having the right to debate what their religious institutions believe and, moreover, thinking that they have the right to try and reform those institutions?  I get it that conservative Catholics do not see it legitimate to ask the Church to change on issues of homosexual rights and contraception.  But, again, how is it a threat to liberty for a faction of the faith to disagree?
I have been struggling to understand how some very religious friends and acquaintances of mine can vote for Trump.  I understand (intellectually) that there is a wager going on here that states that a vote for Hillary is a guarantee of liberal Justices, while a Trump election holds a chance of more conservative Justices.  However, I cannot see how a) anyone can trust Trump's word on this topic, or b) not acknowledged that his current track record of hiring political advisers is not massively flawed.  As I have noted before, his "campaign CEO" is allied with the alt-right. Further, Trump's views on any number of other issues (treatment of women, sexual morality, compassion for the needy and the stranger) are well outside Christian norms.  Further, he has displayed clear authoritarian tendencies.  And yet, some are telling themselves he will appoint prudent, pro-life conservatives to the bench.  Based on what?  It seems far more likely he will choose cronies with whom he is comfortable.  As I keep stressing, he is not controllable.  He will not learn.  He is not going to receive wise counsel.
All I can figure is that many religious conservatives are trying so hard to convince themselves that they have to vote for Trump that they are looking for threats to their religious liberty wherever they can find them.  And yes, I understand that many (but not all) people of faith object to abortion rights and to same-sex marriage.  However, losing the policy fight on these issues in a pluralistic, liberal democracy is not having one's religious liberty taken away.  And yes, there are issues concerning the execution of civil rights laws as extended to homosexuals, but at the end of the day if the major example of a threat to religious freedom is the baking of cakes, I would say that we are quite a long way away from lion's dens and clandestine churches.  There are always difficulties weighing rights when they come into conflict, but such is life in a pluralistic society.
Of course, part of my problem with most conversations about religious liberty in this context is that they seem more to mean the imposition of a particular religious point of view on society rather than actual, well, liberty.  Again:  I understand that conservative (and in this sense I mean theologically, although probably politically as well, but not necessarily) Catholics believe that it is anathema to try and change Church doctrine on these issues, but I do not see how people trying to make such changes can be accused of threatening religious liberty.  Liberty and dissent go hand-in-hand.