Obama, Contraceptives, And The Catholic Vote
Will the Obama Administration's decision on contraceptive coverage by the Catholic Church have an impact in November?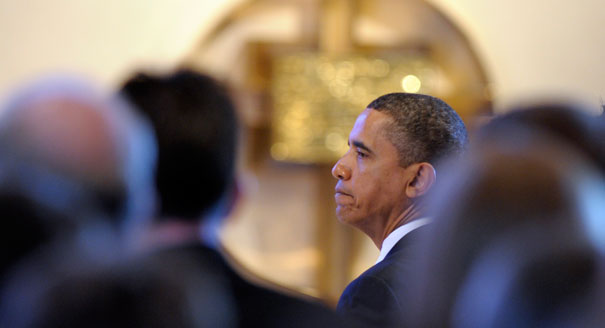 For the second weekend in a row, Catholic parishioners across the United States were read a message from the U.S. Conference Of Catholic Bishops on the recent decision by the Obama Administration to extend to church-run institutions such as hospitals a requirement that employer-provided health insurance include coverage for contraceptives:
(Reuters) – American Catholic clergy called on the faithful to write Congress to protest new birth control rules from President Barack Obama's administration, stepping up a campaign that began a week ago with denunciations from the pulpit at Masses across the country.

The U.S. Conference of Catholic Bishops, posted an "Urgent Action Alert" over the weekend calling on Catholics to write to their U.S. lawmakers protesting the rule.

The fight is over a provision of the health reform law announced on January 20 that would require health insurance plans — including those offered by institutions such as Catholic-affiliated hospitals and universities — to offer free birth control including sterilization.

At Immaculate Conception Catholic church in the Philadelphia suburb of Jenkintown, Pennsylvania, Monsignor David E. Diamond read the congregation a letter on Sunday from Philadelphia Archbishop Charles J. Chaput parishioners to contact members of Congress.

"Write them, call them, visit them – and help them understand the deep resistance of Pennsylvania Catholics to this dangerous ruling," the letter said.
Perhaps sensing a political opportunity, pretty much all of the Republican candidates for President have been hitting the Obama Administration for this decision, with Newt Gingrich being the most vociferous in claiming that the decision constitutes a war on the Roman Catholic Church. While that rhetoric is, in a word, absurd, there's no doubt that this decision caused more controversy than the Obama Administration seems to have anticipated, although one is not at all clear how they could have not anticipated that this would be a problem for the Church regardless of how you try to spin it. It's an issue that has the potential to cross ideological lines as well. MSNBC host Mika Brzezinski, who is generally quite supportive of the Administration but also happens to be Catholic, said this morning on Morning Joe that she thought the Administration was wrong to push this button not just with the Church, but with Catholic voters.
A piece in CNN last week wondered that same point:
(CNN)-After years of bridge building with the Catholic Church, the Obama administration may have damaged some of the good will it built up with the nation's 70 million Catholics, which could have steep consequences at the polls in November.

Some rank and file Catholics are beginning to express the same frustrations as clergy about a new U.S. Department of Health and Human Services policy requiring all employers, including religious ones, to pay for FDA-approved contraceptives, such as the birth control pill and Plan B, through health insurance plans. Churches are exempt but hospitals and schools with religious affiliations must comply. The new policy goes into effect August 1, 2012, but religious groups who oppose contraception have been given a yearlong extension to enforce the policy.

"What's offensive is that we're being told, our Catholic institutions which serve this nation well, are being told you who find these things offensive, you should pay for them, in fact you must pay for them," Cardinal Donald Wuerl, the archbishop of Washington, told CNN.

Catholic teaching opposes the use of contraceptives. Wuerl acknowledged the clergy and the faithful have been at odds over the teachings on contraceptive use. But on this policy he said both are in lockstep over what is being perceived as a violation of religious liberties.

"This time around what people are seeing this isn't a question of one moral teaching or another, it's being able to teach at all. Our freedom, and everyone has a stake in freedom in this country, and I think that's why this resonates across the board," he said.
And yesterday in The Wall Street Journal, Peggy Noonan argues that the President has entered a battle that he cannot win:
There was no reason to make this ruling—none. Except ideology.

The conscience clause, which keeps the church itself from having to bow to such decisions, has always been assumed to cover the church's institutions.

Now the church is fighting back. Priests in an estimated 70% of parishes last Sunday came forward to read strongly worded protests from the church's bishops. The ruling asks the church to abandon Catholic principles and beliefs; it is an abridgement of the First Amendment; it is not acceptable. They say they will not bow to it. They should never bow to it, not only because they are Catholic and cannot be told to take actions that deny their faith, but because they are citizens of the United States.

If they stay strong and fight, they will win. This is in fact a potentially unifying moment for American Catholics, long split left, right and center. Catholic conservatives will immediately and fully oppose the administration's decision. But Catholic liberals, who feel embarrassed and undercut, have also come out in opposition.

The church is split on many things. But do Catholics in the pews want the government telling their church to contravene its beliefs? A president affronting the leadership of the church, and blithely threatening its great institutions? No, they don't want that. They will unite against that.

(…)

There was no reason to pick this fight. It reflects political incompetence on a scale so great as to make Mitt Romney's gaffes a little bitty thing.

There was nothing for the president to gain, except, perhaps, the pleasure of making a great church bow to him.

Enjoy it while you can. You have awakened a sleeping giant
As Noonan goes on to point out, Catholics made up 27% of the national electorate in 2008 and Obama won Catholics at the national level 54% to 45%. There's no reason to think that the Catholic vote has any particular loyalty to President Obama because of the outcome in 2008, Four years earlier, the Catholic vote had gone 52% to 47% for George W. Bush, and if you track the exit polls going back to 1980 you'll see that Catholic voters fluctuated between majority Republican and majority Democratic as much as the general electorate has over that time. The Catholic vote also played an important role in many of the swing states that Obama picked up in 2008 that allowed him to score a victory that few Democrats have seen since Richard Nixon was President. In Ohio, for example, Catholics accounted for 23% of the electorate and Obama won them 52% to 47%. In Florida, Catholics made up 23% of the vote and Obama won that demographic 50% to 49%. The results were similar in other states and, in many cases, it wouldn't have taken much of a switch in loyalty for the Catholic vote to have sided with McCain and, if this decision does generate the kind of antipathy that some are anticipating, then it could play a huge role in the outcome of the vote in the swing states that President Obama will need to hold on to if he's going to be re-elected.
David Friedman comments:
On the one hand, I suspect that many, probably a majority, of American Catholics do not accept the church's position on contraception—are, for one thing, willing to use it themselves. One might expect them to accept the requirement, perhaps to approve of it. That might be what Obama is counting on.

On the other hand … . Human beings have a very strong aversion to being pushed around. I can easily imagine a Catholic who would be delighted if the church dropped its opposition to contraception, who is entirely willing to use contraception, but who is badly offended by having the U.S. government compel the church to pay for services that violate church doctrine.
That, essentially, is the political gamble that the Obama Administration is making here. One can disagree with the Church's teaching on contraception, and many American Catholics do, but if the perception becomes that this is an example of the heavy hand of the state imposing its will on a religious organization regardless, then the fact that American Catholics support contraceptive use may end up being irrelevant.
They didn't have to make this choice, of course. They could have followed the example of states like Hawaii that grant a broad exemption on contraceptive coverage for any religious institution, with the only requirement being that they are required to provide their employees with information on where they could obtain such coverage at low cost. Another option would have been to require them to notify employees that they could provide a rider to the basic employer-provided coverage that would cover contraception provided that the employee picked up the entire cost of that additional coverage. Instead, they choose to go this route for reasons that seem inexplicable from a political and policy point of view.
As I said last week, I'm not at all persuaded by the religious liberty arguments that have been made against this decision. These claims will be litigated, however, and it will be interesting to see how they're treated by the Courts. As a matter of politics, though, the Administration's decision strikes me as a dumb and inappropriate one that didn't need to be made.
Photo via Politico