Political Hack Resigns As OPM Director
The unqualified hack who led OPM while China stole 21 million sensitive personnel files has finally resigned.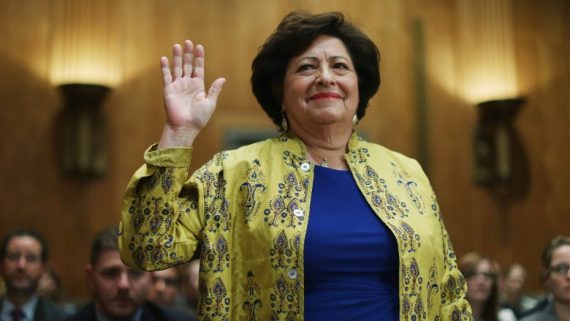 The unqualified hack who led OPM while China stole 21 million personnel files has finally resigned.
National Journal ("OPM Director Katherine Archuleta Quits"):
Katherine Archuleta, the director of the Office of Personnel Management, has resigned from her post amid a cascading scandal over her handling of a massive breach of federal employee data.

Archuleta, who has been at the helm of OPM since November 2013, submitted her resignation Friday morning.

OPM announced Thursday that the size of a hack that began last year led to the pilfering of sensitive personal information of 21.5 million former and current employees. That admission, following weeks of scrutiny on Capitol Hill after OPM acknowledged a separate data breach that affected 4.2 million, led to a rush of lawmakers who called for her ousting, including the top three House Republicans and Democratic Sen. Mark Warner, who sits on the Senate Intelligence Committee.

[…]

The data breach compromised 19.7 million individuals' Social Security numbers, and the remainder of the affected individuals—1.8 million people—were family and friends. In addition to Social Security numbers, the stolen information included employment history, financial and health history, addresses, and even fingerprints. The hack announced Thursday occurred at roughly the same time as another hack, which OPM announced in June. That data breach affected 4.2 million current and former federal workers, 3.6 million of whom were also affected by the larger breach.

[…]

But on Friday, [White House Press Secretary Josh] Earnest said the agency is in need of a change. "It's quite clear that new leadership with a set of skills and experiences that are unique to the urgent challenges that OPM faces are badly needed. That accounts for the acting director that the president has appointed."

Archuleta served as a national political director for President Obama's reelection campaign. Former Florida Gov. Jeb Bush, a GOP candidate for the White House, had taken to referring to her as a "political hack" who needed to be removed.

Warner, who represents thousands of federal workers who live in Northern Virginia, said Friday, "This is the right move for the agency and all those affected by the breach."

Rep. Adam Schiff, the top Democrat on the House Intelligence Committee, said Archuleta's removal was the "right decision, and one that will help to restore confidence in an agency that not only poorly defended sensitive data of millions of Americans but struggled to respond to repeated intrusions."

"This change in leadership is also an acknowledgement that we cannot simply place blame on the hackers, but need to take responsibility for the protection of personal information that is so obvious a target," Schiff added.

Rep. Ted Lieu said in a statement after Archuleta's resignation that the OPM should not be in charge of storing background check data. "OPM was never designed to be an intelligence or national security agency," the California Democrat said. "We should not be trying to fit a square into a round hole. That's why Congressman Steve Russell and I are working on legislation to move the security clearance system out of OPM."
Like Michael Brown, who led FEMA during the Hurricane Katrina debacle, Archuleta is a reasonably accomplished and intelligent person placed into a very important position they had no business filling for purely political reasons. Brown at least had a couple years under his belt at FEMA before taking over; Archelata had no connection to OPM or any other large agency before being nominated.
I've long argued that we need to drastically reduce the number of Executive billets filled by political appointees rather than career professionals. Not only are the appointees seldom competent to hold the posts, the nature of the selection and confirmation process creates long periods of vacancy in key posts, both during transition between administrations and during the constant turnover inevitable in these relatively low-paying jobs. Archelata is a case in point.
All that said, it's not obvious to me that a competent professional would have stopped the Chinese hack of OPM. Government agencies, to include the Defense Department, are absurdly behind the state of the art on technology.