Political Temper Tantrums and the Constitution
The efforts by Speaker Pelosi and President Trump to leverage their institutional powers raise interesting questions.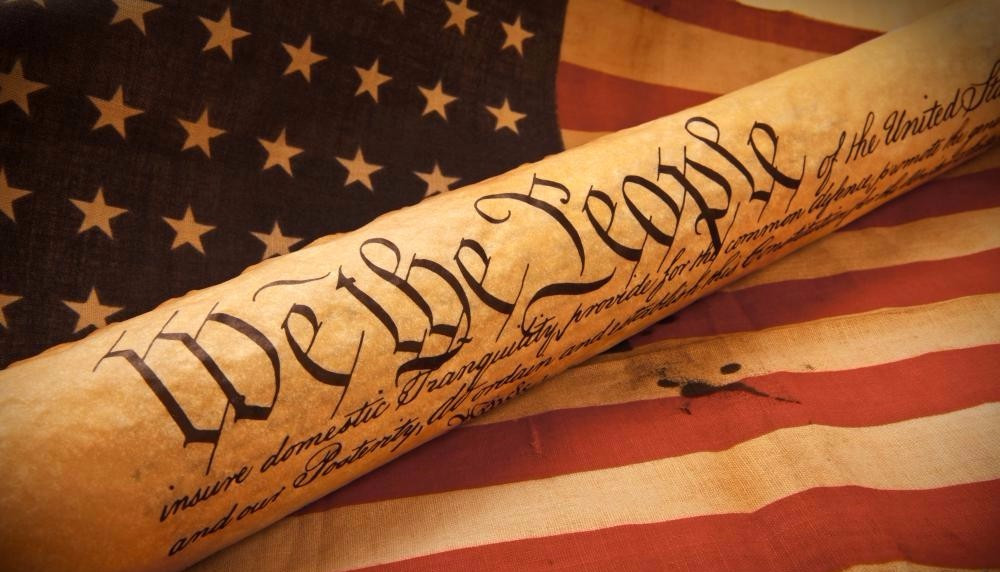 The back-and-forth political posturing, characterized quite reasonably by Doug Mataconis and others as "temper tantrums," are achieving their predicted results. Speaker Pelosi's disinvitation of President Trump to address Congress on the State of the Union until the shutdown ends has been characterized by her supporters as a sign of her shrewdness and seasoning and by his supporters as an outrageous violation of the norms of our system. Likewise, Trump's last-minute announcement that Pelosi would not be allowed to use military aircraft for Congressional delegations is being seen as just payback by the President's supporters and a childish stunt damaging US foreign policy aims by hers.
Yet, both actions hamper the ability of the other party to carry out their Constitutional duties.
Article 2, Section 3 of the Constitution specifies that the President "shall from time to time give to the Congress Information on the State of the Union, and recommend to their Consideration such Measures as he shall judge necessary and expedient." As many have noted, while George Washington and John Adams did this in person, Thomas Jefferson delivered it in writing and his successors continued that practice for well over a century until Woodrow Wilson resumed the in-person practice in 1913. While the Constitution therefore clearly does not require that Trump deliver the message in person, let alone in the Capitol building, that has indeed been the custom in the modern era.
Doug and I both took it as a given that Pelosi had the authority to decide whether and when Trump enters the Capitol. Dave Schuler argues otherwise. He points to the succeeding passage of Article 2, Section 3, which states:
he may, on extraordinary Occasions, convene both Houses, or either of them, and in Case of Disagreement between them, with Respect to the Time of Adjournment, he may adjourn them to such Time as he shall think proper;
Dave argues:
The Congress does not have the authority to invite or disinvite the president to anything. If that is the custom, it is a courtesy not a requirement. It has generally been held that it does not even have the authority to issue a subpoena to the president.

Now I happen to think that the practice of delivering the State of Union message publicly in person should be abandoned. I think it's a custom unbecoming of a democracy and only began with Woodrow Wilson as a tool for rallying support. But not only does the president not require an invitation from the Congress to deliver it he or she can actually summon both houses of the Congress to deliver it. [emphases added]
To the best of my knowledge, though, this passage has previously only been used to call Congress back into special session to deal with emergencies. It is a practice that has seldom been necessary in recent years, given that Congress essentially never goes out of session anymore. There is, as best I can determine, no case law whatsoever on the matter, indicating that the issue has never been litigated. My go-to resource on these things, FindLaw's Annotated Constitution, offers no real insights on the passage in question:
This clause, which imposes a duty rather than confers a power, is the formal basis of the President's legislative leadership, which has attained great proportions since 1900. This development, however, represents the play of political and social forces rather than any pronounced change in constitutional interpretation. Especially is it the result of the rise of parties and the accompanying recognition of the President as party leader, of the appearance of the National Nominating Convention and the Party Platform, and of the introduction of the Spoils System, an ever present help to Presidents in times of troubled relations with Congress. 565 It is true that certain pre-Civil War Presidents, mostly of Whig extraction, professed to entertain nice scruples on the score of "usurping" legislative powers, 566 but still earlier ones, Washington, Jefferson, and Jackson among them, took a very different line, albeit less boldly and persistently than their later imitators. 567 Today, there is no subject on which the President may not appropriately communicate to Congress, in as precise terms as he chooses, his conception of its duty. Conversely, the President is not obliged by this clause to impart information which, in his judgment, should in the public interest be withheld. 568 The President has frequently summoned both Houses into "extra" or "special sessions" for legislative purposes, and the Senate alone for the consideration of nominations and treaties. His power to adjourn the Houses has never been exercised.
It's obvious that the President has essentially unlimited power to "communicate" with Congress. It's not obvious that this extends to summoning them to listen to him deliver speeches in their building.
As to the Pelosi-led CODEL to Afghanistan, no specific clause of the Constitution directly empowers, much less mandates, such trips. Still, Congress has all manner of broad duties specified in Article I, Section 8 vis-a-vis our armed forces and the oversight function is at least implied, almost certainly necessary, and unquestionably proper in carrying out said duties.
Does the President, then, have the rightful ability to deny them use of the aircraft from the military Congress has "raised" in accordance with their Constitutional duties in such a way that hampers their carrying out other Constitutional duties? Almost certainly.
While Trump's rationale for denying the use of the aircraft is even more transparently petty than Pelosi's absurd "security" pretext for postponing Trump's speech, the authority to decide who can use them and when is inherent in his Constitutional role as Commander-in-Chief of the armed forces. Furthermore, as an AP piece notes, as a practical matter, these planes are a resource that must be allocated.
CAN HE DO THAT?

Yes, and not just because he's the commander in chief. The military maintains a fleet of converted passenger jets used by the President, Vice President, Cabinet officials and other officials, from the iconic modified Boeing 747s known as "Air Force One" when the president is on board to smaller, modified Gulfstream jets. They're based at Joint Base Andrews just outside of Washington.

The assignment of the jets is at the discretion of the White House Military Office and, ultimately, the President.

HOW IS THIS SUPPOSED TO WORK?

There are a limited number of planes available for travel and a large number of potential travelers. The Assistant Secretary of Defense for Legislative Affairs signs off on CODEL requests for military flights. The Office of the Assistant Vice Chief of Staff of the Air Force, Special Air Missions Division, is responsible for matching the request with the appropriate aircraft, prioritizing those from the White House, the Office of the Secretary of Defense and others.

HAS THIS HAPPENED BEFORE?

If no aircraft are available, lawmakers can be accommodated on a cargo aircraft if available or declined travel on a military aircraft all together. In such cases the trip may be canceled or carried out on commercial planes. It is not uncommon for there to be jockeying and lobbying of the White House among members of Congress and even Cabinet secretaries to secure the best aircraft. What is extraordinarily rare is for the president to personally intervene, and to announce in writing that he was denying an official a plane for nonoperational reasons, especially after it normally cleared channels.
One supposes that Congress could, with sufficient consensus, mandate in the National Defense Authorization Act that some number of aircraft be allocated at the discretion of its leadership. But that would require substantially more coherence than is presently in evidence.
In the meantime, however, this back-and-forth grandstanding has not only done the opposite of what Pelosi intended—taken the spotlight off of the shutdown—-but actually makes it even less likely than before that an accommodation is reached soon. Now, in addition to whatever pressures Trump felt to fulfill his campaign promise build a wall, he has been personally humiliated by being denied a platform for a big speech to the country. If he gives in and settles this thing without getting his wall—and he's not getting his wall—before the 29th, it'll look like he's been outmaneuvered by Pelosi. His ego won't allow that to happen.