Poll: 46% Of Americans Are Creationists
According to a new Gallup poll, 46% of American adults hold what can basically be called creationist views of the origin of man:
PRINCETON, NJ — Forty-six percent of Americans believe in the creationist view that God created humans in their present form at one time within the last 10,000 years. The prevalence of this creationist view of the origin of humans is essentially unchanged from 30 years ago, when Gallup first asked the question. About a third of Americans believe that humans evolved, but with God's guidance; 15% say humans evolved, but that God had no part in the process.

Gallup has asked Americans to choose among these three explanations for the origin and development of human beings 11 times since 1982. Although the percentages choosing each view have varied from survey to survey, the 46% who today choose the creationist explanation is virtually the same as the 45% average over that period — and very similar to the 44% who chose that explanation in 1982. The 32% who choose the "theistic evolution" view that humans evolved under God's guidance is slightly below the 30-year average of 37%, while the 15% choosing the secular evolution view is slightly higher (12%).
Indeed, as this graph shows, the support for the idea of what Gallup calls "theistic evolution" has declined in recent years: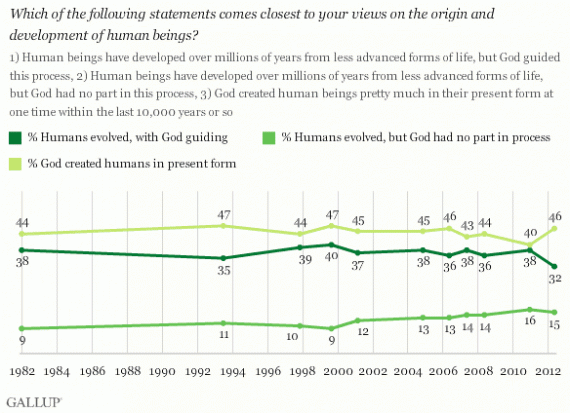 Not surprisingly, of course, the poll finds that one's opinion on this issue is heavily influenced by the extent of one's religious beliefs:
Two-thirds of Americans who attend religious services weekly choose the creationist alternative, compared with 25% of those who say they seldom or never attend church. The views of Americans who attend almost every week or monthly fall in between those of the other two groups. Still, those who seldom or never attend church are more likely to believe that God guided the evolutionary process than to believe that humans evolved with no input from God.
And I don't think any of OTB's regular readers will be surprised by how this breaks down on political lines: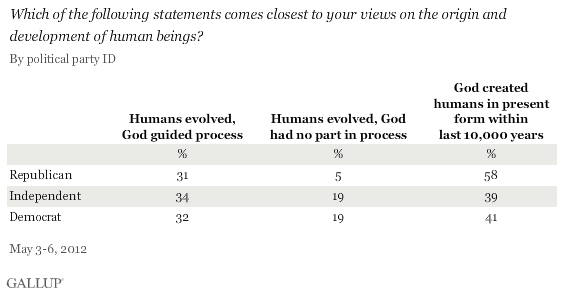 And, there's a high correlation between education and one's opinion on evolution: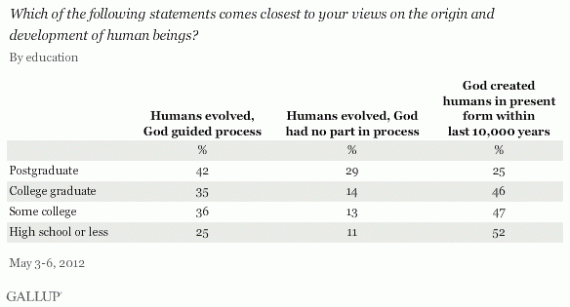 This is why, as I noted the other day, I am skeptical of the argument advanced by Richard Leakey that increased discoveries in the field of anthropology would lead to an end to the evolution debate in the near future. The creationist position has little to do with evidence, and everything to do with faith and culture. It's not going away any time soon, at least not in this country.