Poll Find Wide Racial Divisions Over Confidence In Law Enforcement And The Justice System
Not surprisingly a new poll finds that African-Americans perceive the American justice system far differently than whites.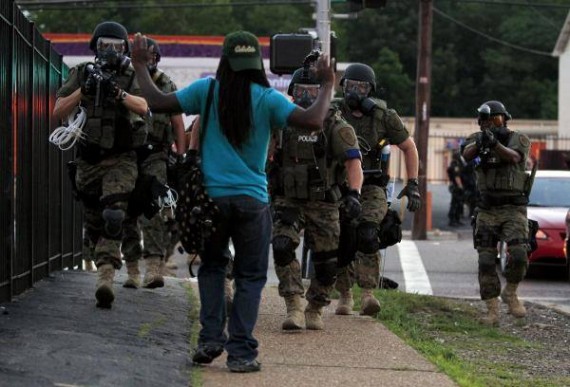 A new poll from NBC News and Marist College finds, not surprisingly, that there are deep racial divisions in the United States when it comes to perceptions of the relationship between the public and police forces and the criminal justice system in general: (emphasis mine)
Americans are deeply split along racial lines in their level of confidence that police officers will treat white and black people equally and refrain from using excessive force, a new NBC News/Marist poll shows.

In the wake of the deaths of unarmed black men in police confrontations in New York and Ferguson, Missouri, 47 percent of Americans say that law enforcement applies different standards to blacks and whites, while 44 percent disagree.

But 82 percent of African Americans say that police have different standards based on race, while half of whites say the opposite.

And while 72 percent of the public and 79 percent of whites say that they have "a great deal" or "a fair amount" of confidence that police in their community will not use excessive force on suspects, just 43 percent of black Americans say the same.

A broad majority of Americans – 93 percent – say they have heard about the recent grand jury decisions in Staten Island and Ferguson, in which police were not indicted for their role in the deaths of unarmed black men. Forty-three percent said that the decisions decreased their confidence in the legal system, versus just 17 percent who said the opposite. Among African Americans, seven in ten said the verdicts decreased their faith in the legal system; among whites, one in five said their confidence has increased.

Confidence in law enforcement is also divided on partisan lines. Just 35 percent of Democrats say they have "a great deal" of confidence in police in their community to do a good job enforcing the law, compared to 73 percent of Republicans. And 64 percent of Democrats say that police apply different standards based on race, while the same percentage of Republicans disagree.
These findings aren't all that surprising, of course. It's long been obvious that minority, and especially African-American communities have a different view of the police and how the justice system works than white Americans do. In my own experience, which is admittedly based largely on personal conversations and anecdotal experience rather than some deep academic study, these are differences that largely transcend socio-economic status, with African-Americans at both ends of the economic spectrum seeming to tend to distrust the justice system and the police far more than whites on either end of the spectrum. To some degree, this seems to be based on personal experiences such as interactions with police or the courts, or the experiences of family members or friends who have experienced what can clearly be identified as disparate or unfair treatment at the hands of police and at the hands of the criminal justice system as a whole.
Beyond personal experiences, though, these opinions also seem to be driven by a perception of unfairness that has pervaded the system for decades and which, despite the progress that has been made on racial issues in the decades since the Jim Crow era, remain quite powerful. Inevitably, I suppose, we will see people push back on this poll just like we've seen people pushing back against the concerns that many of the people protesting the Grand Jury decisions in the Brown and Garner have been expressing over the past two weeks or longer. As I've said in more than one forum at this point, those protests are about more than just the facts of those specific cases, although that is certainly important, because those cases have become symbols for the broader perceptions noted above. As much as some on the right may wish to, you can't simply dismiss those perceptions as something not worth worrying about, especially since there is plenty of evidence to support them when it comes to disparate treatment both at the level of police encounters with communities and the way that the justice system has worked for decades now.
Even conceding the point that things are much better than they used to be, it's quite simply undeniable that racial disparities continue to exist in the justice system. More importantly, to some extent the fact that the perception of unfairness is so widespread among African-Americans is a phenomenon that it would be utterly foolish to ignore. If people believe that they are being treated unfairly, then there has to be at least some element of truth to that perception, and we ought to be talking about how to fix that rather than finding ways to excuse it. The Michael Brown and Eric Garner cases, along with the nationwide protests that have sprung up in response to them, have presented us with an opportunity to do just that. In the past, similar opportunities have largely been squandered as they descended into familiar partisan and racial bickering. We should not let that happen again.