Post Office: We Could Save Money By Making Customer Service Even Crappier
The Postal Service believes it can save itself by making service worse. Something about that doesn't compute.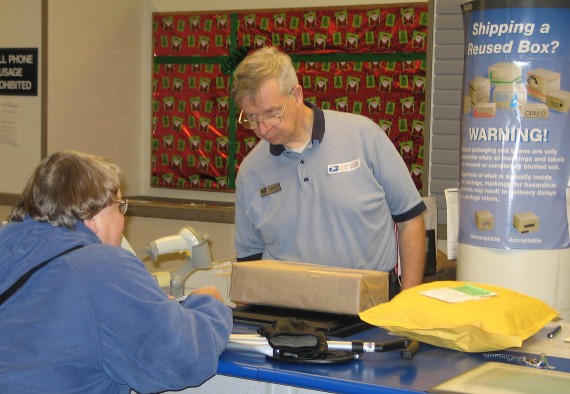 According to a new study, the Post Office could save as much as $1.5 billion a year by cutting back on the quality of its service:
Think snail mail is too slow? Imagine if it got slower.

The U.S. Postal Service could save about $1.5 billion a year if it relaxed its two-to-three-day delivery schedules for first-class and Priority Mail deliveries by a day, according to a new study.

Postal executives are seriously considering the idea and are expected to announce plans regarding delivery schedules after Labor Day, according to USPS officials.

Currently the Postal Service advises customers that first-class and Priority Mail deliveries will arrive, on average, in two or three days.

But relaxing the schedule by a day would cut about $336 million in premium pay for employees working overnight and Sundays to meet current delivery schedules, according to the study. Adding one day to the schedule would put less emphasis on speed and allow the USPS to save at least an additional $1.1 billion by delivering some long-haul Priority Mail shipments by ground instead of air, consolidating mail-processing facilities and employing fewer workers, the study said.

The Postal Service's inspector general commissioned the study, which was authored by the economic analysis firm Christensen Associates.

The study said the USPS spends about $2.5 billion annually on mail processing, transportation and other delivery-related functions. It estimates that first-class mail volume will drop to about 50 billion pieces annually in 2020, down substantially from the 78 billion pieces delivered last year. Volume for standard mail, a cheaper delivery option, is expected to remain flat at about 150 billion pieces annually.
Isn't this roughly the equivalent of a restaurant reducing the quality of the food it serves in order to cut back on costs? A smart business decision in the short term perhaps, even arguably a necessary one given the seriousness of the situation USPS faces and the fact that may run out of money in just over a month. However, it strikes me that in the long term reducing the quality and speed of service is likely to force more customers to seek alternatives to the Postal Service, whether its other delivery services, or other methods of communicating. Email has already killed the personal letter, online payment services have made mailing in a check every month a thing of the past for many people. At this point, most of the mail I get is of the commercial variety, and the vast majority of it ends up in the garbage within minutes of getting into the house. Cutting back on service like this is only going to lead people to figure out that they don't really need to mail things anymore, and that's bad news for the Postal Service.
As I've noted before, there are plenty of alternatives to what USPS is being forced to do now in order to get its finances in order. If only Congress would let them do it.
The Postal Service should be set free of its ties to the Federal Government and forced to compete with other companies. It is fundamentally absurd that they should need to go to Congress to get permission to do something like eliminating Saturday delivery. A private company doesn't need to get permission to engage in a cost-cutting move like that, and USPS would clearly, in the long run, be a much healthier company if it had the freedom to make these kinds of decisions with the heavy hand of Congress interfering (there's already been talk about Congress stepping to prevent the Post Office closures that were recently announced). Postal privatization has been done in other countries, quite successfully, and I don't see any reason why it can't happen here.
Will it mean significant changes to an institution that used to be a big part of American life? Absolutely, but the alternative is to have the government subsidize a failing business in the name of "tradition" and, of course, to protect the interests of the Postal Workers Union. In an era where we're talking about across the board budget cuts in order to bring an out of control deficit under control, that simply isn't an option.