President as Straight Man
Did President Obama degrade his office by appearing on "The Daily Show"? Or is that notion a relic of a bygone era?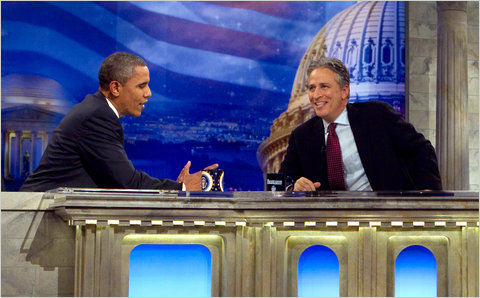 Pat Lang thinks President Obama's Daily Show appearance was "a bad idea."
Stewart is a clever man, but he is a comedian. The president of the United States should not act as a "straight man" for a comedian. Obama is trying to reach more potential voters? I understand that, but the gravitas of the office is damaged by participation in such events.

"Dude?" Stewart addressed the commander in chief of the armed forces as "dude?" The president has the actual power to order death en masse and does so order death in the form of national security "findings." Should someone with that kind of power participate in political grandstanding and clowning?
I had the same gut reaction to the "dude" line and the spectacle as a whole.  But it may just be old fogeyism on our part. Sheryl Gay Stolberg's report, "Obama, Jon Stewart and Change," puts it in some perspective:
Late-night television has come a long way since Bill Clinton, then a presidential candidate, played his saxophone for Arsenio Hall during his campaign for the White House in 1992. The lines between entertainment and news are increasingly blurred – in part because Mr. Obama has been willing to bring his presidential platform to settings his predecessors might have regarded as unconventional, to say the least.

Last, year, Mr. Obama became the first sitting president to appear on "The Tonight Show" with Jay Leno. Over the summer, he dished with Whoopi Goldberg and other doyennes of daytime television on ABC's "The View." ("I wanted to pick a show that Michelle actually watches," he told them.)

Getting out the vote is "on the top of every to-do list of every person working in a campaign at any point in the country," and The Daily Show appearance is a part of that effort, the White House press secretary, Robert Gibbs told reporters this week. Mr. Obama, he said, "hasn't been shy about going to the places where people are getting their information and trying to make his case."
Back in the old days, presidents used to sit down with Serious Journalists from Serious Media Outlets like CBS News and the New York Times.    But, today, Jon Stewart and Stephen Colbert are more influential than Katie Couric and whoever hosts the other network news programs (which, so far as I know, are still being broadcast).
Most of us thought it was rather clownish for Colbert to testify before Congress.  In character, no less.  Everyone came off looking like dolts.   But the fact of the matter was that his bizarre testimony at least got a modicum of attention for the issues immigrant farm workers face.  Without this weird publicity stunt, no one would have known hearings were being held on the matter.
I'm sure there was a time when it was considered beneath a president's dignity to appear on radio and television, which were low culture compared to the august print journals.  But, eventually, those became the dominant media and it became what one did.
And, surely, it no more degrades the office to appear on a comedy show and get addressed as "Dude" by an otherwise respectful host than it does to go on, say, the Rush Limbaugh program and shower the host with "Dittos."  Media where politicians pander to a popular host and their audiences are by their very nature smarmy.