President Obama on Daily Show
Video of President Obama on "The Daily Show" with Jon Stewart.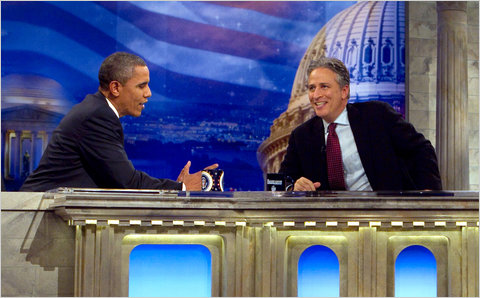 President Obama appeared on "The Daily Show" with Jon Stewart last night.   He stayed so long that they had to change the format:
The interview went longer than Mr. Stewart expected – so long, in fact, that the show's producers decided to cut out the original introduction Mr. Stewart taped, which include a riff of him fiddling with a pen and drumming his fingers on the table while making the president wait, and his introduction of Mr. Obama as "White House chairman of the council of Economic Advisers Austan Goolsbee's boss." A spokeswoman for the show said it was the first time the show consisted of a single interview.

Late-night television has come a long way since Bill Clinton, then a presidential candidate, played his saxophone for Arsenio Hall during his campaign for the White House in 1992. The lines between entertainment and news are increasingly blurred – in part because Mr. Obama has been willing to bring his presidential platform to settings his predecessors might have regarded as unconventional, to say the least.

Last, year, Mr. Obama became the first sitting president to appear on "The Tonight Show" with Jay Leno. Over the summer, he dished with Whoopi Goldberg and other doyennes of daytime television on ABC's "The View." ("I wanted to pick a show that Michelle actually watches," he told them.)
Part 1:
Part 2:
Part 3:
Normally, when an interview runs long, they just put it on the Web and tell everyone they can finish watching it there.  But the guest isn't usually the sitting POTUS.