Stewart And Colbert Rally For Sanity And/Or Fear, And Take A Jab At The Media
The Rally To Restore Sanity And/Or Fear ended up having a point after all, but it's not one that anyone is likely to take to heart.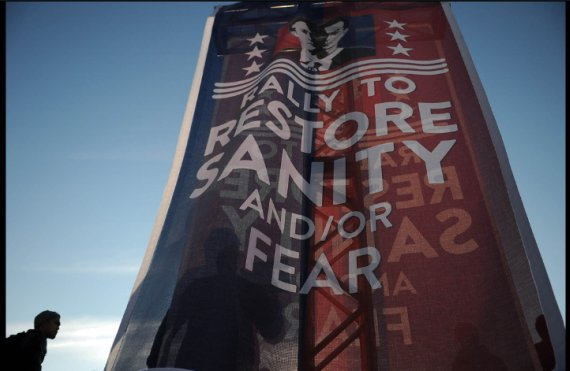 Democrats hoped, and Republicans feared, that today's Jon Stewart/Stephen Colbert "Rally To Restore Sanity And/Or Fear" would turn out to be some kind of big pre-election get-out-the-vote rally for Democrats. What both sides got, however, was three hours of mostly entertainment interspersed with some well-placed jabs against media outlets that seem to specialize in stoking fear and division for ratings:
Jon Stewart and Stephen Colbert, the first names in fake-news anchormen, drew throngs of exuberant supporters to Washington on Saturday for a televised and live-streamed joint rally that shut down streets, overloaded the transit system and flooded the Mall.

In a fraught political environment, with midterm elections looming and Democrats bracing for historic losses, the two comedians kept most of their three-hour show to nonpartisan bits, musical entertainment and gentle ribbing of the purported enemies of incivility.

But at the conclusion of the program, Stewart switching his black T-shirt and blazer for a suit and tie, argued that the rally's intended butt of the joke was the level of discourse in Washington and cable television's hyperbolic 24-hour news cycle. Political affiliations aside, he said, everyone throughout the country found a way to work together.

"The only place we don't is here or on cable TV," said Stewart, speaking against the backdrop of the Capitol building. In earnest terms that bordered on political rhetoric, he orated, "If we amplify everything, we hear nothing."

Between noon and 3 p.m., Stewart and Colbert held forth from a stage on the opposite end of the Mall from the Lincoln Memorial steps, where conservative commentator Glenn Beck led a similarly vast and homogenous crowd two months ago. That rally, with its religious theme of "Restoring Honor," had conservative political undertones and prompted Saturday's satiric response.

The two rallies have proved a forum for two television audiences, which have become self-identifying political communities.

"This is my comedy channel" read a sign brandished with the FOX News logo and hoisted by Steven Crawford, who came from York, Pa. The other side of the sign, illustrated with a Comedy Central logo read: "This is my news channel."

Democratic and Republican leaders argued that the comedic rally either boosted dear reserves of Democratic enthusiasm or foolishly spilled them across the Mall, instead of knocking doors in contested states and congressional districts. Young voters and progressives have increasingly turned to Comedy Central for political information, the remaining question was whether the progressives on the Mall — some of whom held such meta signs as "I Am Holding a Sign" — would actually take political marching orders from comedians.

In their closing remarks, neither Colbert nor Stewart was explicit in his demands. "Your presence is what I wanted," Stewart stated simply.
The rally itself was mostly entertainment, and whether you liked it or not probably depending mostly whether you're a fan of The Daily Show or The Colbert Report. Personally, I found the parts I was able to watch pretty entertaining. However, there was at least one part of the show that became the subject of criticism even as it occurred, and it happened when Yusef Islam (formerly known as Cat Stevens) appeared to sing his 60s-era song Peace Train:
I have been watching the Jon Stewart rally and my Tivo's running a bit behind because I have been pausing to deal with life, but my jaw dropped wide open when Stewart introduced a man named "Yusuf."  That would be Yusuf Islam, the man formerly known as Cat Stevens, who then played a rendition of his song "Peace Train."

That would be the same Yusuf Islam/Cat Stevens who endorsed the Fatwah against Salman Rushdie.  For instance, the New York Times reported (registration required) as follows in 1989:

The musician known as Cat Stevens said in a British television program to be broadcast next week that rather than go to a demonstration to burn an effigy of the author Salman Rushdie, "I would have hoped that it'd be the real thing."

The singer, who adopted the name Yusuf Islam when he converted to Islam, made the remark during a panel discussion of British reactions to Ayatollah Ruhollah Khomeini's call for Mr. Rushdie to be killed for allegedly blaspheming Islam in his best-selling novel "The Satanic Verses." He also said that if Mr. Rushdie turned up at his doorstep looking for help, "I might ring somebody who might do more damage to him than he would like."

"I'd try to phone the Ayatollah Khomeini and tell him exactly where this man is," said Mr. Islam, who watched a preview of the program today and said in an interview that he stood by his comments.
Some, such as Talking Points Memo, have already dismissed this criticism of Islam's appearance at the rally as a "right wing" concern, but there does seem to be somewhat of a disconnect between a rally calling for rationality in political discourse and a singer who once endorsed the idea of murdering someone for writing a book. Inviting a man like this to a rally to "restore sanity" was a mistake, and Stewart is likely to take some well-deserved criticism for it over the coming days.
The message of the rally, if there was one, was saved for the end when Stewart addressed the question that news media has been asking all week:
"What exactly was this?" Mr. Stewart asks. "This was not a rally to ridicule people of faith. Or people of activism or to look down our noses at the heartland, or passionate argument or to suggest that times are not difficult and that we have nothing to fear. They are and we do. But we live now in hard times, not end times. And we can have animus and not be enemies."

"Not being able to be able to distinguish between real racists and Tea Partiers, or real bigots and Juan Williams or Rick Sanchez is an insult, not only to those people but to the racists themselves, who have put in the exhausting effort it takes to hate."

"The press is our immune system," Mr. Stewart says. "If it overreacts to everything, we actually get sicker. And perhaps eczema. And yet, with that being said, I feel good. Strangely, calmly good."

In the news media, Mr. Stewart says, we hear of the fragility of our country, how we're on the brink of catastrophe, how it's a shame we can't work together. "The truth is," he says, "we do."

Mr. Stewart invokes the metaphor of a traffic merger at the Lincoln Tunnel, "You go, then I'll go." "Sure, at some point there will be a selfish jerk who zips up the shoulder and cuts in at the last minute. But that individual is rare and he is scorned, and he is not hired as an analyst."
Leaving aside the accusations of smugness that are likely to be leveled, this is actually a message worth listening to.
Thanks mostly to a 24/7/365 news cycle, political discourse in this country has largely descended to the level of a schoolyard screaming match. For both sides, what is said isn't nearly as important as how loud it's said, and whether or not your able to score some cheap political points against your opponent. It's the reason that talk radio is mostly unlistenable and that cable news is mostly unwatchable, especially after 5pm. And, despite the fact that the people who consume that media are far from a majority of the country, it has somehow become the driving force in politics to the point where Republicans and Democrats both shape their message based on how they think it will play on Fox or MSNBC. That isn't a nation where people are talking to each other, it's a nation where people are talking at each other.
I don't expect that anyone will really listen to what Stewart said. Partisans on both sides will draw their own conclusions, and the media will just continue to do whatever brings in the viewers and the ad dollars. In the meantime, American politics will continue to become more polarized and nothing of any real substances will be done to deal with the real problems facing the nation. A depressing prospect, I know, but in politics and in the media it's become very clear that fear outsells sanity.