President Biden's First Press Conference
The media became the story but the President was the news.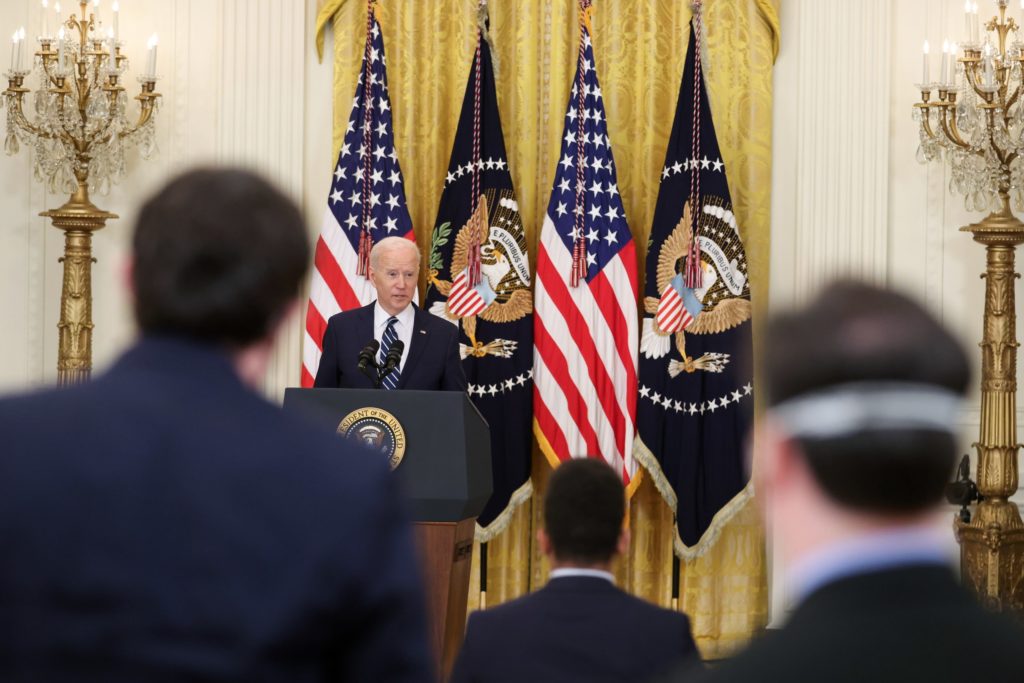 Sixty-five days into his administration, President Joseph R. Biden, Jr. gave his first press conference. He had been receiving quite a bit of unwarranted criticism for waiting so long but, now, most of the criticism is directed at those asking the questions.
Because it was held during the work day, I missed it live and have only read some a few print reports. By most accounts, he handled himself quite well. The reporters, not so much.
From the left, Dan Froomkin ("At Biden's first news conference, it wasn't the president who was out of touch"):
The White House press corps' abysmal failure to ask important questions about pressing issues during President Biden's first news conference on Thursday was the clearest demonstration yet of the contrast between what the political media cares about and what is real.

There were no questions about any element of the Covid crisis  - not the vaccine, the prognosis, the economy, nothing! – although it's by far the most important issue on any normal person's mind right now. There were no questions about the substance of Biden's ambitious plans related to infrastructure and climate change, immigration and voting rights.

Instead, the questions reflected the insider, horse-racy obsessions of the political press corps. There were repeated questions about the filibuster, and about the 2024 election(!).

There were several contentious questions about the situation at the border, which the right-wing is intent on turning into a cause for hysteria — with the mainstream media's collaboration.

[…]

After four years of the media desperately needing to reality-check the president (and often failing), now the president was the one talking about things that mattered and marveling at not one but two reporters asking about the 2024 election. "Look, I don't know where you guys come from," he told CNN's Kaitlin Collins.

[…]

If reporters were trying to show they could be tough against a Democrat, their attempt backfired terribly. Far from knocking Biden off message, the vapidity of the questions actually strengthened Biden's central theme: That regardless of what others are up to, he's just trying to get stuff done.

[…]

White House reporters should be tough on the president – on every president. But that doesn't mean asking questions based on their own obsessions or right-wing talking points. It means coming at the president with tough questions on behalf of the American public. It means pushing him to govern better, more humanely, and more transparently.
From the right, Jennifer Rubin ("Biden excels at his first news conference. The media embarrass themselves."):
After weeks of whining, the White House press corps got its first official Biden presidential news conference on Thursday. President Biden used the event to pledge that 200 million covid-19 vaccinations would be administered by the end of his first 100 days, double his original goal. (The administration will reach 100 million shots on Friday, Day 58.) He also announced that a survey showed nearly half of K-12 schools are open full-time for in-person learning. (He expressed confidence it would be more than half by the 100th day, consistent with his goal.) Certainly, that should be near the top of any news coverage.

[…]

Try as they might to seem "tough," the media did not succeed in knocking Biden off message. Biden spoke in great detail and length to show not only his mastery of the issues but also to suck tension and conflict out of the room. He simply would not be lured into accepting a false premise devised by Republicans (i.e., that his nice demeanor prompts parents to send kids thousands of miles under deadly conditions). 

[…]

The media did not distinguish themselves. By asking about immigration multiple times and echoing the false narrative that Biden had created a "surge," they showed they were more interested in sound bites than actual news. Their failure to ask about the pandemic, the recession, anti-Asian violence, climate change or even infrastructure (Biden had to bring it up himself) was nothing short of irresponsible. They pleaded for a news conference and then showed themselves to be unserious. They never laid a glove on Biden; they did, however, make the case for why these events are an utter waste of the president's time.
Under the headline "The Presidential Press Conference in the Biden Era Is as Awful as Ever," Susan Glasser starts off in the same vein:
Sometimes the big moments in our politics meet the very low expectations we have for them. Joe Biden's first Presidential press conference, on Thursday, was one of them. By the end of it, after an hour and two minutes that felt much longer, Biden had answered some two dozen questions. The majority of them were repetitive variants on one of two subjects: immigration and the Senate filibuster.

Biden had no actual news to offer on either subject. In case you missed it, he is really, totally, absolutely committed to fixing the terrible situation at the border, and also not yet ready—because he does not have the votes—to commit to blowing up the filibuster. There was not a single question, meanwhile, about the ongoing pandemic that for the past year has convulsed life as we know it and continues to claim an average of a thousand lives a day. How is this even possible during a once-in-a-century public-health crisis, the combating of which was the central theme of Biden's campaign and remains the central promise of his Presidency? It's hard not to see it as anything other than an epic and utterly avoidable press fail.

For weeks, Washington clamored for a Biden press conference. This was, after all, the longest a new President had gone without holding one since the Coolidge Administration. Republicans—and the state-run media in Russia—seized on Biden's reticence as proof that he was somehow too old or incoherent to face the rigors of extended, unscripted questioning. With his critics having set such a low bar, it should surprise no one that Biden, who did, after all, win a national election by surviving almost a dozen debates with his Democratic-primary rivals and two with Donald Trump, cleared it. Republicans, it could be said, succeeded in one respect with their preshow spin: they wanted Biden to be on the defensive talking about immigration and the border, not the passage of his $1.9 trillion covid-relief package and the success of his vaccine campaign. Reporters, based on the questions, agreed.
Before closing on a more important note:
I have spent years, as an editor and a reporter, hating on Presidential press conferences—the faux-gotcha questions, the pointless preening, the carefully calculated one-liners from the President made to seem like spontaneous witticisms. Print reporters like me are biased toward scoops and original reporting; we tend to dislike events that are staged for the cameras, featuring journalists as props.

Then came Donald Trump, and an entire Presidential term of watching press conferences with a renewed sense of urgency. No matter how hard they were to sit through, they were undoubtedly relevant: Trump regularly used them not only as a platform for his lies and cartoonish demagoguery but also for unexpected policy pronouncements that had significant real-world consequences. Trump's performances required watching because his Presidency defied the norms of governance; he was the only one who could speak for his Administration of one, and thus we had no choice but to pay attention.

That was then. Today, no one watches a Biden press conference worrying that he is about to suggest that Americans drink bleach to cure their covid or that he will declare war on Michigan because its governor wasn't appreciative enough. Wondering whether Biden, a famously long-winded seventy-eight-year-old former senator, will stumble over an answer does not have the same consequences as watching a Presidential press conference to find out whether Trump is still threatening to rain down "fire and fury" on North Korea. This is an improvement, to be sure. But politics moves on, and, in this case, Trump's exit from the White House means that we journalists have the space and time to consider once again the problem of how to insist on transparency and accountability in our government without relying so heavily on the empty spectacle of the televised Presidential press conference, a platform that arguably had its heyday in the early nineteen-sixties.

I am, of course, all for asking Biden hard, tough, and pointed questions—the more the better. But Thursday's press conference reminded me of why I hated these staged events in the first place. It taught me nothing about Joe Biden, his Presidency, or his priorities. The problem was not that it was boring. It was that it was bad.
To the extent press conferences continue to serve a purpose in an age where Presidents have so many other ways to get their message out and reporters have so many other venues to ask questions, something more akin to the pre-Tim Russert "Meet the Press," where a small cadre of journalists sit down for a wage-ranging, back-and-forth conversation rather than a gaggle where a dozen folks get a single question and try to score points.
Regardless, yes, the real news is that Biden has returned the presidential press conference to something other than a bizarre reality television program. That we have a decent, earnest man trying to fix the country's problems rather than a narcissist throwing out crazy ideas is ultimately much more important that whether reporters are asking the right questions.