President Charlie Brown
Joe Biden has bet his presidency on a caucus that may simply be irreconcilable.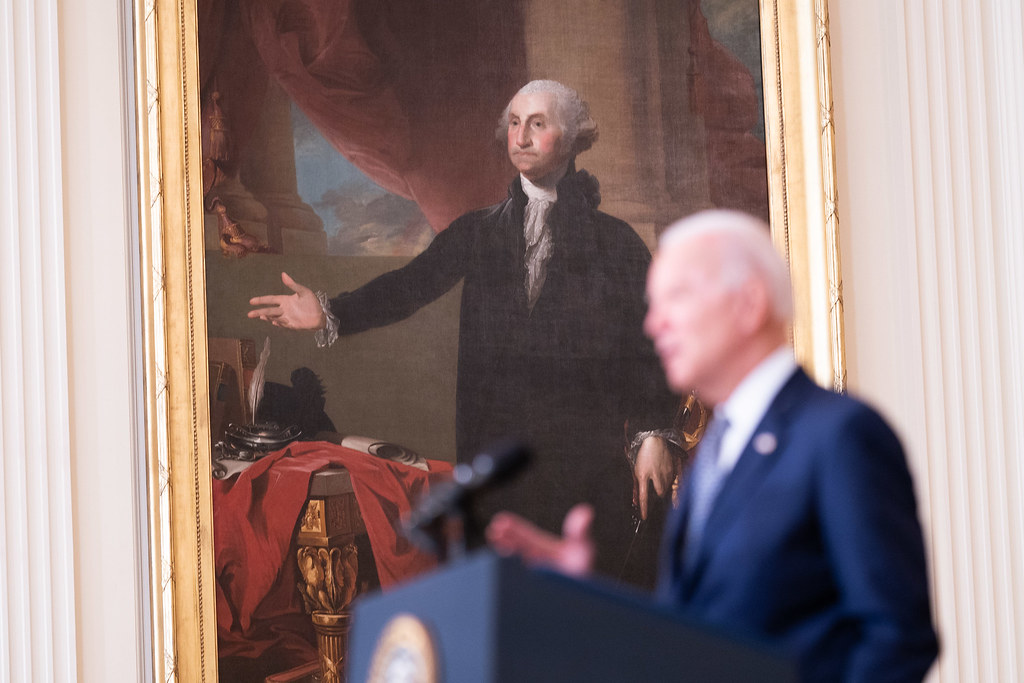 WaPo ("Biden raises the stakes with the biggest gamble of his presidency"):
President Biden entered a caucus meeting of Democrats on Thursday morning, told them he wanted to speak from the heart, and then made one of the biggest gambles of a career that spans nearly a half century.

He put the future of his presidency, and the state of his party, on the line with a major bet that he could persuade a fractious group of Democrats to rally behind him and support a compromise $1.75 trillion social spending plan at the heart of his agenda.

"I don't think it's hyperbole to say that the House and Senate majorities and my presidency will be determined by what happens in the next week," he said, according to a participant in the meeting.

His wager — the result of weeks of haggling and what has become a legislative Groundhog Day morass — was in some ways out of character for a president who has been relatively risk-averse, often keeping a safe distance from the most explosive legislative debates.

[…]

"We badly need a vote on both of these measures," Biden pleaded in the caucus meeting earlier in the day, adding, "I need you to help me. I need your votes."

He reached for history, saying that what would be achieved through the two plans would be greater and more significant than the combined efforts of Franklin D. Roosevelt and Lyndon B. Johnson.

Biden's agenda — and in many ways his presidency — has teetered on the verge of catastrophe in recent weeks, before he and Democratic congressional leaders slowly started to resolve intraparty conflicts that have been a stain on their tenure helming the federal government. How and whether Biden can navigate a Congress that Democrats have only nominal control over, with razor-thin majorities in both chambers, has been one of the enduring questions over his first nine months in office.

For Biden, the revised plan held the potential to show strength after months in which even his allies felt he was projecting weakness. Amid all of his challenges, his presidency at times has felt rudderless to some supporters.

Just as important, Democrats said, if they can reach a deal to pass the social spending plan and the infrastructure measure, it would demonstrate that the party can govern, meeting Biden's campaign promise to successfully work with Republicans and unite a party in which old fractures resurfaced after Trump left office.

"The rest of the world wonders whether we can function," he said at least twice during the caucus meeting. "Not a joke."
Even aside from the absurdity of comparing a hodgepodge spending bill to ending the Great Depression, fighting World War II, and ensuring the civil rights of tens of millions of Black Americans, this is all rather silly. Biden enjoys a five-vote margin in the House and the Senate is a 50-50 tie. His caucus is incredibly fractured. While it would have been preferable to broker a deal inside the mythical First 100 Days of his administration—or at least to avoid negotiating it painfully in the press—that's simply not the reality of the current political scene.
Beyond that, while it might be better if it were otherwise, we don't have a parliamentary system. Democratic Representatives and Senators don't work for Joe Biden. And it's not just Joe Manchin and Kyrsten Sinema.
The Daily Beast ("Dems Leave Biden Empty-Handed Again After Chaotic Day on Capitol Hill"):
With his agenda in peril in advance of an international climate summit, President Joe Biden came to Capitol Hill on Thursday and pleaded with House Democrats to pass a $1 trillion infrastructure bill—to prove to the world that American democracy actually can work.

The scene inside the closed-door meeting became so earnestly patriotic and rah-rah that, in between cheers for the president, some lawmakers broke into a chant of "Vote! Vote! Vote!"

But as soon as Biden left the Capitol and boarded Air Force One en route to Europe, the impromptu episode of The West Wing ended. Lawmakers snapped back to the realities of American democracy. And it was a mess.

Over the next few hours, the familiar drama that has pitted factions of the Democratic Party against each other—or, more specifically, the vast majority of the Democratic Party against two Democratic senators—entered its chaotic third act.

By late Thursday morning, the White House and Speaker Nancy Pelosi's team revved up a push to get at least 218 Democrats to vote for the infrastructure bill. Vice President Kamala Harris began calling House progressives to try to get the infrastructure bill over the finish line, according to a source.

A White House official confirmed that account, telling The Daily Beast that "throughout the day," Harris "has been making calls to House Democratic members about the [Build Back Better Act] framework."

Pelosi's leadership team also began whipping the legislation—something they didn't do a month ago when the infrastructure bill was first supposed to pass the House.

But the whipping efforts quickly collided with the truth that there aren't 218 Democrats ready to pass that bill without stronger assurances from Sens. Joe Manchin (D-WV) and Kyrsten Sinema (D-AZ) that they would in turn pass the other plank of Biden's agenda.

That plank, a $1.75 trillion social spending package, looks to be moving toward completion. But Manchin and Sinema have only offered tepid support—Rep. Dan Kildee (D-MI) said Thursday they were speaking in "hieroglyphics"—and progressives are resolute that they won't budge on the infrastructure bill until Manchin and Sinema fully back the legislation.

With progressives and the two senators at an impasse, House leaders conceded that neither bill would pass this week. After a day of uncertainty, lawmakers voted on an extension of expiring transportations programs that would have otherwise been taken care of in the infrastructure bill.

With that, the legislative chaos of the day was over. House Democrats continued with a hearing on their 1,684 page bill, even though that meeting was now unnecessary at the moment. Senators, as they're wont to do on Thursdays, left town. And the House quickly followed suit.
The Hill ("Progressives win again: No infrastructure vote Thursday"):
House Democratic leaders abandoned a third attempt on Thursday to clear a Senate-passed bipartisan infrastructure bill, as progressives held firmly opposed without deeper assurances that a larger package of social benefits is a slam dunk.

The third punt in a month came after President Biden made a rare visit to the Capitol to beseech House Democrats to help him advance his agenda as a matter of demonstrating that American democracy can still function.

The visit was hailed by lawmakers of all stripes, but it did little to convince the liberals to vote immediately on the infrastructure bill. And the delay has sparked a new round of finger-pointing from lawmakers already frustrated with the months-long impasse and Biden's sinking approval numbers.

"Not good optics. It's terrible optics," conceded Rep. Alan Lowenthal (D-Calif.), who wanted the House to pass the infrastructure bill on Thursday.

"People are frustrated right now," added Rep. Jim Costa (D-Calif.), a moderate Blue Dog. "There's a lack of trust, and you got a lot of members here that have been here four years or less and they don't seem to understand how you get things done."

One of the Blue Dog Coalition leaders, Rep. Stephanie Murphy (D-Fla.), later issued a statement, saying the group is "extremely frustrated that legislative obstruction of the [infrastructure bill] continues — not based on the bill's merits, but because of a misguided strategy to use the bill as leverage on separate legislation."

Some of the frustration was also directed toward the Senate centrist holdouts — Joe Manchin (D-W.Va.) and Kyrsten Sinema (D-Ariz.) — who have resisted large parts of Biden's agenda and forced him to settle far below his initial request of $3.5 trillion in new spending.

"Basically it's the [dis]trust of Manchin and Sinema," said Rep. Steve Cohen (D-Tenn.). "That's the problem."

But there was also grumbling that Biden and his administration have bungled the negotiations from the start by focusing initially on the Senate and leaving House members feeling left out.

"Even in the beginning of the summer, this was about the White House and the Senate, and the House was excluded," said Rep. Alexandria Ocasio-Cortez (D-N.Y.). "This is, I think, the result of that omission."

Despite the delay, Democrats were optimistic that negotiators could reach a deal within days on the social benefits bill, paving the way for both proposals to hit the floor next week.

Still, Speaker Nancy Pelosi (D-Calif.) and her leadership team wanted to expedite that timeline by clearing the bipartisan infrastructure bill on Thursday to give Biden a big legislative victory as he left for Europe for a global climate change summit. Leadership also hoped to boost Democratic gubernatorial candidates in Virginia and New Jersey, where voters go to the polls on Tuesday.
Whining aside, that's just how this works. It's simply a fact of life that the Senate is the biggest obstacle to any deal given how that body works. It's always simply assumed that, because of the far stricter rules of the House, the Speaker can get a package passed.
Given the landscape, I'm not inclined to cast too much blame here on Biden, Pelosi, or Schumer. It's been a royal shit show but I'm not sure how they could have managed the competing factions—and the complete lack of cooperation from the Republican Party—much better.
The New Yorker's Susan Glasser ("Biden Can't Quite Close the Deal—with His Own Party") rightly calls out the premature triumphalism, though:
Many Democrats went ahead and claimed victory anyway, on the basis of Biden's announcement. Former President Barack Obama put out a statement calling the framework "a giant leap forward." The Natural Resources Defense Council cheered "historic progress when we need it most." The White House chief of staff, Ron Klain, sought to reassure progressives upset about the jettisoning of priorities such as paid family leave and lower prescription-drug prices, by touting the bill in a tweet as "twice as big, in real dollars, as the New Deal was." But it became obvious almost immediately that there was a more immediate challenge for the White House: the deal was not entirely done when Biden had announced it. With his Presidency hanging in the balance, it turned out, Biden had chosen to risk a public unveiling ceremony for an agreement that his party had not yet actually signed on to. Is this what winning looks like in this age of the 50-50 Senate?

For months, Biden has been stuck negotiating with fellow-Democrats over the details of the bill. The negotiations remained so uncertain that, even as Biden headed to the House to make his pitch, the Senate Majority Whip, Dick Durbin, was telling reporters that he wasn't sure Democratic senators would support the deal because they still didn't know what was in it. "No, I wish I could say yes, but there's a great deal of uncertainty within the caucus as to what's contained in the deal," Durbin said. Biden, nonetheless, tried to project an air of unrattled confidence in his Build Back Better bill, whose generic name conceals a wealth of possible meanings. "Everybody's on board," the President told reporters as he arrived on Capitol Hill. "Today's a good day." But as the day ended it was not entirely clear that either statement was accurate.
Indeed, it's not at all certain that the deadlock will get resolved any time soon. Or at all.
By next week, this could be just another forgotten congressional dumpster fire. The agonizingly slow negotiations on Biden's agenda over the last few months are not the first time and will not be the last that the legislative sausage-making process has left legislators feeling, as Representative Debbie Dingell put it, "sick to your stomach." Biden and Pelosi are betting on some basic principles of politics to help smooth it all over. They are betting that the memories of the enervating process, like a painful childbirth, will fade with time. They are betting that delivering something is better than delivering nothing. And they are betting that the mechanics of passing the legislation are much less significant than the politically popular proposals, such as raising taxes on wealthy corporations and child-care tax credits, contained within the bills. The House progressives quickly put out a statement saying that, while they were balking at having an infrastructure vote on Thursday, they were, in fact, committed to supporting both that bill and the bigger social-spending bill—whenever they do come to the floor. Winning tends to erase the pain of getting there.

But what I keep coming back to is that Biden has struggled so much—and had to put so much of his personal prestige and political capital on the line—for a deal he can't quite close with his own party. These are Democrats he is negotiating with. No Republicans—or Russians or Chinese, for that matter—were involved in the making of the deal, to the extent that there is a deal. And why, exactly, was it such a heavy lift that it took so long to get to the pretty inevitable top-line number? A month ago, the big breakthrough was the revelation that Manchin was for a $1.5-trillion bill and that Biden and the Democratic leadership wanted to get to approximately two trillion dollars. It did not take a negotiating genius to figure out that they were going to end up at $1.75 trillion. This is what practically broke Washington? You can't blame that one on Donald Trump.

In 2020, Biden campaigned as a dealmaker—not a Trump, I-could-sell-you-the-Brooklyn-Bridge-type dealmaker, but an actual Washington-insider-who-can-make-this-town-work-again-type dealmaker. This is why the stakes for him now are so high. It's become a basic test of his ability to deliver.
This is both fair and not. In Washington, it takes far more than two to tango. Biden was elected to the Senate in 1972—almost four years before Sinema and seventeen years before Ocasio were born. He spent much of his adult lifetime—four more years than AOC has been alive—in a very different Congress than exists now.
Like Glasser, I've been saying from the beginning that the ceiling on this bill was always whatever Sinema and Manchin would agree to. It's simply obvious. But, for the most militant members of the progressive caucus, it may well be that no bill is better than half a bill. That's a mindset I can barely fathom but, again, it is what it is.