Presidential Candidates In Rare Agreement On Augusta National Membership Rules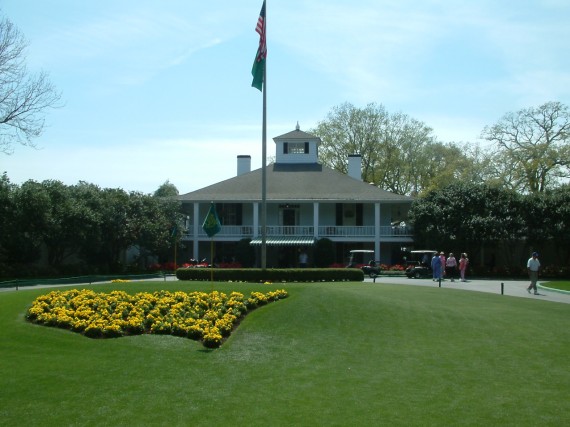 It's a Presidential election year, The Master's Tournament started yesterday,  women's issues have been playing a prominent role in the public debate, and the Augusta National Golf Club is seeing another round of controversy about its policy that excludes women from becoming members. So, it was probably inevitable that we'd see the candidates for President chiming in on the question. What is surprising is that they all seem to be agreeing with each other that the golf club should consider changing its policy and extended a membership offer to a woman.
It started early yesterday when the White House and the Romney campaign both took the same position on the issue:
The White House press secretary, Jay Carney, said Mr. Obama told him this week that he believed that women should be members of the club, which holds the tournament.

But Mr. Carney added, "It is obviously up to the club to decide." He did not say whether the president would refuse to play at an all-male golf club.

In a rare act of agreement, Mr. Romney expressed the same sentiment on Thursday afternoon. After finishing an energy-themed event in Northeastern Pennsylvania at a company that hauls water and drilling fluid, Mr. Romney was asked on the rope line if he felt women should be allowed at Augusta.

"Well of course. I'm not a member of Augusta. I don't know that I would qualify, my golf game is not that good," Mr. Romney said. "But certainly if I were a member and if I could run Augusta, which isn't likely to happen, but of course I'd have women in Augusta, sure."
Ordinarily, you'd think that a statement from Mitt Romney where he completely would lead his opponents to denounce him as a RINO and give them yet another reason to tell conservatives that he's not the right person to lead their party. You might think that, but you'd be wrong, because Rick Santorum said exactly the same thing:
Rick Santorum went to the tee Thursday evening, weighing in on a golf controversy that earlier attracted the attention of the White House and other GOP presidential hopefuls.

The Augusta National Golf Club's tradition of admitting only male members has been highlighted by speculation around how the club will handle Virginia Rometty, the new CEO of IBM, a major Masters Tournament sponsor. The club hosts the tournament and typically offers the iconic green jacket to the officers of the club's major sponsors.

"I encourage Augusta to accept women members, but I recognize their right as a private organization to decide for themselves," he said in a statement e-mailed to reporters.

The club, which opened in 1933, allows women to play as guests but not as members.
And Newt Gingrich wasn't far behind:
Yet another politician jumped into the Augusta National membership controversy, as Callista Gingrich said she'd like to join the all-male club and her husband seconded the proposal.

"I'm a golfer and I'd love to belong to Augusta," Callista Gingrich tweeted this afternoon. Newt Gingrich, whose presidential campaign is on the rocks, added "I think callista would be a great memer [of] Augusta — maybe she would let me come play."
With the Virginia Rometty issue staring them in the face, it's inevitable that Augusta National's policy was going to become a public issue again in a way that it hasn't for at least a decade. Add the Presidential campaign into the mix, and I suppose it was inevitable that the candidates would be asked to chime in. I'm also not entirely surprised that they're in relative agreement here. Nobody, not even the President, is suggesting that the club be forced to admit women, but it's relatively easy for politicians to make a statement like this and pretty much politically stupid to take any other position.
As for Augusta National itself, perhaps they'll choose to admit Rometty, perhaps they won't. She hasn't said anything publicly about the matter and isn't likely to either, and IBM is highly unlikely to end its decades-long sponsorship of the PGA's most prestigious tournament over this. By the time the weekend is over, the public will leave the grounds of the club for another year, and everyone will forget about this issue. Which is probably how it should be, because what these guys decide to do isn't really anybody's business but their own.