President Trump's Unreality Show
Either the President of the United States is a knowing liar or he is very easily duped. Neither is a comforting thought.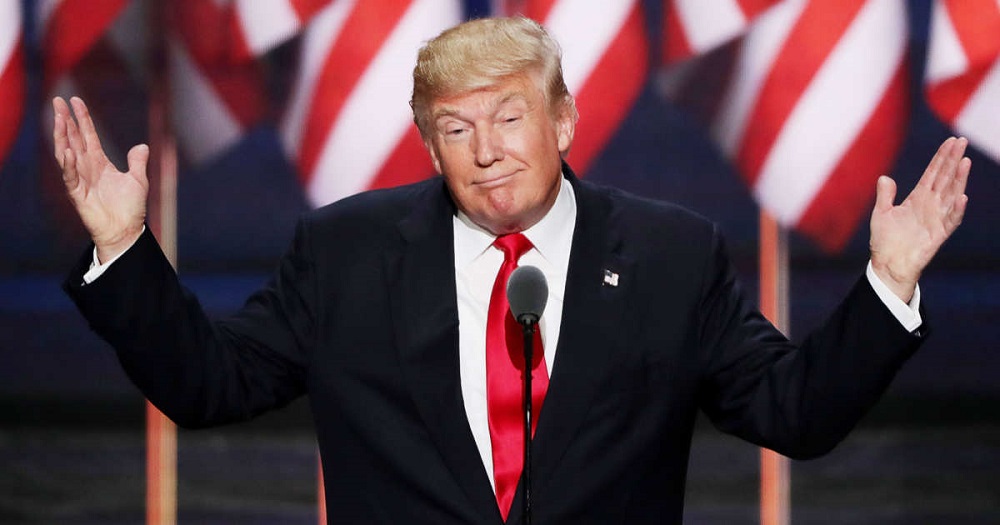 Today, President Trump engaged in some grade A demagoguery to stir up xenophobia to help justify his tough stance on border security.  Via WaPo:  Trump answers critics of family separation policy with Americans 'permanently separated' from family by illegal immigrants.
Seeking to counter the intense criticism of his border policies, Trump invited families of Americans killed by undocumented immigrants to tell their stories of being "permanently separated" from loved ones.

"These are the stories that Democrats and people that are weak on immigration, they don't want to discuss, they don't want to hear, they don't want to see, they don't want to talk about," Trump said at the White House.
First, yes, it is utterly tragic for anyone to be murdered or killed by another person.  I can also understand why a family member would be outraged if a loved one was killed by someone who was in the country illegally (since it would be easy to play counter-factuals).  But to use such examples is just stoking xenophobia and is not an adequate basis for making public policy decisions.  It is yet another example of Trump demonizing immigrants.
But much, much worse is his engagement with fantasy to bolster his position:
"Sixty-three thousand Americans since 9/11 have been killed by illegal aliens. This isn't a problem that's going away; it's getting bigger," he said. "Sixty-three thousand, and that number they say is very low because things aren't reported. Sixty-three thousand, and you don't hear about that."
There is a really, really good reason you don't hear about that.  It is because it isn't true.  As Snopes notes:
According to data provided for the Centers for Disease Control and Prevention, there have been 260,743 homicides in the United States from 2002 through 2016 (the most recent year available.) It thus seems mathematically impossible that undocumented immigrants, who make up roughly 3 percent of the population, would have committed just under a quarter of all homicides in the United States during that time period. The bogus figure appears to have originated in a May 2006 post by Republican Rep. Steve King of Iowa complaining about the "Day Without An Immigrant" campaign calling attention to the contributions of immigrants to U.S. community.
Even if one gives an expansive definition to "have been killed" to include things like drunk driving or accidents, the number is utterly nonsensical.  It is the kind of thing a xenophobe and a racist says to gin up anti-immigrant fervor. It is a conscious lie or a sign of a gullibility that demonstrates pure incompetence.  This is your crazy, drunk uncle claiming that because he saw it on the internet, it must be true.  This is insidious coming from the President of the United States.  Any educated person should be able to look at things like homicide stats, drunk driving stats, and just the general conditions under which people in the US are killed each year and work out that the numbers don't add up.
Like I said in my post This Moment in Time, "A big part of this present moment is the degree to which supporters are comfortable being lied to."
Who can defend this in any legitimate manner?
As an friend of mine I have know for many years said in the comments of that post:
So why lie? Not to convince, which is the purpose of having a dialogue among citizens and representatives in a democratic society, or where the rule of law compels people to make the most persuasive case about the proper interpretation and application of the law. Instead, it is the lie spoken to dominate — to demonstrate that you can say that the moon is really the sun, or that the Great Leader shot a hole-in-one his first time at the tee, and no one can really challenge you on it. Lies are not occasional, when they are expedient; they are a consistent, necessary tool for continually reminding people of who has power, and who does not.

While I just cited the use of the lie as a tool of domination in a totalitarian autocracy, it's actually worse in a democracy. You may support the liar, and dismiss the lie as a personal pecadillo, or "just the way politicians talk" (a claim that's always the last refuge of the politically and morally lazy). If you adopt this position, you have said to the person sitting next to you, in a restaurant, your place of worship, your workplace, the airport, your school, or the family gathering, that the compact among all of us is broken. There is no common interest. There is no shared reality. There are no agreed-upon standards for deciding the relative merits of arguments. You, through the mouth of your clan chieftain, speak. Others listen, and submit to the lies the way they must submit to your decisions, however cruel and unnecessary.
And, as noted in the quote, don't kid yourself that "all politicians lie."  Yes, politicians spin, and dissemble, and shade the truth (as do most humans), but most are not boldly contradicting reality.  Sometimes they are wrong, hopeful, and/or naive ("If you like the doctor you have, you can keep your doctor"), sometimes they mean it when they say it, only to have to take it back later ("Read me lips:  no new taxes"), and sometimes they are self-serving in their accuracy while leaving out the broader truth ("I did not have sexual relations with that woman").*  And I do not want to re-litigate these quotes here, as that is not the point.  I think Obama actually thought people could keep their doctors (or, at least he hoped that would be the case).  I think Bush really did plan not to raise taxes.  And, technically, Bill Clinton appears not to have had coitus with Monica Lewinsky.  Yet, I can also understand why people have interpreted all of those as lies over the years.  But all of these, regardless of one's views on the infamy of any of these utterances, are in a different universe than telling a crowd a made-up stat so as to deflect from the horrible policy of family separation as well as to stoke fears of foreigners.
The president, on this fact, is either an idiot or a liar of the worst sort.
This is the kind of thing that simply had to be called out, because it is the kind of thing that can lead to real ugliness and danger for the group of people being lied about.
Also:  we can all pretend like he was just referring to MS13 when he talked about "animals" but the reality is that impugns all immigrants (especially those from developing countries) on a near daily basis.