Prince Harry Back In Afghanistan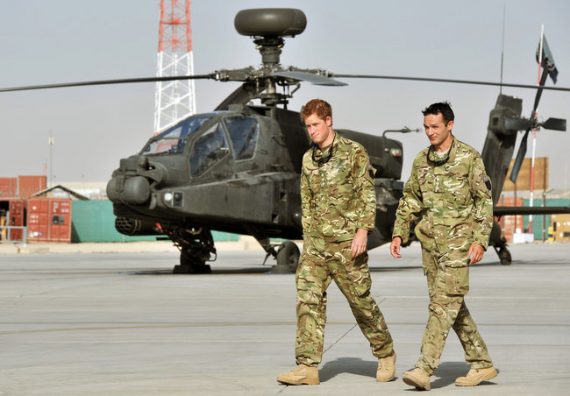 After his recent troubles in Las Vegas, Prince Harry probably welcomes a return to combat duty in Afghanistan for the first time in four years:
CAMP BASTION, Afghanistan (AP) — Prince Harry, third in line to the British throne, began a four-month combat tour Friday in Afghanistan as a gunner on an Apache attack helicopter, fresh from a vacation that included strip billiards in a Las Vegas hotel.

It was the second tour in Afghanistan for Harry, 27, who will start flying missions within 10 days in the country's restive Helmand province, the British military said. In 2007-08, he served in Helmand as an air traffic controller.

Looking relaxed if slightly tired, Harry gave a thumbs-up Friday after a long journey on a troop carrier flight from England to Britain's Camp Bastion, a sprawling desert base near the southern Afghan town of Lashkar Gah.

Capt. Harry Wales, as he is known in the military, wore his combat uniform and joined his 100-strong unit — the 662 Squadron, 3 Regiment Army Air Corps.

As part of the Apache's two-man crew, Harry will be both a co-pilot and the gunner responsible for firing the Apache's wing-mounted aerial rockets, Hellfire laser-guided missiles and 30mm machine gun.

Britain has around 9,500 troops in Afghanistan, mainly based in Helmand province, and has suffered 425 deaths since the start of operations there in 2001.

"Prince Harry, like any soldier, considers it a great honor to represent his country in her majesty's armed forces wherever it chooses to deploy him," St James's Palace said in a statement.
Also, no doubt, the chance to get away from the London tabloids. It's odd, however, that the British military would make this public considering how the Prince's last tour of duty turned out. Back then, you may recall, it was not revealed that there was a member of the Royal Family stationed in country thanks in large part to an agreement that the military had reached with the British press to keep the news secret to protect both his safety and that of his fellow soldiers. When the news was broken by, among others, Matt Drudge, Harry was brought back home almost immediately. It's not being stated why the military chose to publicize the deployment this time.