"Princess Sarah" Causing Frustration Among Some Republicans
Sarah Palin is causing headaches among fellow Republicans regarding her 2010 endorsement activities.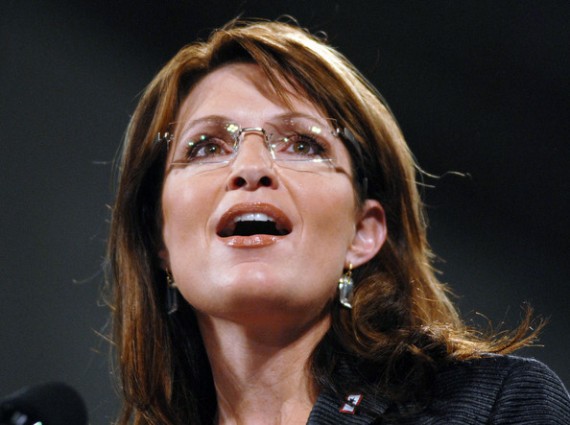 Jonathan Martin reports in Politico today that Sarah Palin is maintaining what can only be called an odd relationship with many of the Republican candidates she has endorsed for election:
The election is two weeks away, but the campaign trail reviews of Sarah Palin already are in, and they aren't pretty.

According to multiple Republican campaign sources, the former Alaska governor wreaks havoc on campaign logistics and planning. She offers little notice about her availability, refuses to do certain events, is obsessive about press coverage and sometimes backs out with as little lead time as she gave in the first place.

In short, her seat-of-the-pants operation can be a nightmare to deal with, which, in part, explains why Palin doesn't often do individual events for GOP hopefuls.

It's not that Palin issues outlandish, rock star-like demands such as certain-colored M&M's in the greenroom. At the events Palin does attend, officials say, she's no diva; Kind and courteous is the more frequent description.

But the high-maintenance aspects of dealing with the 2008 GOP vice presidential nominee have angered and frustrated some conservative candidates and aides who once thought highly of Palin and, for more skeptical Republicans, simply confirmed their view that she's self-centered and unhelpful to the cause.

All of it has become fodder for e-mails and bar-stool chats among the tightknit world of Republican political professionals.
There are several examples spread throughout the story, but this recount of the Rand Paul campaign's experiences provide a fairly good example of what Martin is getting at:
A recurring theme among the complaints is the problem of last-minute notice. In one instance, Palin had agreed to do a fundraising event for Kentucky Republican Senate candidate Rand Paul, but campaign officials had difficulty pinning her down for a specific date, and the amount of time she offered got smaller and smaller.

Paul's camp was, according to a Republican source familiar with the event, "ready to cut bait on her."

"Then her people called on a Saturday night and said she'd be available for 45 minutes the next Thursday," said the source.

That's not much time to promote a high-dollar event.

"They had everybody scrambling," the source said.

Palin did ultimately come to Louisville for the event, which was a closed-press luncheon that began at 11:30 a.m. to accommodate her schedule
As does this recounting from an unnamed Congressional candidate:
One major GOP Senate campaign sought Palin's endorsement at the beginning of the year but didn't know how to reach her. Out of desperation, they ended up sending a message to her Facebook page. Having never heard back, an operative for the campaign asked a reporter for the e-mail address of Palin's representative at the time. The campaign got a noncommittal reply.

Then, one day months later, the campaign was told Palin was going to offer her endorsement. They waited for much of the day, frequently checking her Facebook and Twitter page. Finally, a consultant to the campaign put a call in to somebody close to the former governor and asked if the endorsement was still coming.

"We were told it was going to happen in an hour, and she was going to tweet it," recounted an operative on the campaign. "But we waited and waited and waited, and it never happened. Then we never heard of it again."
Of course, one response to this is that campaigns seeking the endorsement and support of a high-value Republican like Palin shouldn't look a gift horse in the mouth and should be happy with whatever they get. At the same time, though, these anecdotes seem to be a fairly good example of the secretive, insular nature of the inner circle that Palin has gathered around her. It also raises questions, as with all things Palin, about what her 2012 intentions really are:
the problems that GOP campaigns have when booking her for events illustrate the challenges Palin will have in the event she runs for president. In part because of trust issues, she will not expand her circle and establish the sort of infrastructure necessary to coordinate basic matters such as surrogacy and travel. She has a lone staffer with a background in opposition research handling all of her interaction with campaigns.

The setup has cost her in goodwill, an important political currency. The disorganization and restrictions are viewed as rude by elected officials and operatives who are accustomed to national political figures who operate in a more conventional manner and are willing to assist as local campaigns see fit.
Of course that's viewing things through the lens of conventional politics and, as I noted recently, Sarah Palin is anything but conventional:
Sarah Palin hasn't exactly shown a proclivity for behaving like a traditional, rational politician, so anything is possible at this point. If she does run, it's sure to be an unconventional campaign, unlike anything the Republican primaries have ever seen, which is why any kind of "stop Palin" movement among the GOP establishment may be too little, too late.
So, yea, Sarah Palin may not be operating out of the political version of "How To Win Friends And Influence People" when she deals with other Republican politicians, but I don't think she really cares.