Pro-Russian Protesters In Donetsk Seek Independence From Ukraine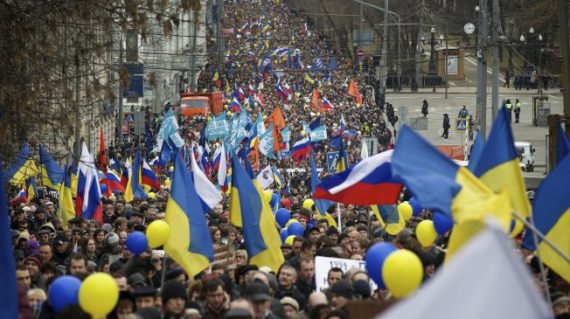 Protesters in the eastern Ukrainian city of Doentsk seem to want to follow in the footsteps of Crimea:
Pro-Russian protesters who seized the regional government building in Donetsk, Ukraine are reported to have declared a "people's republic".

Footage online showed a Russian speaker telling the assembly "I proclaim the creation of the sovereign state of the People's Republic of Donetsk."

The rebels are reported to have called a referendum on forming a new republic.

Earlier on Monday, protesters seized state security buildings in both Donetsk and Luhansk.

The Luhansk security building's weapons arsenal was raided, police say.

BBC correspondents in Ukraine report that the separatists who proclaimed an independent republic were not local councillors. The protesters want to hold a referendum by 11 May.

The Donetsk's regional government building was seized on Sunday, along with another in Kharkiv, also in Ukraine's east.

Protesters broke into Donetsk's regional government building, and another in Kharkiv, on Sunday. Ukrainian authorities say protesters have now left the government building in Kharkiv.

Unconfirmed reports by Ukrainian news agency Unian also say gunmen tried to storm a Donetsk TV building on Monday, but were deterred by police.

At an emergency Cabinet meeting, interim Prime Minister Arseniy Yatsenyuk blamed Russia for the seizures.

"The plan is to destabilise the situation, the plan is for foreign troops to cross the border and seize the country's territory, which we will not allow," he said, adding that people engaged in the unrest have distinct Russian accents.

He said Russian troops remain stationed within 30 kilometres (19 miles) of the frontier. The city of Luhansk is just 25 kilometres (15 miles) west of Russia.
Much like Crimea, the eastern region of Ukraine has a significant population that is ethnically Russian and/or pro-Russian in political sympathies. At the same time, of course, it would be logical to assume that these protests are not exactly spontaneous.