Pro-Trump Rioting Prospects Dim
Calls for violence have been widespread but are unlikely to be heeded.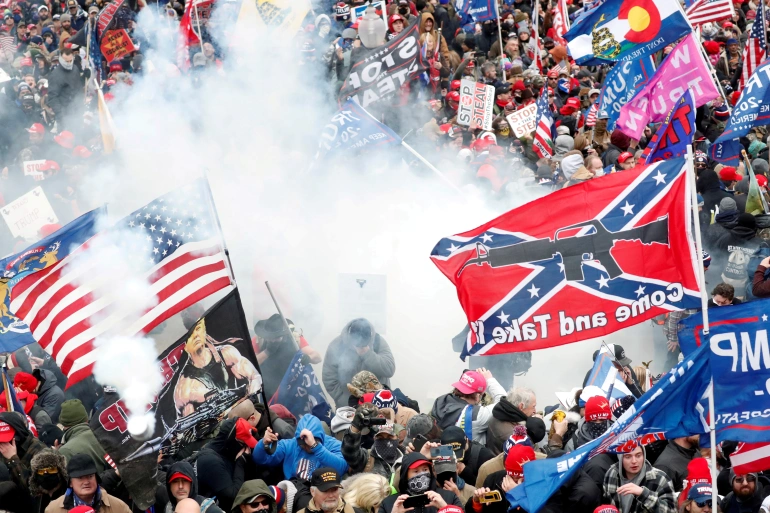 Some mixed messaging on the fallout from the pending indictment of former President Donald Trump. At the one extreme, we have this:
Vice ("The Far Right Is Calling For Bloody 'Civil War' After Trump's Indictment"):
Minutes after former President Donald Trump was indicted by a grand jury in New York, his supporters flooded social media and extremist message boards with violent and racist threats against the officials prosecuting Trump, as well as bloody civil war.

"This cannot go unpunished," one member of the rabidly pro-Trump message board The Donald wrote on Thursday night. "The DA needs to pay dearly."

"None of this will stop unless there is blood in the streets," another poster wrote.

In Trump's own statement, the former president called the indictment a "political persecution" and referred to Manhattan District Attorney Alvin Bragg as "hand-picked and funded by George Soros," and stated that Bragg is "doing Joe Biden's dirty work."

His far-right supporters mobilized quickly online to echo these comments. Through their vitriol, and calls for war, some supporters also promoted a narrative where Trump's indictment was actually going to help him win victory in 2024. In some cases, supporters falsely said the indictment was simply a ruse to distract everyone from the shooter in Nashville earlier this week.

"The whole trans terrorist thing must have been polling badly so they decided to indict Trump based on the testimony of a lying jew and lying whore," one influential neo-Nazi account on Telegram wrote, alongside an AI-generated image of a tattooed, topless Trump in a prison yard.

[…]

There were also many users calling for civil war on the platform. "Yeah. I'm down with just getting 1776 round 2 over with. The build up is infuriating,' one user wrote in response to the news, while another added: "They want you pissed. Looks like WW3 could be off the table for now, so onto plan B: civil war."

Some users laid out more detailed plans, discussing militias and boycotts and tax avoidance, while another simply wrote: "War."

The threats of violence, found on a wide variety of platforms ranging from Trump's own Truth Social to more mainstream platforms like Twitter, notorious message board 4chan, and The Donald, were located by VICE News and researchers from Advance Democracy, a nonpartisan group that tracks extremists online. And though there are no specific plans detailed right now, users on The Donald played a significant role in the planning, incitement, and coordination of violent events on January 6, 2021.

It's also not just anonymous users on fringe message boards who are using incendiary language to incite anger about Trump's indictment.

"The political Rubicon has been crossed. There's no going back from this," Charlie Kirk, a right-wing talk show host, wrote on Truth Social. One of Kirk's followers responded writing: "There is only one way back & that is WAR!"

Also on Truth Social, Pizzagate conspiracist, right-wing troll and organizer of the Stop the Steal movement, Jack Posobiec simply wrote: "Are you ready" to which many followers replied: "Let's go."
At the other extreme, we see reports like this from the NYT ("For Some G.O.P. Voters, Fatigue Slows the Rush to Defend Trump"):
Republican officials almost unanimously rallied around Donald J. Trump after his indictment, but the actual G.O.P. voters who will render a verdict on his political future next year weren't nearly as solidly behind him.

Some previous Trump voters said the indictment, the first ever of a former president, was the latest shattering of norms in a ledger already stuffed with chaos from the Trump years, and it was time for their party to move on in seeking a 2024 nominee.

In Hawthorne, N.Y., Scott Gray, a land surveyor who voted for Mr. Trump in two elections, said he had wearied of him.

"I think he did a lot of things right," Mr. Gray said, then immediately darted in the other direction: "I think he's completely unpresidential. I can't believe he's still running for office."

As an alternative, Mr. Gray said he was interested in "that guy down in Florida who's governor — DeSantis." (Ron DeSantis, who is expected to run but has not yet announced a campaign, is Mr. Trump's closest rival for the G.O.P. nomination in recent polling of primary voters.)

In conversations with Republican-leaning voters around the country, Mr. Trump's indictment brought out much anger, occasional embarrassment and a swirl of contradictory reactions, not unlike every other twist in the yearslong high drama of Donald Trump.

As expected, many rallied around the former president, calling the indictment by a Democratic prosecutor in New York a sham — a provocation they said would only cement their allegiance to Mr. Trump, who for years has encouraged supporters to see attacks on him as also attacks on them.
Somewhere in the middle we get reports like this from NBC News ("Online threats of violence but few signs of far-right organizing around Trump indictment"):
Minutes after news broke of former President Donald Trump's indictment, a comment on the pro-Trump internet forum Patriots.win, also known as TheDonald, skyrocketed to the top of the message board.



"****ACCELERATE," the comment, written by a user named TheSpeakerfortheDead, reads in its entirety.

Below that user, others quickly piled on, saying the grand jury that indicted Trump is "guilty of treason" and that their personal information should be made public.

The word "accelerate" is a reference to the far-right term accelerationism, the idea that the state must be abolished, usually violently, and replaced with a new one.

It's one of a variety of comments posted online in far-right forums in the aftermath of Trump's indictment. Many of those forums commonly host violent rhetoric, and some were integral in planning around the Jan. 6 riot at the Capitol.

While there is little evidence of similar planning for real-world unrest just yet, extremism researchers are keeping a close eye on the varied calls for everything from targeted attacks on the district attorney who brought the case to a new civil war.

"Accelerationism is a concept on the far right that's defined by a cynicism and disbelief in the legitimacy of the democratic process or in functions of government," said Jared Holt, a researcher at the extremism studies nonprofit Institute for Strategic Dialogue. 
"Subscribers to it suggest as a solution a series of actions that are often violent, and meant to compromise or hasten what they believe to be unavoidable collapse of that system."

Holt said the term was used earlier in the decade to describe white supremacist extremist groups like Atomwaffen, who frequently agitate for and commit acts of violence. Some users on pro-Trump forums have begun to embrace the nomenclature as more and more radical and violent rhetoric has seeded into their space.

"The hope is that by advocating for the destruction of those systems or for the destabilizing of society — whether it's through mass violence or purposeful misinformation — by playing a role in the collapse that they would also cement a position for themselves when they're rebuilding it in their own image," Holt he said.
Prior to the Capitol Riots, it was easy to dismiss the extreme rhetoric as posturing from the Keyboard Commandos. Now, we know violence is possible.
Still, one thing is very different: Trump is no longer President and in a position to pardon people for their crimes, much less potentially order law enforcement or military personnel to take his side. (Not that they were going to do so in any significant number even then; but it was easier to hold that delusion when he was Commander-in-Chief.)
Also, it doesn't help when we get reports like Raw Story's "'Smash some windows': Lindsey Graham makes bizarre suggestions for Trump in face of indictment" and HuffPo's "Lindsey Graham Suggests Trump 'Punch A Cop' On The Way To Tuesday's Arraignment." As pathetic as Graham's continued sucking up to the MAGA crowd is, he's rather clearly drawing an absurd contrast to the riots related to the Black Lives Matter protests rather than calling for violence.