Producer Admits Atlas Shrugged: Part I Basically A Failure
The free market in action.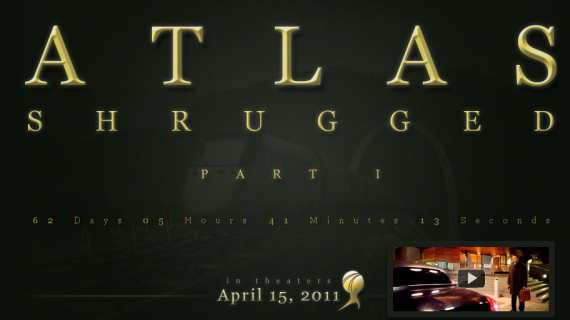 After an opening weekend where it produced rather surprising gross receipts considering it had only premiered in 299 theaters, the theatrical release of the film adaption of Ayn Rand's Atlas Shrugged has proven to be a disappointment. This past weekend, it expanded to and additional 166 theaters, yet saw its weekend receipts decline by nearly 50%, causing the film's producer to admit that the entire project is now in jeopardy:
EXCLUSIVE: Twelve days after opening "Atlas Shrugged: Part 1," the producer of the Ayn Rand adaptation said Tuesday that he is reconsidering his plans to make Parts 2 and 3 because of scathing reviews and flagging box office returns for the film.

"Critics, you won," said John Aglialoro, the businessman who spent 18 years and more than $20 million of his own money to make, distribute and market "Atlas Shrugged: Part 1," which covers the first third of Rand's dystopian novel. "I'm having deep second thoughts on why I should do Part 2."

"Atlas Shrugged" was the top-grossing limited release in its opening weekend, generating $1.7 million on 299 screens and earning a respectable $5,640 per screen. But the the box office dropped off 47% in the film's second week in release even as "Atlas Shrugged" expanded to 425 screens, and the movie seemed to hold little appeal for audiences beyond the core group of Rand fans to whom it was marketed.

Aglialoro attributed the box office drop-off to "Atlas Shrugged's" poor reviews. Only one major critic — Kyle Smith of the New York Post — gave "Atlas" a mixed-to-positive review, calling the film "more compelling than the average mass-produced studio item." The movie has a dismal 7% fresh rating on review aggregator Rotten Tomatoes thanks to critics like the Chicago Tribune's Michael Phillips, who said "Atlas" is "crushingly ordinary in every way." Roger Ebert called the film "the most anticlimactic non-event since Geraldo Rivera broke into Al Capone's vault," while Rolling Stone's Peter Travers said the movie "sits there flapping on screen like a bludgeoned seal."

"The New York Times gave us the most hateful review of all," said Aglialoro, who also has a writing credit on the movie. "They didn't cover it."

(…)

Though the film has made only $3.1 million so far, Aglialoro said he believes he'll recoup his investment after TV, DVD and other ancillary rights are sold. But he is backing off an earlier strategy to expand "Atlas" to 1,000 screens and reconsidering his plans to start production on a second film this fall.

"Why should I put up all of that money if the critics are coming in like lemmings?" Aglialoro said. "I'll make my money back and I'll make a profit, but do I wanna go and do two? Maybe I just wanna see my grandkids and go on strike."
It's true that there were many negative reviews from people who you'd expect to be turned off by the film's message, such as Roger Ebert, but you can't just chalk the bad reviews to ideological bias when you hear the same negative things from people who are sympathetic to Rand's ideas like Megan McArdle and P.J. O'Rourke. On top of this, there were problems with this production from the beginning, and it was never quite clear that there would be mass appeal for a movie based on a novel that reads more like a philosophical treatise than a compelling work of fiction.
I haven't seen the movie yet, mostly because the closest theater where it's playing is almost an hour away from me. I'd like to see it, but at this point I guess I'll just wait until it's out on DVD.
A final thought. Aglialoro, like most producers with a failed production, blames the critics. However, isn't this really just an example of the free market in action? Seems like it to me.