Roger Ebert Reviews Atlas Shrugged
Roger Ebert lays the smack down on the Atlas Shrugged film -- but not for the reasons you'd think.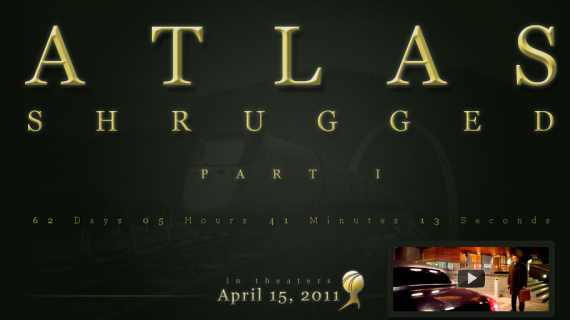 Roger Ebert isn't shy about his politics, but when he smacked down Atlas Shrugged, that doesn't even come to play. He does, however, write a terrific review that confirms my suspicions about the film based on the trailers and clips that have been released:
So OK. Let's say you know the novel, you agree with Ayn Rand, you're an objectivist or a libertarian, and you've been waiting eagerly for this movie. Man, are you going to get a letdown. It's not enough that a movie agree with you, in however an incoherent and murky fashion. It would help if it were like, you know, entertaining?

The movie is constructed of a few kinds of scenes: (1) People sipping their drinks in clubby surroundings and exchanging dialogue that sounds like corporate lingo; (2) railroads, and lots of 'em; (3) limousines driving through cities in ruin and arriving at ornate buildings; (4) city skylines; (5) the beauties of Colorado. There is also a love scene, which is shown not merely from the waist up but from the ears up. The man keeps his shirt on. This may be disappointing for libertarians, who I believe enjoy rumpy-pumpy as much as anyone.

Oh, and there is Wisconsin. Dagny and Hank ride blissfully in Taggart's new high-speed train, and then Hank suggests they take a trip to Wisconsin, where the state's policies caused the suppression of an engine that runs on the ozone in the air, or something (the film's detailed explanation won't clear this up). They decide to drive there. That's when you'll enjoy the beautiful landscape photography of the deserts of Wisconsin. My advice to the filmmakers: If you want to use a desert, why not just refer to Wisconsin as "New Mexico"?
Read the whole thing – it ranks up there as one of Ebert's best reviews, which are almost always his one-star reviews. (If you haven't read Your Movie Sucks, you are missing out.) Of course, what's sad is that I doubt I'll be able to keep myself from seeing this movie at some point. I enjoy a good train wreck. And in the case of the Atlas Shrugged films, I'll get to see train wrecks both metaphorical and literal.