Putin Doesn't Care About Today
An incredibly isolated Russian leader is not interested in running the country.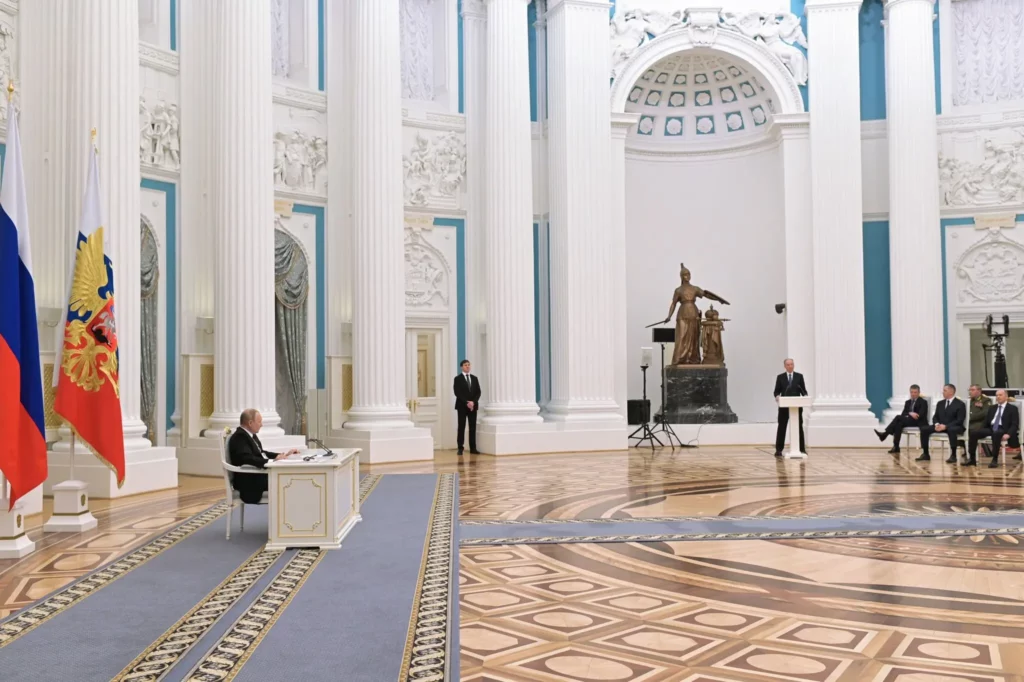 Russian journalist Mikhail Zygar explains "How Vladimir Putin Lost Interest in the Present" in a NYT op-ed.
Thanks to Vladimir Putin's decision to invade Ukraine, Russia is now more isolated than it has ever been. The economy is under sanctions and international businesses are withdrawing. The news media has been even further restricted; what remains spouts paranoia, nationalism and falsehoods. The people will have increasingly less communication with others beyond their borders. And in all of this, I fear, Russia increasingly resembles its president.

[…]

Mr. Putin spent the spring and summer of 2020 quarantining at his residence in Valdai, approximately halfway between Moscow and St. Petersburg. According to sources in the administration, he was accompanied there by Yuri Kovalchuk. Mr. Kovalchuk, who is the largest shareholder in Rossiya Bank and controls several state-approved media outlets, has been Mr. Putin's close friend and trusted adviser since the 1990s. But by 2020, according to my sources, he had established himself as the de facto second man in Russia, the most influential among the president's entourage.

Mr. Kovalchuk has a doctorate in physics and was once employed by an institute headed by the Nobel laureate Zhores Alferov. But he isn't just a man of science. He is also an ideologue, subscribing to a worldview that combines Orthodox Christian mysticism, anti-American conspiracy theories and hedonism. This appears to be Mr. Putin's worldview, too. Since the summer of 2020, Mr. Putin and Mr. Kovalchuk have been almost inseparable, and the two of them have been making plans together to restore Russia's greatness.

According to people with knowledge of Mr. Putin's conversations with his aides over the past two years, the president has completely lost interest in the present: The economy, social issues, the coronavirus pandemic, these all annoy him. Instead, he and Mr. Kovalchuk obsess over the past.

[…]

In "All the Kremlin's Men" I described the phenomenon of the "collective Putin" — the way his entourage always tried to eagerly anticipate what the president would want. These cronies would tell Mr. Putin exactly what he wanted to hear. The "collective Putin" still exists: The whole world saw it on the eve of the invasion when he summoned top officials, one by one, and asked them their views on the coming war. All of them understood their task and submissively tried to describe the president's thoughts in their own words.

This ritual session, which was broadcast by all Russian TV channels, was supposed to smear all of the country's top officials with blood. But it also showed that Mr. Putin is completely fed up with his old guard: His contempt for them was clear. He seemed to relish their sniveling, as when he publicly humiliated Sergey Naryshkin, the head of the Foreign Intelligence Service, who started mumbling and tried to quickly correct himself, agreeing with whatever Mr. Putin was saying. These are nothing but yes men, the president seemed to say.

[…]

Now he has really and truly come to believe that only he can save Russia. In fact, he believes it so much that he thinks the people around him are likely to foil his plans. He can't trust them, either.

And now here we are. Isolated and under sanctions, alone against the world, Russia looks as though it is being remade in its president's image. Mr. Putin's already very tight inner circle will only draw in closer. As the casualties mount in Ukraine, the president appears to be digging in his heels; he says that the sanctions on his country are a "declaration of war."

Yet at the same time he seems to believe that complete isolation will make a large part of the most unreliable elements leave Russia: During the past two weeks, the protesting intelligentsia — executives, actors, artists, journalists — have hurriedly fled the country; some abandoned their possessions just to get out. I fear that from the point of view of Mr. Putin and Mr. Kovalchuk, this will only make Russia stronger.
This is a more extreme version of what we've been hearing for months. And it certainly adds fuel to the argument Kingdaddy presented yesterday: Putin's brutality is likely to escalate quickly.
In his August 2008 invasion of Georgia to unfreeze the conflicts in South Ossetia and Abkhazia and his 2014 invasion of Ukraine to seize Crimea, Putin increased his prestige by masterfully playing in the gray zone. He understood that two longtime client states were moving closer to the West—indeed NATO had declared that both countries would become members of the Alliance at the Bucharest summit months before the Georgia invasion—and correctly assessed the United States would not risk World War III over these aggressions.
In seeking to seize all of Ukraine, he clearly overestimated the effectiveness of his own forces and drastically underestimated the resolve of Ukrainian leaders and people—and of the ferocity of the Western economic response. But, again, he was sure that the West wouldn't go to war over this. Indeed, the US and NATO leadership repeatedly assured him of this ahead of time and multiple times since the war started.
Alas, while I study defense policy for a living, I haven't the foggiest what the end state is here. Putin isn't going to be deterred by sanctions and seems obsessed beyond reason on the matter of Ukraine. Is there any red line he could cross inside Ukraine that would trigger a NATO military response? Probably not.
Then again, to the extent Zygar's depiction is accurate, I'm not entirely sure Putin will stop at Ukraine's borders. And, unlike his predecessor, I believe President Biden is committed to Article 5 of the NATO Charter.