Putin Refusing To Talk To Obama About Ukraine
It appears what we've got here is a failure to communicate.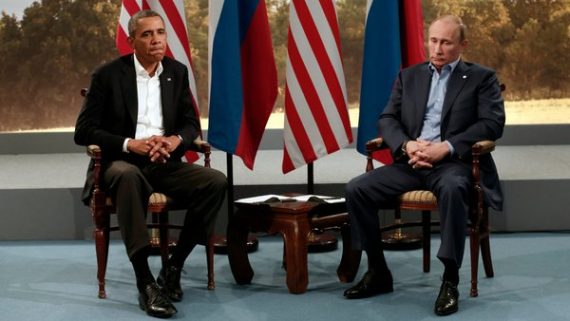 The United States and Russia apparently aren't on speaking terms right now, at least not when it comes to Ukraine:
Since the invasion of Crimea, President Vladimir Putin and President Barack Obama have had regular phone calls in an often half-hearted attempt to deescalate the ongoing crisis inside Ukraine. But as the U.S. and EU prepare to unveil new sanctions against Russia, Putin has decided the interactions should stop. The Kremlin has ended high-level contact with the Obama administration, according to diplomatic officials and sources close to the Russian leadership. The move signals an end to the diplomacy, for now.

"Putin will not talk to Obama under pressure," said Igor Yurgens, Chairman of the Institute for Contemporary Development, a prominent Moscow think tank, and a close associate of Russian Prime Minister Dmitry Medvedev. "It does not mean forever."

Obama and Putin last spoke over the phone on April 14, a call that the White House said was initiated at Moscow's request. Obama urged Putin in the call to end Kremlin support for armed, pro-Russian activists creating unrest in eastern Ukraine. Obama also warned that the U.S. would impose more "costs" on Russia if Putin continued his current course. According to the Kremlin's readout of the call, Putin denied Russian interference in eastern Ukraine and said "that such speculations are based on inaccurate information."

Obama and Putin have spoken to each other about Ukraine regularly over the past weeks, including calls on March 28, March 16, and March 6. But that these calls are now on hold for the indefinite future, due to their lack of progress and frustration on both sides.
President Obama isn't the only American official having a hard time getting hold of his counterpart in Russia:
Other top U.S. officials are also now out of direct contact with their Russian interlocutors. Defense Secretary Chuck Hagel is also getting the cold shoulder from his Russian counterpart Sergey Shoygu. Pentagon officials have reached out to Russia on Mr. Hagel's behalf within the past 24 hours but have not gotten any response, according to Pentagon Spokesman Army Col. Steve Warren.
As the article goes on to note, Secretary of State Kerry and Foreign Minister Lavrov do still seem to have lines of communications open, although this past week most of their communications seem to have consisted of exchanging barbs through the press. That doesn't mean there's been a complete breakdown of communications between the two nations, of course. By all indications, NASA and the Russian space agency continue to cooperate as necessary to facilitate operation of the International Space Station, for example. Additionally, one imagines that there are are least some communications behind the scenes at lower levels. At the same time, though, the fact that the Russians are largely refusing to even talk to their American counterparts would seem to indicate that they are dug in on their current position and don't see any value in further discussion. Perhaps additional sanctions, which could come as early as next week, will make the Russians more willing to talk.
As far as those sanctions go, though, it appears that European businesses are objecting to tightening the economic noose:
BERLIN — With the showdown over Ukraine escalating and President Obama warning Moscow of a tough new round of sanctions, Russia and its allies in the European private sector are conducting a separate campaign to ensure that they can maintain their deep and longstanding economic ties even if the Kremlin orders further military action.

European banks and businesses are far more exposed to the Russian economy than are their American counterparts. Trade between the European Union and Russia amounted to almost $370 billion in 2012, while United States trade with Russia was about $26 billion that year.

As a result, they have lobbied energetically to head off or at least dilute any sanctions, making it hard for American and European political leaders to come up with a package of measures with enough bite to influence Moscow's behavior in Ukraine.

Since Russia's annexation of Crimea, energy companies, exporters, big users of Russian natural gas and investors with stakes in Russia have counseled caution. "Neither in energy terms, nor politically, should we turn away from Russia," said Rainer Seele, the chairman of Wintershall, a subsidiary of the large German-based chemical company BASF that is deeply entwined in Russia's oil and natural gas trade.

(…)

No European industry has been as open in its support of Russia as the energy industry. Executives have publicly voiced skepticism about the effectiveness of sanctions, lobbied behind the scenes to head them off and traveled to Russia, on at least one occasion to pose with Russia's president, Vladimir V. Putin. And the Russians, while publicly playing down the effects of sanctions, have been trying to exert influence in Brussels and elsewhere, lobbyists said.

In an interview on Friday, Gerhard Roiss, the chief executive of the Austrian oil and gas supplier OMV, which has been working with Gazprom for five decades, said, "You cannot talk about sanctions if you don't know the outcome of sanctions."

"Europe has developed over the last 50 years into a region where we have a division of labor and a division of resources, and this means in concrete terms that energy is imported from Russia and products — automotive or machinery — are exported from European countries into Russia," he added.

Mr. Roiss met with Gazprom's chief executive this week and reaffirmed their business ties. He pointed out that this was hardly the first political crisis the sides had faced. The year Russian gas first started flowing into Austria, 1968, was the same year the Soviets invaded the former Czechoslovakia. "We've had a crisis situation several times, but if you see it over the 50 years, natural gas was not used as a weapon, and we should not use gas as a weapon," he said.

Before the call between the European leaders and Mr. Obama, Ms. Merkel called Mr. Putin in what appeared to be a last warning to fulfill the accord reached in Geneva last week to reduce tensions in Ukraine. Minutes later, a Kremlin statement put a different spin on the call, saying that both Mr. Putin and Ms. Merkel had called for three-party talks on Russian gas supplies to Europe through Ukraine.

Whether that was an indication that Mr. Putin now feared that tough sanctions loom — sanctions that Western leaders argue would inflict more harm on Russia's heavily oil- and gas-dependent economy than on Europe — was not clear.
In the end, it may be the threats to the Russian economy, and particularly to the interests of the oligarchs that are the base of his support, that may force Putin back to the table. For the time being, though, it appears that the Russian President isn't interested in hearing what his American counterpart has to say